Your Monthly Forecast
All the latest monthly forecasts, organized by sign.
Age of Aquarius
Susan Miller's astrological predictions for a new century.
Current Trends
Find out the planetary trends that might be influencing you today.
---
Aries (March 21 - April 19)
Your February Horoscope by Susan Miller
You will love February. It is one of the finest months of 2016, so make the most of it, dear Aries. Mercury will no longer be retrograde in your prestigious career sector - a situation that caused you a great deal of frustration with delays, mix-ups, forgetfulness, bad timing, and an inability to get answers from higher ups. From the start of February, you will feel better. This month will give you more than merely the lack of Mercury retrograde-caused delays - this is a positive month that has many goodies in store for you.

Your first day to circle in gold will be February 3, a brilliant day when the Sun and Saturn will be in ideal sync AND Mars and Pluto, two power planets, will be working together too. This is a day to set an appointment for an interview, presentation, or exchange of thoughts. It's a great day for your career, for Pluto is in your reputation sector, and with Mars in Scorpio in your house of other people's money, your ability to negotiate in a street smart and practical way will be remarkably effective. You can sign a contract, too, for Saturn will give you long-term gains if you do, and a comforting sense of security. There's much...
To view a forecast, select a sign from the menu below and click on Go.
---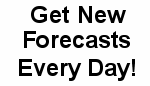 Click here to get your daily forecast
direct to your email or PC.

Hosted by: