See Susan Miller's new Astrology Zone 30-minute streaming TV Show! For now, it will be seen once a month and will not duplicate any information you get on Susan's site - the broadcast will provide fresh, new material. For more info, see Susan's note to you found here, in the PS (post script) directly below your sign's summary and the dates to note. Express your ideas about Susan's new show in social media - we will be reading your comments. The show will not be seen yet on Susan's smart phone apps (stay tuned) but instead here on your computer or tablet. Please tell your friends to have a look!


Astrology Zone the Show from Television Four on Vimeo.



---

Last month I showed you the surprise I had for you, special animated videos called Glamourscopes that I had done with Conde Nast Entertainment (CNE). Each sign's video runs a little under three minutes. The animators illustrated my words with visuals in a very original and imaginative way, so most people think the videos are especially cute. You told us you loved the videos, but said in a loud and clear way, "We want them longer!"

We listened! Here is the short version of Glamourscopes:

http://bit.ly/1yPzZEF

and the NEW Extended Cut version of Glamourscopes (not duplicating the short forecasts of Glamourscopes above):

http://bit.ly/15nk8m5

Each sign's video has new material, there is no duplication of information that you will get. Don't miss these! Listen for your Sun sign and your rising sign as both are equal in importance.

---
Aries Forecast for November 2015
By Susan Miller
The first two weeks of November will be glorious, and you would be wise to schedule your most important appointments and social activities for that time. You will find the coming month quite a change from October, which might have been stressful and frustrating, partly due to Mercury in retrograde, which finally went direct October 9 but that returned to original strength by October 27. October was also difficult partly because of the witch of a new moon October 12 that caused havoc for many people. I hope you were the exception, dear Aries!
November opens with Venus conjunct Mars, a classic aspect known for divine romance, creativity, and for encouraging the start of new love. Both planets will fall in Virgo, indicating that love may bloom, or you may have an exciting meeting about a creative idea that you love at work. This energy will spill over to November 3 too, so you have two days when energy will be high, and so very positive.
A few days later on November 5, you can have a special meeting with a VIP about possibilities for a promotion and more money through salary or better company benefits. The area of perks and benefits will be very strong for you, so you may gain through receiving a bonus, commission, or special fees. If you cannot negotiate the salary you want, switch the conversation to the possibility for being approved for better company benefits.
If you need to set a date for an important meeting, make it in first two weeks of November. I like November 6, too, because Jupiter will conjoin the transiting moon, and on the same day, Mercury will be in agreement with super-creative Neptune, making it a day when your imagination will soar.
A beautiful day for love and romance will arrive next, on November 10, when the mighty Sun will send a missive to Jupiter. This could be your best romantic day of the month, and I say this because the mighty Sun rules your house of true love, and if you are single and do meet someone new, it will be likely a person somehow connected with your work. The person might work for your company, or you might call on this person as part of your job, and instantly feel exceptionally good chemistry exists between you. November 10 will ALSO bring strong, positives financial developments.
The most important date to remember is November 11, the date of the new moon in Scorpio, 19 degrees, for it is one of the best new moons of the year. All new moons open a path, and this one is filled with opportunity. Jupiter, the good fortune planet, which has been quiet recently, will assist this new moon. Not to be outdone, Pluto will help too, from his perch in your tenth house of honors, awards, achievement, and fame. This new moon will light in your sixth house of workaday assignments, the place Jupiter is currently visiting.
The universe will underscore the theme that you are due for an increase in either salary or better benefits like solid health insurance, matching funds for college or graduate school tuition, the key to the executive gym, or hot meals provided by a chef when you work late. (When I worked at Time Inc. as my very first job out of college, the company provided amazing hot meals for their reporters). All those types of benefits are worth quite a bit of money, if you had to buy them yourself.
If you are self-employed, the new moon of November 11 may bring you lucrative new business in the ten days that follow. If you are employed by others, you will get the kind of assignments you have hoped all year to get assigned, ones that will demonstrate that you can handle more complex, high profile projects than you have in the past. You can now make a name for yourself. Higher-ups will be cognizant of your performance, and this will count later, after the new moon, in several months, on January 9, when you may get a substantial promotion or prestigious new title.
Your health may now go on a better track as a result of the same new moon of November 11. Jupiter is the planet of good fortune and happiness, but is also is known as the great healer. This would be the ideal new moon to address any kind of medical or dental matter. Jupiter's support of this new moon will see to it that you are cared for gently and if you have pain, your medical professional may be able to alleviate it, or even cure you so you won't have to suffer anymore.
If you have any sort of health concern, address it now, in the days that quickly follow November 11, while you have Jupiter to help you. As said earlier, Pluto is also involved, and is called the planet of regeneration and renewal, so it would be a shame to miss this opportunity that you will get from this, one of the sweetest new moons of the year. You will have ten days in which to act AFTER it arrives.
Venus will glide through Libra from November 8 to December 4, in your partnership house, all month, which is good news for a smooth and silky relationship with your partner. The exception to the rule will be November 23, when Venus will go head to head with Uranus - this is not a day to bring up any controversial subjects with a romantic or business partner, for you could trigger a world war quite innocently and wonder what you said that turned out to be such a hot button. This date will be a Monday, but be careful about what you say and do over the weekend of November 21-22 too.
Mars will enter Libra too this month on November 12 to stay until January 3. This will calm down the crazed work at the office - things will simmer down to more manageable terms. Also, with Venus AND her lover Mars in your seventh house of partnership, you should be working in team situations. You won't have total control, but on the other hand, others may come up with good ideas that you like, and as they say, two heads are better than one. In your case, there may be many more than two heads (yours and one other) - you may be working with an entire room of people in your team, but somehow, this month, it all works to your advantage.
The full moon in Gemini 3 degrees falls on November 25, which, in the United States will be Thanksgiving Day, the start of a four-day weekend. Experts say this has become a huge travel day, the biggest in the year here in the States, and for you, it appears you will be on the road, too, even if you don't live in the US and don't celebrate this family holiday. You won't travel far - your destination is likely to be only within 500 miles of your home base, but you will enjoy the change of scene. If you are doing the cooking, or charged with any other responsibilities, be careful not to take on too much - ask for help. Saturn will directly oppose this full moon, suggesting it will be a strenuous day for you, and you may feel completely exhausted after this day is over.
If your birthday falls on March 23, plus or minus five days, you will be most affected by the full moon of November 25 and of Saturn's actions on that day weekend.
This is a popular weekend for doing holiday shopping, but with the Sun conjunct Saturn, and the Sun in hard angle to Neptune, you may not get the bargains you hope to be getting. If the item you are searching for is expensive, do some comparison shopping on an app or Internet. Some retailers raise the price just prior to the holiday shopping period and then "reduce" it to normal price and say it is on sale. You see my point.
The Sun rules your house of love, so with Saturn, the cold icy planet, conjoining the Sun on November 29, a fiery star, you have the meeting of fire and ice. This would be a dreadful day for love and fun. If you can avoid being together, that may be the best solution. I feel the entire period from November 24-29 could bring edgy feelings in love, so don't do or say anything that could invite angry or hurt feelings to surface.
Backtracking a bit, on November 26, the first of three disputes between Saturn and Neptune will take place. (This is nothing like the long-term row of Uranus and Pluto - THAT caused suffering throughout the world in recent years.) In contrast, this aspect will simply urge you to be realistic. Saturn is the planet of realism, and Neptune, the planet of dreams and creativity, and no two planets could be more different in the areas they rule. Neptune may make you see things in glorious terms, but Saturn will urge you not to wear rose-colored glasses.
Ah, this is hard news to transmit, as I prefer seeing the world in rosy terms. However, if you are seeing a situation or relationship as better than it really is, or as having more potential than is ever likely to be realized, being too influenced by Neptune's dream can hurt you. It's my job to make sure you are protected, so I had to mention this aspect. It will occur again two more times, June 17 and September 10, 2016. Three passes by the same two planets on the same subject usually denotes that a transformation or enlightenment will occur in you and the rest of us (no matter what sign we happen to be). See what you are thinking about when you come to the end of November.
In closing, I wanted to remind you that your best day for love will be November 10, when the Sun and Jupiter are in conversation for you, dear Aries! Attached couples will have the edge, but keep your head down and out of the line of fire in matters of the heart on November 23 (and over the proceeding weekend, November 21-22) when Venus in Libra will oppose Uranus in Aries. If you are careful to avoid those dates, you can have a very happy November!
---
Summary
At work, things will be insanely busy, but you are doing superb work, and you managed to attract the attention of key higher ups with your consistently fine performance. VIPs have pegged you as an emerging star, and in months to come, you will be moving quickly up the ladder of success. Next January will be a breakthrough career month for you, so aim to do your best work now, and keep polishing your resume. This month, your ruling planet, Mars, will orbit in proximity to Jupiter in the first week, so you'll be competitive and on top of your game. (Mars and Jupiter met on October 17 in perfection, but are still within orb.) November 10 will be a standout day for an interview, presentation, or performance review.
In terms of finances, you are now ending a long and difficult period when you were continually concerned about money, taxes, and debt, but that period officially ended when Saturn left Scorpio in mid-September. It takes a while to see the difficulties lift, but you are now getting clues that your finances are about to improve dramatically. You probably are waiting for the other shoe to drop, sending you back to those horrible tight cash flow days, but that won't likely happen, so you can relax and exhale.
The new moon in Scorpio on November 11 at 19 degrees will bring news of additional cash that you'll earn, and it seems to be connected to a creative project that you will soon dig into. Again, you'll easily impress clients and higher ups. This new moon would be the perfect time to make application for a loan or mortgage or to show your business plan to venture capitalists. When it comes to money, you will be golden just after that new moon arrives and for ten days thereafter.
In love, Venus and her lover Mars will make a rare conjunction on November 2, lighting up the sky brightly - be sure to look up at the heavens that night. You will be spending a lot of time at the office, and that's precisely where Cupid may use his bow and arrow on this day or the following day, with a co-worker who has become smitten with you and will catch your eye in the office. This person may be in research or IT, a writer, editor, or proofer, or one who works in emergency medicine or in a hospital as a medical or lab technician.
Mars will shift to Libra on November 12 and remain there until January 3. This means you will have to work collaboratively with others and not try to take full control, whether in love or at work. Working collaboratively is not easy for an Aries, for at heart, you are a leader and like to take full control. The saving grace will be that Venus will also move into Libra (although not in precise conjunction with Mars) from November 8 to December 4, and will soften the experience of working closely with others. Charm will get your far, and with Venus there, others will be interested in hearing your point of view.
You may think about taking a trip near the full moon of November 25, possibly to see family for entertaining, but if you need not go, stay home. Saturn will orbit close to both the Sun and Mercury, making the trip arduous, possibly due to weather conditions and delayed flights. Or, it may be that your partner may have a health or career concern at the time. You both seem to be on edge, which will not help the situation. Your toughest day for love, when you will feel as though the weight of the world is on your shoulders, will be November 29, when Saturn will move over the Sun. If you are entertaining over this weekend, ask friends and family to bring a dish to lower your stress - you'll have too much to do.
The first of three aspects involving Saturn (objectivity) in hard angle to Neptune (dreams and fantasy) will occur on November 26, warning of the importance of being realistic. (The next two meetings of these two planets will arrive in 2016 on June 17 and September 10, then not again until September 2033.) Rare aspects are powerful, for they deliver a message we that we are not used to hearing, so we notice it, learn from it. The more practical and realistic you can be in coming months, the more winning your projects and relationships will turn out to be.
---
For Dates to Note: Please watch my November TV show broadcast. You can get your special dates, with explanation.
Here is the link to use: http://bit.ly/1eTnXol
P.S. for November 2015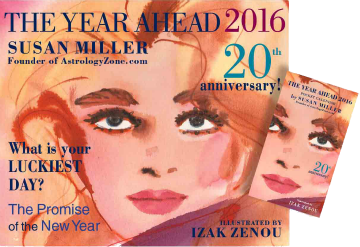 My New 2016 Illustrated Astrological Calendar is Ready to Ship!
I am thrilled to show you my newest Year Ahead 2016 Astrological Wall Calendar that has come off the presses. Below I will list all the calendar's features, and reasons why you need it. Before you look at that list, I will let you in on some of the behind-the-scenes work that we did to make this beautiful calendar a reality.
I started writing my 2016 calendar in February 2015, after printing out 312 horoscope wheels for all the new moons and full moons of the year, multiplied by each sign. I studied each aspect. It took me four months to finish writing my copy, and to check all my calculations and dates listed. I then wired my copy to my two fact checkers, one astrologer, and three editors who combed through the minute detail of my work to make sure all was accurate, and that my words were grammatically correct, and with no typos. Emails kept flying back and forth from spring into autumn. It was truly a team effort.
I have a dual audience, with 43 percent male readers, and so I am careful to always create copy and products that are interesting to both sexes. By digging though the data last year, we discovered that among calendar customers, most were women. That gave me the impetus to do a high fashion calendar this year. The rest of my site and the tone of my copy will continue to be appropriate for both genders.
The award winning illustrator, Izak Zenou, who has studios in Paris, New York, and Tokyo, worked with me on this very special limited edition, collectible calendar. You may already be familiar with Izak's work because among his varied clients, for years he has been (and still is) the illustrator of choice for Henri Bendel's, the elegant store located on Fifth Avenue and 56th Street in New York.
Henri Bendel's regularly asks Izak do all their illustrations and he has also created scarves and other products for the store. I always loved his work, and bought many of the products he created too, before we ever met, I always referred to Izak's illustrations as "the skinny girls of Henri Bendel's." Last year, I gathered up the courage to call Izak's agents at Traffic, Inc. based here in New York and was amazed to learn that they, and Izak, knew about me was because they already had the premium version of my app on their iPhones!
I was a heavenly experience to collaborate with Izak. We met at regular intervals throughout the spring and summer at his New York studio. I had cut out certain pages from fashion magazines to show Izak examples of each sign's physical features, and the type of activities each sign enjoyed doing. Izak was a joy to work with, and he created an accurate visual representation of each sign.
You will see creative Pisces in her atelier with her paintbrushes and canvas, for example, or see Gemini with her twin in an enchanted forest. The gorgeous sisters look like a pair of woodland nymphs wearing pretty, light-as-air gossamer dresses. Cancer is at a seaside resort, possibly in the Hamptons, relaxing and enjoying being so close to the water. Capricorn wears a stunning designer suit and raises her paddle at a posh auction house. Virgo is adorable as she sits in an outdoor French cafe, having a tiny cup of espresso one afternoon, looking well put together and impossibly chic. You get the idea - you will love every page of this beautifully illustrated high fashion calendar. You will enjoy it all year round. It makes a unique gift for the holidays, too. As usual, I included a page for January 2017.
You had requested that we print a small version of my annual wall calendar to carry with you, so we listened and chose to make one now, to commemorate my 20th anniversary of Astrology Zone® on the Internet. My site first appeared December 14, 1995. We sell them together, so that you will have all the information you need.
Important: I could not fit all the copy that appears on your wall calendar into the little pocket calendar, so I had to go through the painful process of cutting copy. Alas, you will only have 30 percent of the copy that appears on the wall calendar in your purse-sized calendar. I was careful to reserve the most vital information for the pocket version. I feel that if you need to choose a day for an important initiation, please check your wall calendar first.
Susan Miller's Year Ahead 2016 Astrological Wall and 2016 Pocket Calendar
My publisher helped me write up the following feature list, which is why I am listed in the third person!
Your wall calendar's features include:
All the important days with their corresponding aspects on the day they occur, along with an explanation about what that aspect means in easy to understand terms. Susan also gives her advice on how to use the day. The signs and degrees of the aspects formed by the planets are listed too.
All the writing in this calendar is by Susan Miller.
Every full and new moon is listed, with its sign and degree, and you will know how that lunation is aspected, whether mainly favorable, unfavorable, or mixed in outlook, with backup information listed. Susan will show you how to best to use the energies of the particular new or full moon, or eclipse, even if that particular one has crosscurrents or difficult aspects.
All Mercury retrograde periods, as well as the retrograde dates of all the other planets including Mars, Jupiter, Saturn, Uranus, Neptune, Uranus, and Pluto. Venus will not retrograde at any time in 2016, but Mars will be out of phase for many weeks this coming year. The moon and Sun never retrograde.
On the same date and calendar page that the planet goes retrograde, you will also see listed the date when that planet will go direct. This will save you the trouble of searching through the calendar to find that information.
You will always know by looking at your calendar when a planet or Sun enters a new sign.
If an extraordinary day is coming up such as the Luckiest Day of the Year, this is clearly noted as a five-star day or if it is a little less spectacular, but still important, a four-star day.
Your calendar has 13 months; January 2017 is included.
All American, British, and Canadian holidays are listed as well as many religious holidays.
Size
Your Wall Calendar measures 14"x24" when fully opened, the same size and great quality as in previous years. This time the paper we used for the large and small calendar is matte, to showcase Izak Zenou's art. Matte paper has an advantage, in that when you make a note on your calendar, the ink from your pen will not smear.
The Pocket Calendar measures 3-½" x 6-¼".
Why you need this calendar:
Instead of getting your information about aspects from me on Astrology Zone during the month they occur, you can find out what will be coming up months in advance, an advantage when planning a big initiation.
One Calendar for ALL Signs and How to Best Use Your Calendar
The YEAR AHEAD 2016 Astrological Wall Calendar (as well as its companion, the 2016 Pocket Calendar) is meant to be used by all signs; we do not print 12 calendars specific to each sign. Your calendar is meant to be used in conjunction with your monthly forecast on Astrology Zone® as well as Susan's free 30-minute TV show.
Use Your Calendar in Conjunction with Susan's Astrology Zone Monthly Reports, her apps, and TV Show
At press time, you can see Susan's show if you access Astrology Zone on your computer or tablet and go to the second page of her monthly written forecast at the top of the page - look for a large rectangular image that has the title Astrology Zone in large letters, and an arrow to press Play. You will hear about the coming months and the month of the forecast.
Soon you will be able to link to Susan's monthly TV show on her app for iPhone or Android / Samsung Galaxy. An upgrade to Susan's app is in progress now, and will be ready by January 2016. You can see Susan's TV show any time convenient to you, on demand, FREE. You can find it presented on the top of page 2 of her monthly forecast on Astrologyzone.com, where you will see a large rectangle that says Astrology Zone with an arrow to press to play. The show is accessible to all readers at no cost in every city in the world.
Time Zones
The calendar is usable to readers in all time zones. If you live far from the US, for example, in Asia, New Zealand, or Australia, far from the US, add one extra day into the future for each aspect. You are lucky as you will always have a little more time to get ready for each aspect.
The time used to draw up the calendar is West Coast time in the United Sates. Read the inside cover of the calendar for a more complete discussion of time zones.
Susan's calendar is published in the USA by America Direct Book Service, publisher of Susan Miller's past yearly calendars, as well as her popular "My Personal Horoscope" books-on-demand that explain your natal chart with Susan's clear explanations of each natal planet on your horoscope wheel and the many talents that each planet has given you at birth.
Availability
Susan Miller's YEAR AHEAD 2016 Astrological Calendar and the 2016 Pocket Calendar are ONLY available on Astrology Zone®. It is NOT available in retail stores or on bookseller's sites online. When you buy a calendar for yourself or as gift, you support Astrology Zone®
The calendars are hot off the press and ready to ship.
Shipping information
The Wall and Pocket Calendar are combined with shipping to all destinations. Place your order now before supplies run out.
Shipping for one or two copies will be the same. Shipping charge for every second copy will be waived.
Price
The cost for the calendar is $24.99 plus shipping and any applicable sales tax (in New York State only). International First Class ships the Calendar with Pocket companion via Priority Mail to addresses in the USA and to foreign countries in a sturdy, flat mailer to protect the beauty of the calendar.
Depending on your shipping address outside the US, we offer First Class Mail or Express Mail. You can see more options for shipping with tracking available on the order form.
Volume Discounts
A discount of 10 percent is available for corporate or group orders of 10 copies. If you would like to order 25 copies, a discount of 20 percent will be available. You need not be an organization. If you want to order 10 calendars as holiday gifts for friends, you will still get the discount.
Call publisher Arthur Heydendael for more information. 914-271-3640, ext 14.
All of the art in the calendar is available for sale as prints. For sizes and prices, please go to:
http://www.traffic-nyc.com/portfolio/izak-zenou/
Author & Copyrights: © Susan Miller Omni Media Inc.,
http://AstrologyZone.com®
Illustrations: © Izak Zenou
http://www.izakzenou.com/indedex.php?s=about
Design Studio: www.MeyerNewYork.com
Publisher: America Direct Book https://americadirectbook.com
PO Box 946, Ossining, NY 10562, USA
Publication Date: October 2015
ISBN-13: 978-0-9838609-2-1
U.S./Canada $24.99 plus shipping (and applicable sales tax for NY State destinations only)
Printed in the USA
Astrology Zone® is a Federal Trademark of Susan Miller.
For entertainment purposes only. All rights reserved.
---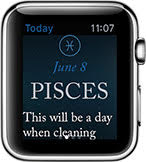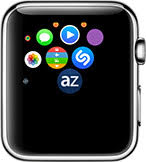 Astrology Zone is now on the Apple Watch!
It's FREE to add, and loading is invisible and seamless through Bluetooth!
On July 7 my Susan Miller's Astrology Zone Daily Horoscope app for IOS that appears on the iPhone was approved by Apple to appear on their new watch! Apple had approached us with this option earlier this year, and we were all so excited to do it! My app developer, Phunware, immediately set to work on the extra coding to make my app work perfectly on the Apple watch, and it's been tested and approved by Apple for you!
If you have my app on your iPhone, the way this works is that your new Apple watch will "talk" to your iPhone and automatically load the Apple watch app from your iPhone, through Bluetooth. You need not use any wires or be concerned about downloading instructions - it all happens seamlessly and invisibly. There are no extra fees for you to pay either - it's free! If you already have the Apple watch, you know how much fun this is to use! From now on, I can be as close to you as your wrist, and it's remarkable how crystal clear my words can be read on the beautiful Apple Retina watch screen.
The Apple store helpers will assist you by loading my app on your watch, and it only takes a few minutes. It works best if you have the premium version of my app, so you might want to order a subscription to my longer, more detailed daily horoscopes. Try the premium version of my daily horoscopes for one month for $4.99 or for three months for $12.99. See how you like a longer daily forecast - most people do. We find 87 percent of readers opt for the upgrade. Or, you can always stick to the free, short version of my app for your iPhone. Tell me what you think on Twitter, @AstrologyZone.
I am so excited!
---
Fresh Zodiac Oval Soap Collection Collaboration
Announcing my Partnership with Lifestyle Beauty Brand, Fresh
Check it out here: http://bit.ly/166wPSX
I joined forces with Fresh on their limited-edition Zodiac Oval Soap Collection, a collection of their iconic Oval Soaps reimagined for each astrological sign. The soaps are of the highest quality, and their scents are simply divine. When you purchase a soap at a Fresh retail store, you will get a little booklet I wrote for Fresh about the qualities of your sign and a look at the Year Ahead for 2015. These beautiful soaps make an elegant birthday gift for a friend or relative, or a treat for yourself.
In addition to my exclusive content live on Fresh.com and Fresh's social channels, the beauty brand featured me on a section of their site called Fresh Moments, which is their editorial platform. Click here http://bit.ly/1EHAh4P to see childhood photographs of me (please scroll down to bottom of page), my Fresh Forecast video series (12, one for each sign on top of page), and my inspirations.
---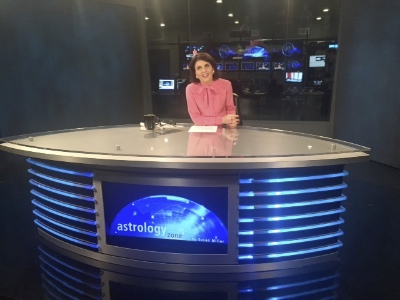 Proudly Announcing the Debut of my NEW TV Show!
For many years, I have had the dream of having my own TV show - that dream came true in February, when my show debuted. The show will stream internationally on Vimeo.com, our host provider, and it will run 30 minutes.
Each month, I will explain points about astrology in an easy to understand way. All the material on the broadcast will be fresh and new, and I will not duplicate any information that already appears in my monthly Astrology Zone report. My aim is to help you understand how astrology works, and how you can harness this ancient art to make your dreams come true.
The show will now be available on the first day of each month - or even a few days before the end of the month.
Astrology Zone and my normal long monthly horoscopes will always remain free for you as they have every month for the past 19 years on the Internet. Please always look at my PS on my website each month as I list appearances and other free events that do not appear on my app. You can only view my TV show from clicking on the link from my site, as it is not possible to do straight from my app.
Viewing my TV show will give you special insight and detail on the coming month and also help you get more from the information you already get from me on Astrology Zone. I hope to teach you a few handy skills that will allow you to understand how astrology works and how you can harness that information for your own purposes to achieve enjoy a brighter future.
Tell us how you feel on my social media accounts, on Twitter @AstrologyZone, and on Facebook "Susan Miller." Also, Vimeo.com, our server host for the show, provides a place for comments too, and so do post a note there too - all of us will be reading your comments
---
Announcing the NEW, Extended Cut Glamourscopes Videos!
Last month I showed you the surprise I had for you, special animated videos called Glamourscopes that I had done with Conde Nast Entertainment (CNE) on a forecast for The Year Ahead 2015. Each sign's video runs a little under three minutes. The animators illustrated my words with visuals in a very original and imaginative way, so most people think the videos are especially cute. You told us you loved the videos, but said in a loud and clear way, "We want them longer!"
To CNE's credit, they immediately went back into the film I had already done for the original videos to see if they could create longer ones. I had originally taped for three hours per sign in various ways to help the animators do their work, so there was plenty of material for CNE to sort through. CNE designed new, longer, seven-minute videos that did not duplicate any of the material I had given you on the first, shorter, three-minute versions.
Called the NEW Extended Cut Glamourscopes, you are telling us that you love these even more. Don't miss them! In these Glamourscopes, I give you plenty of dates, so you will want to click on the links below to hear all the advice I have for you, dear reader! Remember to listen to your Sun sign and rising sign - both!
Shorter Glamourscopes: http://bit.ly/1yPzZEF
Extended Cut Glamourscope (not duplicating the short forecasts of Glamourscopes above): http://bit.ly/15nk8m5
---
Happy Birthday, Scorpio
Each month I write a Happy Birthday forecast for Neiman Marcus' Blog, and then post the URL on Twitter and Facebook for my readers to see. If you are not on social media, you are not seeing it. Here is Happy Birthday, Scorpio! Click here: http://bit.ly/1O961ph
Neiman Marcus archives some of the past ones, so if you go to this fine retailer's website, scroll to the bottom of their homepage, find The Blog, and go in to Lifestyle, Horoscopes. (I am a bit buried there.) You can still get some of the past signs that you may enjoy reading.
If you want to read my Twitter feed, I am on @AstrologyZone
And on Facebook I am simply "Susan Miller".
---
See Childhood Photos of Me on Fresh.com
I am proud to be the new brand ambassador of Fresh, the LVMH brand that specializes in beautiful natural skin care. Last year, I collaborated with Fresh to come up with oval soaps by sign sold on their website and in their stores. The scent of these soaps is simply divine, and the soaps are of the highest quality. When you purchase one or more soaps, you get a little booklet I wrote for Fresh about the qualities of your sign and peek ahead for 2015.The oval Zodiac soap Collection makes an elegant birthday gift for a friend or relative, or a treat for yourself.
Have a look at these links to see what we've been up to!
SOAP COLLECTION
Link to Collection: http://bit.ly/166wPSX
- Drawing inspiration from the field of astrology and the four elements, Fresh's Oval Soap have been reimagined to represent each of the 12 Zodiac signs.
- As a special bonus with purchase at any Fresh Retail Store, each Zodiac Oval Soap comes with an exclusive booklet featuring a look at the year ahead by Susan Miller
FRESH MOMENTS:
Link to Fresh Moments: http://bit.ly/18EBbBJ
- Featured on Fresh.com as part of Fresh's Ambassador Program Fresh Moments
- Personal photos from Susan's childhood, her inspirations and her favorite Fresh products included in the feature
FRESH FORECAST VIDEOS
Link to Videos: http://bit.ly/1Fqy7pJ
- 13 part video series featured on Fresh's YouTube channel and Fresh.com.
- One video per astrological sign featuring Susan giving a synopsis about the sign, predictions for the year ahead, and curated product pick by sign
EVENTS
- Stay tuned for special events in the spring at Fresh Retail Stores with Susan Miller
Events to be highlighted on Fresh Facebook (www.facebook.com/fresh)
---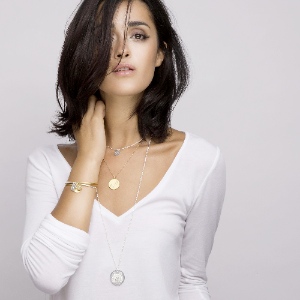 You Love the Zodiac Jewelry Collaboration I Created With Sequin Called the Star Maps Collection
Thank you for your Overwhelming Response!
Now A NEW, IMPROVED WEBSITE
Last year, I was invited by Sequin executives to look at an idea their talented New York City Sequin Design Studio had for a collection of pendants with an astrological theme. Sequin's Star Maps Collection is based on original, hand-cast illustrations of constellations and zodiac symbols, and was designed & handcrafted in the USA with components from around the world. They are simply beautiful. I wear my Sequin necklaces all the time, as they work with almost anything. This month, Sequin is launching a new, related collection called Celestial.
The all-women executives at Sequin asked me to check to make sure all the designs and keyword descriptions of the signs on their site were astrologically correct. I was happy to see that they were all well researched. (Everyone, it seems, at Sequin reads Astrology Zone!) I love the quality of the pieces, and some are of silver, and others are gold. Many girls layer several of these necklaces over each other, using various lengths, and that's a great look too.
The styles are available in 22K gold-dipped or silver-dipped at a range of price points. Gold toned bracelets have been available, and shortly you will see a line of silver bracelets too.
The pendants are all made in America and handcrafted by artisans using material components from around the world. These designs are so well priced that I feel they will soon sell out their inventory during the holiday gift-giving season. I was impressed with the lovely chain that the pendants come with too, as it is tangle-proof and delicately made to look as beautiful when worn as the pendants. Whenever I wear my Sequin necklaces, I get many compliments.
These Star Map and Celestial necklaces make great gifts or a treat for yourself. I quickly chose those necklaces as part of my favorite things to give for friends' birthdays.
Imagine how surprised I was that Oprah had chosen this Sequin Collection as a part of her "favorite things" in her December 2014 magazine issue. I was happy for my new friends at Sequin and the incredible success of this new line of jewelry.
The new Sequin website now offers a Wish List feature - perfect!
Click through to see the entire range of jewelry:
http://www.sequin-nyc.com/pages/star-maps
---
My New Apps for Android, Samsung Galaxy, and iPhone are Ready to Download!
Last January, Phunware met with me and we set out to design a completely new app for AstrologyZone readers. We have a free version and an optional paid subscription version for Google's Android and Samsung Galaxy, just like the iPhone readers experienced approximately a year ago.
My new app has a completely new, sleeker design and many new features. You will still have a free daily horoscope, or if you prefer to subscribe, a much longer daily horoscope. The long version is the one most readers prefer. The new applications work with iOS 7.0+ and Android OS 4.0+. If you are already a subscriber to my app on your iPhone, the new design will just slide in to replace the old design when you updated your app. If you have a Samsung Galaxy smart phone, you use the Android operating system, so you will get the new design too. The bugs in the iPhone are all fixed, no more signing in each time you check your forecast, and the tools section for subscribers, the prettiest section, is working flawlessly now. Android/ Samsung Galaxy were bug-free from day one, so go get my app in either one of our retailers, Google Play or Apple App Store, depending on your smart phone type. Search: "Susan Miller."
A feature of my new apps is that each app will automatically expand or shrink to fit your other devices, whether iPad or tablet, or any size smart phone you choose, large screen or small. These newly designed applications have kept screen real estate in mind, allowing users with phones or tablets to get a fully optimized experience for their device screen size. The iPhone 6 is now out, and my app will beautifully translate to that new screen size as well. Keep in mind that you are purchasing a subscription to my app from Apple or Google as retailers, not from us at Astrology Zone. I get a commission on the purchase price of the subscription you buy.
Whether you choose the free version of my app or choose to subscribe to the premium version, either way you will still always have your monthly Astrology Zone report on your phone, and my previous month's report as well. You can check all twelve signs of the daily or monthly horoscopes too by simply going to the home screen and choosing a different sign. The new apps will list my appearances too, but so far, I have no appearances on my schedule, but that might change in time, and if it does, you will be able to see where I will be immediately. Until now, only readers who went to their computers online would know in what city I would have new events. You can also see my Twitter feed on your mobile device too. The designs for Android and iOS are consistent; you get the same visual design and features for either application.
I would appreciate you taking the time to review my app, for I will read all your comments. I am grateful that sales of the premium subscription are so strong, for this allows me to keep Astrology Zone free. Thank you for your support and understanding while I recover from my illness.
---
Live Overseas? Or, don't have an iPhone, Android, or Samsung Galaxy?
Get all 12 of my daily horoscopes each day by email or pick yours up each day on special password-protected site.
To plan ahead, receive several daily horoscopes in advance!
By subscribing to DailyAstrologyZone you will receive a week of horoscopes inside your cell phone and / or computer. This means if you have a BlackBerry or feature flip phone, you can still get my daily horoscopes as long as your device accepts email. You will also have the option of accessing your daily horoscopes from a website online, from anywhere, any time, through a password-protected site for members only, or receiving all 12 signs my email each day.
For more information: http://www.dailyastrologyzone.com
---
MY PERSONAL CUSTOM HOROSCOPE BOOKS
WRITTEN BY SUSAN MILLER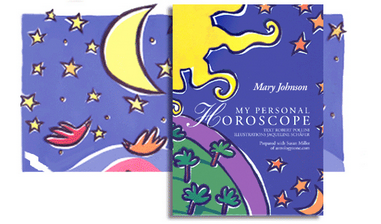 Choose from 'My Personal Horoscope' for Adult, for Babies, or for a Relationship, the Two of Us either in Print or in PDF format.
For the Print version count on two weeks on average from Order receipt to Delivery for any US destinations. One week longer elsewhere.
For the digital PDF version count on one-week turnaround to receive the emailed download-link of the file with the same full-color illustrations by Jacqueline Schafer.
Adult Edition

Baby Edition

Relationship Edition

Annual Birthday Solar Return
My Personal Horoscope Custom Natal Chart Book $54.99 plus shipping / tax
For more information call Susan's publisher, Arthur Heydendael 914.271.3640 ext 14 or click here:
http://www.americadirectbook.com/Customized_Books
To view a forecast, select a sign from the menu below and click on Go.