Pisces Horoscope for May 2013
By Susan Miller
Last month, in early April, you spent a lot of time and attention on financial matters, but for a Pisces, to be wound up in calculator tape can make you want to scream, "Let me out of here!" It's not that you aren't good with money - you are. In fact, studies at Forbes magazine say that Pisces and Virgos tend to produce more wealthy billionaires than of any of the signs. This is ironic, because these two signs are the least materialistic, but rather highly spiritual. Being a Pisces, a life focused solely on money would drive you to distraction and ultimately leave you feeling empty. You enjoy focusing on perfecting your many creative projects or working on humanitarian projects. Your first focus is always on the excellence of the product or service, for you know if you put your attention there, the money will follow on its own. It does, too.
This month, you will turn your attention to written work or another area of the communication arts. This trend started late last month with the April 25 eclipse in Scorpio, the first of three eclipses that we are to have by the time we get to the end of May. Having three eclipses arriving every two weeks is unusual. Eclipses are very important to watch, for they often bring up the most dramatic news of the year. The job of an eclipse is to promote productivity and progress, and to illuminate truth. Eclipses work like heat-seeking missiles, honing in instantly on weak links in a relationship or situation and either depositing the evidence it finds at your doorstep or sweeping out that situation in the blink of an eye.
Last month's eclipse on April 25 eclipses was serious or somber, as it came attached to Saturn. It was definitely the hardest one of the three eclipses, and happily, I can report that the next two are quite favorable. Last month you may have lost a client or some sort of written assignment. Or a certain project for an overseas client might have demanded a great deal of time, attention and effort, but the result may have been stellar.
If you were asked to sign a contract last month, you may not have been able to come to terms, and so if you tabled talks to this month, when the aspects were (and are) much better, you will see encouraging progress. You may have received news about a legal case at that eclipse, too, and hopefully having an eclipse in perfect angle to your Sun (Scorpio to Pisces) helped you find a good result. I cannot see all in your chart, dear Pisces, so things may have been mixed, but you did have some planets working hard for you.
Eclipses test the strength of endeavors and relationships by sometimes blowing very harsh, furiously fast, hurricane strength winds through the part of your life being studied by the eclipse. If anything is not securely fastened, it will flap off the wall and fly out the window at incredible speeds. Eclipses have no patience, they just "do." You can't get anything back that an eclipse decides to take away, as the mission of an eclipse is to create positive change. In that sense, eclipses are non-negotiable, if you lose something as a result on an eclipse; it is not worth your time or dignity to try to get it back. It's gone. Focus on the new.
I know that's easier said than done. My heart is with you if a client or other opportunity that you dearly wanted was taken away. The universe deemed that situation or relationship somewhat damaged (which is why the universe jettisoned it so quickly), so try not to lose sleep over anything you thought was "lost." It was not lost.
Projects that hone in on your talents are on the way, and if you lost anything last month (not saying you did), the universe was making space in your basket to provide room to add those new relationships and elements to your life. If your life has no room for the new, how can Jupiter help you to the greatest extent?
Dear Pisces, Jupiter, the giver of gifts and luck, is currently zooming through space to reach the constellation of Cancer, one of the very best places for Jupiter to be for you, for in that position, Jupiter will be in heavenly "trine" to your Sun. Jupiter is due to arrive next month on June 25. This planet of good fortune will reside in your house of love, romance, children, and creativity (yes, CREATIVITY, the area that is always so important to you), and is set to stay for a full year. Have faith that things are about to get so very special for you!
Although the April 25 eclipse was somber and serious, many Pisces also reported exciting news because that same eclipse was so beautifully angled to Neptune, your ruler and planet of creativity. With so many aspects centered on publishing and broadcasting, you may have sold a book or screenplay. You may have had a chance to travel, or you may have done an important assignment at home that you wired to foreign companies overseas.
If you were born on February 23, plus or minus five days, or have a natal planet at 4 degrees (within five degrees) of Pisces, Scorpio, Cancer, Taurus, Virgo or Capricorn, you must have heard news, and I bet it made you happy!
If you would like to read what I wrote for you for April last month about that April 25 eclipse, you can scroll down here to the place below my Dates to Note, and look for the link to last month's forecast. The previous month's forecast is always there for you to read.
Now we turn to the big news, the solar eclipse of May 9/May 10 in Taurus, 20 degrees. Accompanying that eclipse you have Mars (energy and action) very close to the eclipse, Mercury (news, communication), and the Sun (strength, ego, authority). Your skills in all phases of communication will be in demand, so you may begin an important major writing project, give an important speech, appear on a panel as a judge, or make an important personal appearance. You may direct a film, or if you are an actor, learn your lines for a new movie. In the latter case, perhaps your new role involves learning a language or dialect - in that case you will likely work with a coach to help you.
The third house, which will be packed with planets, also rules social media, very helpful to you this month. If you are on Facebook but have never tried Twitter, or if you would like to update your file on LinkedIn, this would be the month to be playful and give social media another look. This month there will be so much to be gained by communicating to the world.
Mars will orbit close to that new moon eclipse May 9/May 10, so this is evidence of just how busy you will be, and how determined you will be to do a good job on your project. Pluto will be very friendly to the planets in your communication house too, so that suggests that an influential friend may help trigger some of the benefits you see, and especially in regard to publishing and writing. Writing comes in many forms - you may be writing music or writing code, as two examples, so chances are, you can find a way to make this outstanding month work for you.
You will feel the gifts of the new moon solar eclipse much more strongly quickly after May 9 or 10 arrives, although you will get hints of how hard those planets will be working for you beforehand.
With such emphasis on Taurus, a sign associated with sensual beauty, you may be working with breathtakingly beautiful artwork, music, film, or photography, or in the beauty area, with perfume, cosmetics, scented lotions, skin care, music, gourmet foods, or fine wines. Some Pisces who are in the financial world may be writing up white papers that have to do with real estate, the stock market, insurance, precious metals, and so forth, as these too are ruled by Taurus, as a sign closely linked to land, possessions, and money.
If you have a birthday that falls on March 10, plus or minus five days, this eclipse will address you directly in a big way. If you were born prior to March 10, you will see a big development on something you already set in motion. If you were born after March 10, something very new will come up in the communication / travel / contractual area.
You may be asked to sign a contract this month, and actually, it would be a good time to do so. Starting next month, from June 26 to July 20, Mercury will be retrograde. It would be best to sign paperwork now, perhaps on May 10, or even better, on Monday, May 27, when Mercury, planet of all legal agreements, conjoins Jupiter.
If you have a planet in Taurus, Virgo, or Capricorn, at 20 degrees (or within five degrees), you too will benefit. Next in line will be if you have planets in Pisces, Cancer, or Scorpio with the same tolerances, and again, this eclipse will work in your favor.
That day, May 27, will be Memorial Day holiday in the US, so you may need to bring the paperwork with you on your trip, sign it then, and mail it the minute you get back May 28. Travel is indicated over that weekend, and if you were wondering whether you should go away over Memorial Day, the answer is yes!
Tuesday, May 28, will be special too, as Venus will meet with Jupiter for the only time in 2013. Venus is the natural ruler of your third house of contracts, so this would also be a good time to sign papers. Additionally, Venus also rules your house of other people's money, so if you applied for a loan, mortgage, venture capital infusion, university financial aid, or need other funding, this day should give you good news. You may also hear news about an inheritance and find the amount you receive is very generous.
By the time the Sun moves into Gemini on May 20, it will join Venus, Mercury, and Jupiter already there. All these planets will await the entrance of the new moon, June 8, to get things going. Your home, other real estate, or a family member, most likely a parent, will become a growing focus of attention and will be in full swing next month.
In the meantime, the two dates I just mentioned above, May 27 and May 28, will become very important to you for advancing home-related goals, too. You may sign a lease on May 27 when Mercury and Jupiter link in your home sector, or on May 28, buy furniture that you'll be so excited to own. If you need a mortgage, fill out the application early in the month so that by month's end, on May 28, you can have your mortgage in hand. Your chances are excellent. Those two days are truly golden, and very rare.
Now let's turn to your glowing career and a possibly big development that may occur as a result of the lunar eclipse - a full moon - in Sagittarius 4 degrees, in your solar tenth house of honors, awards, achievement, and fame. There is no doubt that the news you hear will elevate your status, dear Pisces, and when news strikes, it will come suddenly, from an unexpected source.
The biggest surprise of all is that you will receive generous compensation, possibly in terms of a salary or retainer, as it appears the money you see will become a steady source. I say this because Uranus, so beautifully angled to this eclipse, is IN your house of earned income. You may have seen a large sum leave your bank account lately (especially sometime between mid-March and April), but now you can turn the tables and find ways to replace that cash in your savings account.
Neptune will be in hard angle to the eclipse, so if you were born in February (as Neptune is in early 5 degrees of Pisces), make sure you clearly understand any offer given to you. With Neptune so angled, the chances of misreading the situation will be high. It would be wise to consult a lawyer for any big deal you need to sign, just as a precaution. Legal advice is like health insurance - you need it!
I am very excited for you, for you may become a household name as a result of this eclipse of May 25. A lunar eclipse automatically brings the moon into the conversation, and the moon is your natural ruler of your solar fifth house of creativity. You may get the perfect outlet for your artistic talents, dear Pisces, and THAT would make you very happy indeed!
---
Summary
Your skill in writing, speaking, designing, editing, proofing, coding, film directing, and other communication arts will turn out to be a major force in your life in May. A grand conglomeration of planets will fill your solar third house and bring you exciting opportunity to have your voice, point of view, sense of style, or other of your talents heard.
To keep your spirits and motivation high, you will have many opportunities to travel too during the first three weeks of May. If you do choose to get on the road, the reasons you choose to pack and go may be varied - to do business, see family, or to have a romantic weekend for two, or all three. Getting away will do you a world of good, and your stars suggest the place you choose to go need not be far. Your work on the communication project I see for you and your travels may bring reason for celebration May 28.
With your home gaining as a hub of attention at months' end and even more so in June, it would be good for you to get away if you can. You are about to get some wonderful home-related news or family support on or near May 27, when Mercury has an annual meeting of Jupiter. What you hear may have bearing on a pending financial matter, a house, or an inheritance from a family member, because the next day, May 28, Venus, a planet associated with money, will also meet with Jupiter.
Your sister or brother may be the source of much news too in early-to-mid May, for the third house, so bright in May, also rules siblings, and you may gain from the efforts of a sibling. On the very first day of the month, May 1, you may an experience disagreement with your sibling about a certain matter, as Mars will be in direct opposition to Saturn. Your sister / brother may favor a course of action that is quite opposite yours. One of you will be cautious, the other favoring an assertive role, so the only way out will be a discussion about all available options and risks in terms of consequences / rewards. Saturn, ruling the conservative approach, will likely win out, as Saturn is slower moving than Mars, but this is not definite - argue your case if you are passionate and want to take an aggressive stance.
Your career is about to get a major boost at the lunar eclipse, a full moon, May 25, plus or minus four days. This will be a very exciting moment, when talks come to culmination and the world hears about your fine work. The salary or fees to you will receive from this development should be surprisingly generous. It is very possible that a creative idea of yours is at the core of your rising status, something that will make you very proud indeed.
---
Dates to Note for Pisces
Most Romantic Dates: May 3, 4, 9, 10, 18, 22, 23, 27, 28, 30, and 31.
Your ability to communicate clearly, with effectiveness and style, in any median, will make your month. The solar eclipse could bring opportunity that proves very exciting, no matter where your talents lie in communication arts.
On Friday, May 17, Mars will reach the exact degree of the eclipse, triggering lots of news from the communications-oriented solar eclipse, if you had not heard earlier.
Pay close attention to what happens on May 18 when you may hear a breakthrough about a home related matter, thanks to Venus and Uranus in sync. If you are involved in a redesign of your home, or a real estate buy or sale, this day could prove pivotal.
Another shimmering day for home matters will be May 27, when your home-related project will bring wonderful news, thanks to Mercury conjunct Jupiter, a rare aspect that happens but once a year.
If you can take a short trip on May 27, that would be ideal. Memorial Day falls on May 27 in the US, making May 25-27 a popular time to be away. In terms of US long weekend holidays, this one should be your best bet.
Money may come to you on May 28, due to Venus, ruler of your eighth house of other people's money, and Jupiter, giver of gifts and luck. Communications-oriented projects shine, as do home-related goals on this day.
Watch for good news about your home or other property, or from family, when Mercury and Jupiter link on May 27. It's a five-star day. This aspect won't happen again for a full year, but when it does come back, these two planets will meet in a different part of your chart. It will be twelve years until they meet again to grace your home sector. Home matters shine - so do buying / selling and travel.
Your home sector is certainly about to grow in importance by next month. You will see a great deal of action after the new moon, June 8.
Your career will reach amazing news at the full moon lunar eclipse, May 25, and many will be aware of your accomplishments. This will be a major, celebratory moment in your time line for professional matters; allow a plus or minus five days. Be sure you know all the terms of the offer - Neptune might bring confusion to the deal points you are basing your decision upon. Neptune would be favorable if the offer involves TV, photography, film, poetry, dance, painting, or any of the other arts.
May 27-28 will sparkle brightly for love - be sure to make plans - as Venus and good luck Jupiter will meet in your house of true love.
P.S. for May 2013
Appearances In May
Susan has two appearances in New York City in May, her first appearances since January! Susan feels so much better! Please come and say hello to Susan at one or both of the following events:
NEW YORK CITY
Thursday, May 9, 2013 - Noon to 6:00 PM
Saks Fifth Avenue
Fifth Avenue & 50th Street
New York NY
For more information, please call 212.753.4000.
Press is welcome
Susan Miller Appearance, Six Hours - Main Floor, Fragrances
On Thursday, May 9, the day of the solar eclipse, please join Susan at Saks Fifth Avenue in honor of Fragrance Week that will run in Saks through the entire week beginning the previous Sunday. Treat yourself to a new summer scent or surprise your mother with her favorite fragrance for Mother's Day.
If you spend $100 or more on fragrance, you will receive a pretty atomizer gift - in coral, blue, or clear (while supplies last) AND you will be brought to Susan to chat. Bring your questions!
---
NEW YORK CITY
An Evening with Susan Miller
Tuesday, May 21, 2013 6:30 PM to 9:30 PM (may go longer).
Meta Center
214 West 29 Street - 16th Floor
New York NY 10001
Tickets $45.00 in advance, $49.00 at the door
To order tickets: Call 914-271-3640 ext 14
http://www.americadirectbook.com/seminar
This event is closed to press to preserve as much space for attendees as possible.
"Planetary Trends and Eclipses of 2013: May through December"
By now it's clear that we are all adjusting to a new normal. The economy is gently improving, but many readers still report that things are not easy. This talk will center on the recent lunar eclipse of April 25 in Scorpio and the solar eclipse of May 9 in Taurus, as well as the three coming eclipses this year: a lunar full moon eclipse on May 25 in Sagittarius, a full moon lunar eclipse on October 18 in Aries, and new moon solar eclipse on November 3, 2013 in Scorpio. Everyone will feel these eclipses in different ways, and eclipses are always important to watch, for they bring fast moving events and often the biggest news of the year. Susan will also discuss the challenging aspects due early July and late December 2013, and the year's bright spots. She will also discuss the impending Venus and Mars retrogrades and what this means for you.
In a year like 2013, brilliant days and difficult ones lies side by side, so it will be important to plan your key initiations on the very best periods of the year. With this lecture, you will leave armed with all the information you need to strike at the right time for you. You will have lots of opportunity to interact with Susan and others in the audience - Susan's lectures are always lively and fun.
Please come to check in at 6 PM and have a little something to eat ahead of time so you won't be hungry.
This event will be in an intimate space that holds only 100 guests. All Susan's events sell out, so please reserve your space early.
If you like, send a message to Susan on her Twitter account @AstrologyZone.
---
PHILADELPHIA, PA
Saturday, August 17, 2013, 2:00 to 3:30 PM
The Doubletree Hotel on South Broad Street, Philadelphia
Susan's 75-minute Lecture: "The Year Ahead 2014"
Get a bird's eye view of the most important features and trends for the Year Ahead 2014, including a preview of the year's major eclipses in Libra (April 15), Taurus (April 29), Aries (October 8), and Scorpio (October 23). Susan is known for her detailed research, clarity of communication, and her lively, entertaining presentation style. This lecture is a "must" to prepare for 2014. Susan's lectures are interactive, so come with questions.
Link: http://www.ncgr2013.com/
Susan will speak for 75 minutes in Session 5: Saturday, August 17, 2013, from 2:00 to 3:15 PM at the NCGR Astrological Conference to take place in Philadelphia.
No previous knowledge of astrology is required to enjoy the conference, for there will be classes that attendees with little experience with astrology can enjoy. Stay for a day or the entire NCGR conference. Entrance for the full day of the conference on Saturday is $125.00
The National Council for Geo-Cosmic Research is a highly respected astrological society in the United Sates of which Susan Miller is a member.
Accommodations:
Doubletree Hotel, A Hilton Hotel
237 South Broad Street
Philadelphia, PA 19107
Hotel reservations: 214.893.1600 hotel, mention "NCGR Conference" and book a room at special NCGR conference rates. Rooms are available as long as reservations are available for the NCGR Conference that will take place from August 10-22, 2013, including pre-conference classes. (Susan speaks Saturday, August 17, 2013).
Bookings have been so heavy that by April, NCGR had to add more rooms for the conference. Don't delay! The special low-cost room rate will be available only until July 21, or until the block of reserved rooms are sold out, whichever comes first. Because Mercury will be retrograde from June 25 to July 20, we suggest you book now, far in advance of June 25, while you still can get a room.
To book, just click here:
http://www.ncgr2013.com/location/accommodations/hotel
Stay for the Saturday night Banquet Dinner, and if you like, you can dine at Susan's table: $65. (All banquet dinners are the same price, wherever you are seated.) Please hurry, as seating is very limited. When you book the dinner, ask for "Susan Miller's Table" (and also mention Joyce Levine, the NCGR official who knows about this special table.)
Questions? Contact Judy Johnson at ncgr13registrar@yahoo.com or call (630) 219-9021
---
Are You Obsessed with Mad Men?
I Analyzed the Horoscope Charts For Three

Mad Men

Characters!
Don Draper (and also Richard "Dick" Whitman)
Peggy Olson
Joan Holloway
To celebrate the debut of Mad Men's sixth season, the editors at indie pop culture magazine PAPER called on me, Susan Miller, to do the natal horoscope charts of three of the show's main characters: Don Draper, Joan Holloway, and Peggy Olson, as show writers had clearly mentioned each of these particular character's birthday in the script during the course of the five seasons of the show. I was also asked to compare two charts for Don Draper - that of his actual biological birthday (when he was born Richard "Dick" Whitman) and that of the birth date he adopted after assuming the name and identity of 'Don Draper.'
I look the information and chose a birth city and time of birth for each of the three fictional characters. I did this based on bits and pieces of information revealed about each character over the show's many seasons. (Note that I did not do the charts of the actors who played the parts in Mad Men - that would have been an entirely different article. I focused only on the three fictional characters.)
In the past, I have been called on by Hollywood to collaborate with writers in character development because astrology, with its firm structure and fascinating layers of complexity, can show clearly the intricate shadings of personality. At the same time, I can help a writer maintain the integrity of the character. Astrology can be a rich source of fascinating information about a person's makeup - this is true whether the person is fictional or real.
To be clear, the Mad Men writers did NOT call on me in advance to help in character development for the show, although as I just mentioned, I have done this for other writers not connected to this show (and whose names will remain private). This was my first time to discuss a character AFTER the character's personality had been strongly developed over time!
This was a lot of fun. I not only looked at the personality of the three Mad Men characters, but when appropriate, I looked to the future to add some of my own ideas of what might come next for each character.
Here is the link to my assessment of three stories on the PAPER Magazine website.
Don Draper/Richard Whitman:
http://www.papermag.com/2013/04/don_draper_natal_chart.php
Joan Holloway Harris:
http://www.papermag.com/2013/04/for_all_mad_men_enthusiasts.php
Peggy Olson:
http://www.papermag.com/2013/04/susan_miller_peggy_olson_natal_chart.php
I welcome your thoughts on my Twitter account @AstrologyZone.
---
My New iPhone App is FREE for you!
At long last, I can tell you my secret! I have designed a free iPhone app that you can download today.
If you have an iPhone, just go to iTunes and search for "Susan Miller" and find my new app that I did with mobile app company Phunware of Austin, TX, called:
"Susan Miller's Astrology Zone Daily Horoscope FREE!"
Each day you will get a small, concise forecast on your iPhone for free every day. Think of it as your daily bite of chocolate to keep you informed, motivate you, and keep you progressing toward your goals. You will always know the aspects, for they will be at your fingertips. I have included Astrology Zone in the app, so you can read it (or re-read it) wherever you happen to be.
I worked on the design of this app for over a year, and I am so excited to debut it today! It is Apple-approved to work with all iPhones, including the iPhone 5, so no matter which version phone you have, you can start using it immediately.
If you search "Susan Miller" on iTunes you will see my new app, Susan Miller's Astrology Zone Daily Horoscope Free! as well as my other app, Astrology Zone Premier, that costs $3.99 and that I have had since 2005.
My older app, Astrology Zone Premier, will eventually be retired, as I can no longer afford to give so many words - approximately 1,100 words a day and 430,000 words a year - in daily horoscopes plus evergreen (personality) content in the app, for a one-time cost. That app will be folded into the new app, and if you choose to subscribe at a low subscriber cost, you will have the same daily forecasts, chock full of information, that you've come to know and love since 2005.
We built my Twitter feed into the new app, so that you can easily write to me to ask questions, converse with other followers, or share news quickly and easily from your mobile phone. My name on Twitter is @AstrologyZone. You will also find a link to Facebook, to my page, if you search "SusanMillerAstrologyZone"
If you already own my other app, Astrology Zone Premier, you will have plenty of time to make the switch to my new free app (with the option of getting the subscription). On Astrology Zone Premier, you will get alerts from time to time to let you know when the app will end - but we do not plan to end anytime soon and we will continue to support the app with daily updated content. You can buy my premium Astrology Zone Premier app now for $3.99, and enjoy it for now with no worries that it will disappear suddenly.
Don't have an iPhone?
My Astrology Zone Premier app is available on Android.
Also, no matter what phone you have, you can get the same daily horoscopes that I write for the iPhone, sent directly to your email address. This way you can see your forecast in any cell phone or email box in your computer, every day. This is a perfect solution for readers overseas or for readers who have cell phones other than the iPhone. You will receive all 12 signs every day, for a low cost of $4.95 for one month or $49.95 for a full year at http://www.dailyastrologyzone.com
---
Order Astrology Zone Products For Yourself or a Friend for 2013!
Here are lots of ideas for gifts! We ship to all nations of the world. Hurry! International, please add 7-10 days.
1. The Year Ahead Astrological Calendar $11.99
Now discounted!
To order, call Arthur for more information: 914.271.3640, ext. 11
Never be caught unaware of the upcoming aspects eclipses and retrogrades.
All lovingly described by Susan Miller in her annual calendar. A must-have!
http://www.americadirectbook.com/The_Year_Ahead_2013_Calendar
2. Daily Astrology Zone Horoscopes
Delivered to your email box every day, written by Susan Miller.
All different costs depending on whether you order $4.95 for one month or $49.95 for a year.
Each horoscope is at least 75 words (often longer), and you will get all 12 signs each day to your email box. If you don't have an iPhone, these are the same forecasts. Perfect for readers with feature phones or BlackBerrys, or for readers overseas.
Copyright Susan Miller Omni Media Inc.
http://www.dailyastrologyzone.com
3. MY PERSONAL CUSTOM HOROSCOPE BOOKS
WRITTEN BY SUSAN MILLER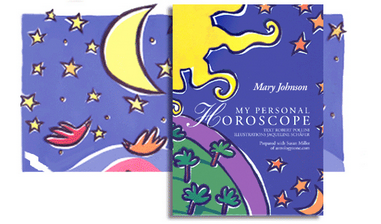 Chose among three editions:
My Personal Horoscope Custom Natal Chart Book, Adult Edition $49.99 plus shipping / tax
Have an entire book written by Susan Miller about your natal horoscope. Get to know your rising sign (also called the ascendant) as well as the placement of each of your planets, and what gifts those planets were to give you. For more information call Arthur 914.271.3640 ext 14 or click here:
https://www.americadirectbook.com/My_Personal_Horoscope_Adult_Edition
My Personal Horoscope - Baby Book - Custom Chart of the Child's Talents $49.99 plus shipping / tax
Learn about your little baby's talents and sweet proclivities with a custom book by Susan Miller. This makes a wonderful book for the parents of a newborn or small child. For more information call Arthur 914.271.3640 ext 14 or click here:
https://www.americadirectbook.com/My_Personal_Horoscope_Baby_Edition
My Personal Horoscope ? The Two of Us Relationship Book $49.99 plus shipping/ tax
Order this custom book to find out about your compatibility with the one you love.
Give us the birth information of both parties in the relationship; your keepsake book will have both charts. For more information call Arthur 914.271.3640 ext 14 or click here:
We have a version of this relationship book for straight couples and another for gay couples. For more information click here:
https://www.americadirectbook.com/My_Personal_Horoscope_Relationship_Edition
4. "Planets and Possibilities" by Susan Miller
Warner Books, 430 pages, $18.32 plus shipping / tax
Digital versions $9.99
The definitive classic astrology book that tells you about you!
Susan Miller's classic book that describes the signs in an original way, with Susan Miller's comprehensive, in-depth, and easy-to-understand style. Learn little known things about your sign that you never knew. The front part of the book includes information to help you understand the structure of astrology and how you can use astrology to help you progress. Mythological stories for each of the signs add spice and fascinating detail. This book is available as a quality paperback or digitally, on the Kindle, iPad, or Nook.
For quality paperback, $18.32 plus any applicable tax and shipping
http://www.amazon.com/gp/product/0446678066?ie=UTF8&tag=astrzone-20&linkCode=as2&camp=1789&creative=9325&creativeASIN=0446678066
For Kindle Edition (digital, Amazon), $9.99
http://www.amazon.com/Planets-Possibilities-Explore-Zodiac-ebook/dp/B000Q9INI6/ref=sr_1_1?s=digital-text&ie=UTF8&qid=1354499713&sr=1-1&keywords=planets+and+possibilities
IPad Edition (digital, Apple), $9.99
Go to iTunes digital bookstore and search for "Planets and Possibilities"
Nook edition (digital, Barnes & Noble), $9.99
http://www.barnesandnoble.com/w/planets-and-possibilities-susan-miller/1018228670?ean=9780759521322&itm=1&usri=planets+and+possiblities
5. Silk Zodiac Scarves by Susan Miller
$155.00 plus tax and shipping
A sumptuous, elegant 100-percent pure silk Jacquard scarf with hand-finished hem. You must see these beautiful scarves, with sophisticated artwork. There are 12 designs, one for each of the 12 signs, all in vibrant colors. You do not have to wear your sign's design - I wear all 12 depending on my outfit!
If you don't know your recipient's astrological sign, choose from three celestial scarves in classic design that will remind you of what chic French women wear in Paris.
See www.AhaLife.com, my distributor for the scarves, and for delivery and return information.
http://www.ahalife.com/store/?sort=relevance&q=silk+zodiac+by+Susan+Miller
---
My Facebook name URL is:
https://www.facebook.com/SusanMillerAstrologyzone
If you enjoy Twitter too, you can find me at @AstrologyZone.
To view a forecast, select a sign from the menu below and click on Go.