Your Monthly Forecast
All the latest monthly forecasts, organized by sign.
Age of Aquarius
Susan Miller's astrological predictions for a new century.
Current Trends
Find out the planetary trends that might be influencing you today.
---
Sagittarius (November 22 - December 21)
Your July Horoscope by Susan Miller
Your main focus in July will be on money, for both the new moon and full moon will draw your attention to your finances. September will be very important for your career status, but for now, money will take priority over all. Still, even though financial considerations will rule, you will have several opportunities in July to make a name for yourself. Let's start by looking at the new, July 4, in Capricorn 13 degrees.

This July 4 new moon will light your eighth house of other people's money covering large funds to make a dream possible, so you may be applying for a mortgage, student loan, venture capital, sponsorship, bank loan, or a business line of credit. This area of your chart also rules large sums, usually delivered in one chunk, such as money from a court settlement, an inheritance, division of property in a divorce, a bonus, commission, prize winning, royalty, licensing fee, or a valuable gift. The house covers financial obligations such as to credit cards, child support, alimony, taxes, and also tax refunds if you are due one. You seem not to be finishing up a financial obligation this month but rather seeking...
To view a forecast, select a sign from the menu below and click on Go.
---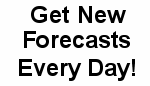 Click here to get your daily forecast
direct to your email or PC.

Hosted by: