Aquarius Forecast for June 2014
By Susan Miller
June has dawned, and you have a solid month in store. April and May were draining months for many readers of every sign, for the eclipses of April 15 and April 28 were strenuous. Sometimes eclipses send a message not on the day they appear, but rather one month to the day later. That made May potentially a heavy-duty month too. The areas you likely have been focused on as a result of the April 15 eclipse included (pick one): long-distance travel, international relationships, immigration matters, legal discussions and strategy, or an opportunity arising in publishing or broadcasting. You may have alternatively been weighing news and options involving your pursuit of a college or graduate school degree.
As long as we are on these topics, I will add an aside that on June 13 you may encounter pressure from a high level person that deals in one of these areas I just named above, if one is of interest to you. Mars will be at odds with Pluto, which is a tough combination, for you may be bullied into a corner by this person who seems to have a scorched earth method of negotiation or conversation. If you have a lawsuit, perhaps you can have the date changed. If you have an immigration interview, you'll likely come in contact with a hard line person. Again, I'd suggest you move the date.
The April 28 new moon solar eclipse in Taurus seems to have affected your home or family life, so changes may have suddenly come up there, too, especially if your birthday falls on January 27 plus or minus five days. By May, even if the two eclipses delivered messages on time in April, you were not completely done with the stream of news about possible life changes. Here's why.
The full moon of May 14 brought the possibility of a major professional offer that may have boosted your status in your industry sky high. It was not an eclipse on that date, but rather a powerful full moon in Scorpio that arrived arm-in-arm with Saturn. This tells me you may have had a very serious decision or commitment to make that concerned a high status professional offer or situation. Many Aquarians were offered a big job - and if you took it, it was the right time to do so.
If you say no, you didn't get an offer, but just the opposite, lost your job, or didn't get picked as the one for the high level position after going through many interviews - you must be very frustrated. I have good news. Mars, the action planet, will tour Scorpio and your tenth house of fame, honors, awards, and achievement from June 25 until September 13. That will be a critical time for you to make career progress, for Mars will see that your profile will rise and that you have no trouble getting your foot in the door with VIPs.
When Mars is in the tenth house, you will discuss a position that would be better than the one you had before, and that will allow you plenty of power and responsibility. If you recently took an exciting new high level position, you may get a LOT of publicity during this phase (June 25 to September 13), so I suggest you not take your vacation during that coming phase. You have not had Mars' help in this, your most important career house of your chart, since mid-September 2010 through end of October 2010, so this is a rare but powerful privilege. Work very hard at getting ahead then, and you will see your name on the big marquee.
After you reach September 13, when Mars leaves, see what happens at the next eclipse, October 23, later this year - you could get a big offer then. That will be a new moon solar eclipse and friendly for the start of a new career chapter. Because great positions often take weeks to win, it's very possible that you would make substantial progress during the period Mars is in Scorpio at the end of June through mid-September, and that the final offer, or the start date of your new job, would occur shortly after the solar eclipse October 23. Mars will be friendly to that new moon solar eclipse, and because Mars rules Scorpio, the place of the eclipse, this bodes well for a happy final resolve. Use these dates, dear Aquarius, and don't take a vacation at this time or you will miss the boat.
You will get a new moon at the end of this month in your sixth house of work projects on June 27, which will be a sweet one. However, I must explain the difference between a new moon opportunity in the sixth house and the house that you and I talked about earlier, the tenth house, where Mars will tour beginning at the end of June. Both houses deal with work, but the sixth house is all about day-to-day assignments. It is not the house where you rise through the ranks quickly to a new leadership position. However, it CAN help you distinguish yourself as a star and capable of doing a stunning job with a complex assignment.
So to say this again, you will not likely raise your status by changing jobs under a new moon in the sixth house as you will have June 27. For that you need a solid tenth house aspect, as you did last month on May 15, and will again by Mars, spanning June 25-September 13. The coming (friendly) solar eclipse of October 23 in Scorpio is also capable of helping you rise. However, a new moon in the sixth house, as you will have June 27, CAN give you a great project, or help you bring in impressive new business if you are self-employed. The type of assignment you get would have legs, to get you to new and more impressive business down the line.
Additionally, you can get a side job (or temporary job) this month in the ted days following the June 27 new moon. If you don't care to raise your status just yet, the opportunities at month's end and in early July may please you. Sometimes, financial need outweighs the wish for career development, so you may not be particularly concerned about rising in your industry just yet. A good example would be a new mother home with a small child who would like to supplement the family income, but would not want the pressure of taking on a high-pressure responsible managerial position. For her, this new moon will be perfect to find the part-time or full-time job she needs. There are many possible examples, but you get the idea.
I like the new moon of July 27 because it will be so friendly to Mars, and that means you can stir up action, and the people whose approvals you need will notice you and help you. Neptune will be in hard angle to that new moon, so make sure you nail down the financial aspects of the job, so there is no confusion later. Neptune is in your second house of earnings, and Neptune is known to bring misunderstandings. Get all conversations in writing.
The sixth house has domain over health and fitness too, and with a new moon there, June 27, you will have a stunning ability to set up your necessary annual doctor visits. See your general practitioner for tests on cholesterol, blood sugar, iron count, and blood pressure, and to check to make sure you don't need a vaccine of some sort. See your eye doctor to see if your reading glass prescription has changed, check in with your dentist for a cleaning, and your dermatologist or allergy doctor, and schedule all the other annual tests that experts recommend.
If your doctor clears you for sports and fitness, it's time to hit the gym and get serious about getting stronger and fit. If you start working out now, you'll flatten the competition at holiday parties for most stunning body on the dance floor. If you have been working out, this new moon will give you an opportunity to get to a higher more competitive level. Choose a new sport or a new class, and get lessons to perfect your form. Jupiter, giver of gifts and luck, is in his final days in your health sector, giving you an extraordinary ability to refine your health routine for future months and years. Let me explain.
I have found that having Jupiter in the sixth house is the best place to lose weight and get to the "real you" inside. This finding initially made no sense to me, because this planet of healing and bounty, Jupiter, usually expands everything it touches. Cancer has Jupiter in their sign, and Leo will have it next month. It's true those Jupiter periods that visit the Sun sign are usually marked with weight gain unless the person (in this case, Cancer, and soon, Leo) may realize and work against it by not slacking off on exercise.
However, what shocked me when I did my research was that having Jupiter in your sixth house of health teaches you to eat right, and to ENJOY the natural foods, and giving up processed and fried foods. They say after three weeks, you begin to crave the good things for you and wonder why you ever found the bad foods enticing. You will still have Jupiter in your sixth house of health until July 16, the date he will leave. In twelve years from now, Jupiter will return to your sixth house, but not any sooner. While you will have other opportunities within the intervening twelve years to lose weight, this point in time is special because Jupiter will make your reform process fairly easy.
Jupiter rules health, happiness, and even miracles. You have a golden chance to set up a fun new regimen that you love so much you won't give it up. Programs started when Jupiter is in the right position tend to succeed, and because you are starting a new health-oriented cycle while Jupiter is in your sixth house, your new program will likely stay with you for the coming decade. Yes! The coming decade! I feel you will be so excited to see your body transform that all the initial work to get fit will be clearly worth it. This is why I am going out of my way to show you all the cosmic help you have at your disposal in this short window of time. It is up to you. As my younger daughter, Diana, always said to me, "Mommy, fitness isn't fun until you are fit. It may take a few weeks or months to get there, but then you are rolling and you can't get enough!" Begin June 27, dear Aquarius!
Now let's turn to fun and love, which you will need in your life to balance out all the thinking you may be doing on your health, fitness, and more importantly, your career, and possibly home-or-family related changes too.
The new moon of May 28 that you just came through a few days ago and that I wrote about in your May report (you can always access your last month report below the Dates to Note) will continue to stimulate your love life in the first ten days of June. That new moon was in beautiful angle to Mars, so you may be tempted to take a little trip. Plan a long weekend somewhere sumptuous with your sweetheart - just promise you will come home fast and attend to all the burgeoning career excitement I see for you.
If you have no one to love, then the early part of June will also be special for you. It's important you circulate at a resort type weekend location. In New York, where I live, people like to go to the Hamptons or New Jersey shore; or in Massachusetts, they flock to Cape Cod, Nantucket, or Martha's Vineyard, as a few examples. Every city has its popular places to go, so you likely know the prettiest places for you.
If you are attached, you will have more time for one another, and also with your children. If you hope for a baby, early June would be the time to consider the idea and make plans.
If you have a birthday that falls January 27, plus or minus five days, or have Aquarius rising at 7 degrees, you will benefit with a double dip of pleasure from this new moon of May 28, so strong in the first ten days of June. The same is true if you have a natal planet near 7 degrees Aquarius, Gemini, or Libra.
Mercury will retrograde all month, from June 7 to July 1, but this time, you may find this transit of Mercury to be a complete relief. So much news has tumbled forth to everyone, of every sign, from the eclipses of April and the events of May, that I think you could use a rest. Your schedule will open up as meetings and decisions get postponed. Rather than be frustrated by this, welcome it. You will have more time to devote to thinking and sorting out all that you want to do in future weeks and months. Sometimes we all need a break in the action.
It is true that you should not purchase electronics or appliances while Mercury is retrograde, for if you do, later you will wonder why you were so hasty. You may find a better model later, or you may, in your rush, choose an item that will never fit your needs.
At the full moon, June 12, it seems you will be invited to a very special, luxurious event, populated by many interesting people from many walks of life, including international cities. Some will be quite distinguished - professors, writers and reporters, directors and producers, judges and prosecutors, ambassadors, and politicians, as well as people you know from your industry. This appears to be an event not to miss! Uranus will be beautifully angled to this full moon, so you may not even know you are going to this event until the last minute. Be spontaneous, and look your best!
If your birthday falls on February 13 plus or minus five days, you will find this full moon to be especially joyous for you. The same is true if you have Aquarius rising at or near 22 degrees, or a natal planet in Aquarius, Gemini, or Libra at that degree, plus or minus five degrees. I feel you are already too late to do anything, as I don't want you to take actions just prior to a retrograde, because as Mercury starts to slide backward, you will run into difficulties.
Mercury will be in your house of work assignments June 1 to 16, so that is when you are likely to have to backtrack on assignments and make changes, or correct errors that somehow slipped through. If you write for a living, your editor may suggest changes or additions in one part of the story, or ask for more depth in one part of the manuscript. Mercury retrograde actually helps us improve our performance.
As Mercury keeps moving backward, from June 16 to July 1, Mercury will be in your true love sector, so you may rethink a current relationship and perhaps adjust the speed of the relationship if it has raced ahead too fast. It is also possible you will go back to a former one to see if you can rekindle a past love. This would be the time to make that contact, dear Aquarius. You will also run into at least one friend from your past and be thrilled to see one another again and make plans to stay in close touch.
Also to help you will be Venus set to enter your fifth house of new love, true love, from June 23 until July 18, a fine time to mix and mingle. This is the first time you've had a visit from Venus in Gemini this year, so make the most of this! Gemini is what we call a double bodied sign, so you may meet not one but TWO interesting people! Venus is sometimes called the "lazy planet," for Venus teaches you not to try too hard to get attention. Let your natural magnetism draw others to you. With Mars in a friendly air sign too, you have a nice set of circumstances to find an interesting romantic interest, especially in late June and in July.
If you need to travel this month, June 24 would not be the time to go, for Mars will oppose Uranus. This can give problems with the mechanical parts of a car, for example, or bring on road rage from a nut case driver behind you, as people will be quick to become angry. If you travel for business, the person you are seeing is likely to be stressed out and distracted, and you might feel that way too. Uranus is your ruling planet, so that makes this aspect a more important one for you. Last Christmas, December 23-24, we had the exact same aspect, with the same signs involved (Aries and Libra) and practically the same degree. Think back - did something come up that was distressful, either emotionally or physically? If the matter was not fully resolved, it may come up again now for an answer.
A lovely day, coming earlier, will be when Venus will reach out to Jupiter, June 18. You may get good news and a breakthrough concerning a housing or property matter, a bargain for a piece of furniture, or upbeat news concerning one of your parents. This day may bring a new work assignment, and/or a sudden call to interview for an important project. Whenever Jupiter is involved, good money is never behind - this could be your chance to clean up and make a nice check, dear Aquarius!
---
Summary
One of your best months for love has arrived, for the new moon that lit the velvety blue sky at the end of last month, May 28, will help you step into a lyrical, fragrant and romantic month. Your efforts to find fun and love will be supported in every way. If you are single and hoping to find love, in the first ten days of June, Cupid and his little fleet of angels will be around every corner, poised with their bows and arrows to help love along. Travel at this time of the month seems to fan the fires of love, as evidenced by Mars' position, so if you are dating or in an established relationship, by all means, buy that air or rail ticket to a place that couples find heavenly, for leaving everyday life behind will refresh you in ways that will amaze you.
If you are single and not dating, being in a new setting will also help you find love. Additionally, classroom setting will also be fertile ground for a fateful meeting. Venus will enter Gemini and your house of true love on June 23 through July 18, an ideal time to find ways to improve your appearance, to stock up on flattering new things to wear, and to have your portrait taken, perhaps to use in social media.
In this divinely social month, you've an event that will come up unexpectedly and is likely one you'll want to attend - this one is special - and it will be within four days of the full moon, June 12. This dazzler will be a "must" to attend, for your ruler, Uranus, will make the event delicious fun. You'll be rubbing shoulders with guests from many walks of life, and many will be from distinguished professions - academia, medicine, law, politics, and some interesting guests from overseas. Conversation will be bubbly; and guests warm and open to making new friends; and talk will center on current events, travel, sports, politics, and cultural arts. Surely, this is your favorite kind of party.
Mercury will retrograde from June 7 to July 1, so if you have an important negotiation or document to sign, wait to do so next month. Do not travel when Mars opposes Uranus, June 24, for things will go wrong, and the entire reason for your trip may be negated. Mars will oppose your ruler, Uranus, thwarting you at every turn.
Your efforts to solve a home-related matter will work out well on June 18, when Venus and your ruler, Uranus, combine forces. If you need to find the ideal addition to your home, browse shops on this day or the day prior, June 17. The same dates will help you assist a parent or beloved relative you think of as a parent.
The month ends on a very positive new moon, June 27, ideal for starting a new fitness plan. Even if you are short on time, turn over a new leaf with gentle exercise, and later, if your doctor agrees, you can ramp up with longer sessions. With Neptune very friendly to this new moon, you might also decide to get involved with a water sport - swimming, jet skiing, snorkeling, kayaking, or other activities centered on water. Get lessons if you are new to the sport - doing it well will inspire you to do more.
Life at the office will get very busy at month's end, so don't plan on being away - you will be needed as new clients and assignments come in. If you've been bored with same old assignments lately, you won't be bored after the new moon June 27 - these will spark your imagination and help you show off your stylishness and wit.
---
Dates to Note: Aquarius
Most important dates for love, meetings, or actions: June 1, 2, 7, 12, 15, 16, 18, 20, 29, and 30.
Mercury will retrograde June 7-July 1 in Cancer / Gemini. After Mercury goes direct, he will reach top speed again (and be at his best) by July 15.
The full moon of June 12 may bring a surprise invitation to a stimulating, fun party or other sparkling event that will have you rubbing shoulders with many distinguished, well-traveled people.
June 13 will not be your best day - someone seems to be very domineering. It may have to do with a home-related property matter. Remember, you never have to do something you do not want to do.
June 18 is a splendid day, when Venus and Jupiter will be in ideal angle to each other. Several areas will benefit: home-related actions, those related to work projects, and health / fitness.
Venus will be in Taurus and your career sector from the start of the month until June 23, making you very charming and popular with VIPs.
From June 23 to July 21, Venus will be in your love sector and begin to create more opportunity for you to socialize and meet someone new. Use this period to improve your appearance.
Travel and negotiations are not advised on June 24, or in the days that surround those days. On June 24, your ruler, Uranus, will be challenged from Mars, and this is a very hot, difficult aspect. Keep a distance from this day (allow a space of several days), and don't sign any papers.
The new moon in Cancer on June 27 will mark the dawning of a new chapter in your workaday assignments, and also in regard to health. If in sales, or self-employed, you can now generate new business. If you work for others, go for the plum assignment. Start your new health program now too.
P.S. for June 2014
The Year Ahead 2014 Astrological Calendar
By Susan Miller
My Year Ahead 2014 collectible calendar is now $9.99 (at a 45% discount, from original price $17.99) plus shipping, any applicable tax
Calendars are used to mark time, but have you ever had a calendar that helped you use your time productively? My new Year Ahead 2014 Calendar can do just that. I write every word myself in this stunning calendar with original fine art by socialite, author, and fine artist Gloria Vanderbilt, mother of newsman Anderson Cooper, and great grandchild of railroad entrepreneur Cornelius Vanderbilt. (Grand Central Station was originally her great grandfather's business headquarters.)
Gloria Vanderbilt, now almost 90 years young, licensed the reproduction rights to her critically acclaimed artwork to Susan Miller who self-published her calendar. The inks are rich, the paper heavy, glossy, and snow white, allowing Gloria's paintings to jump off the page. Each month, from January 2014 though the extra bonus month, January 2015, is found an inspirational quote from Gloria, centering on her philosophy of living life fully and creatively. With fourteen of Gloria's paintings, this calendar will soon become a collector's edition and will not be reprinted when stocks are gone.
Aside from having happy, vibrant art to look at all year, The Year Ahead 2014 calendar has many other uses, unlike any you have had in a calendar before. On every important day of each month I list the aspect and what it means, in easy to understand laymen's language. This means the next time you are about to make an important appointment, and the VIP asks you, "Do you want to come in Monday or Thursday?" you can say you will consult your calendar and know immediately the day to choose.
In a year like 2014, where sparkling aspects will stand side by side difficult ones, this calendar will not be a luxury but a necessity.
Also included in the calendar are:
- All the start and end dates of the retrograde planets in 2014,
- Detailed discussion of the new and full moons (new!)
- The date when planets move into new signs (and how long they will be in that sign), all listed on the same day entry
- The planetary aspects of the four eclipses due in 2014, and explanation of what each eclipse will bring.
No more surprises! Be in the know about upcoming events, so that you can plan your biggest initiations. This calendar is a "must" to keep with you all year, and is available here, from Susan's publisher, but not in bookstores or other retailers. Get it now, while you can: $9.99 plus tax and shipping. We ship to all nations of the world: http://bit.ly/186zM0i
---
A New Service: WiFive.us
Don't we all love a bargain?
We all want to know about the deals being offered nearby in our neighborhoods to save money. I found a way when a brilliant entrepreneur, Luis Sanchez, came to see me to show me he had developed a way of seeing all the various deal-of the-day websites that are featuring discounts on food, entertainment, boutiques, and other establishments, all in one click. Traveling? All you need to do is enter the zip code of your new neighborhood as you travel each day and you can see the deals that may be just across the street from your hotel.
The company is called Wifive.us and is ready to use today. It is a New York-based startup with a location-based search engine that gives you access to thousands of local online deals in a single site.
For now, Wifive.us is only available in the United States. It covers most of the deals and services you would see from various sources (Groupon, Amazon, Google deals, and so forth) all at once, so you don't have to go from site to site to find a deal that appeals to you, as Luis would humorously say, "until your head hurts." There is no registration necessary, and no useless emails to stuff your inbox each day.
Just type your address or ZIP code and get the deals you want when you want them. You pull in your information, which is far better than having many emails pushed to you. Try it and like the service on Facebook!
A word about the web address of WiFive.us
You may be wondering, what exactly is .US?
You might have thought the domain ending .us would only be only for government agencies and schools, but since 2002, individuals, businesses, churches, and non-profits have adopted .US web addresses to make their mark on the Internet. The .US is a new domain ending.
Just remember the name of the new service that no doubt you will be using quite a bit: pronounced as "wi-five-dot-us" otherwise seen as: http://www.wifive.us
---
Goodbye to My Former iPhone App on November 12, 2013
Hello to My New One:
"Susan Miller's AstrologyZone Daily Horoscope FREE!"
Download today!
Now that my former app, Astrology Zone Premier, will no longer be supported for iPhone, you might want to download my free version of "Susan Miller's AstrologyZone Daily Horoscope FREE!" for iPhone today. (A search for Susan Miller or Astrology Zone should bring the app up immediately.)
My former app, Astrology Zone Premier will not automatically change over to the new free app, so you will have to download my new app. Once you have it, you can decide if you would like to upgrade to the version you've come to know and love by looking inside the app and signing up for a subscription inside the app. If you should have to reload and reinstall your app, you will not lose your subscription as long at you responded to Apple's dialog box asking you to register your purchase immediately. If you don't register, if you lose your phone or need to reinstall your app, you won't be able to do so. Be sure to register your app!
If you have any questions or need help, you can write to Jennifer@Phunware.com and engineer Jennifer will be happy to help you.
---
ANDROID AND SAMSUNG USERS
Astrology Zone Premier App is Still Available for You
Android and Samsung users have Astrology Zone Premier to enjoy a little longer. We are writing NEW code for your Android and Samsung cell phones, and making an app similar to the one for iPhone, with some cool features just for your phone.
---
Live Overseas? Or, don't have an iPhone, Android, or Samsung Galaxy?
Get all 12 of my daily horoscopes each day by email or pick yours up each day on special password-protected site.
To plan ahead, receive several daily horoscopes in advance!
By subscribing to DailyAstrologyZone you will receive a week of horoscopes inside your cell phone and / or computer. This means if you have a BlackBerry or feature flip phone, you can still get my daily horoscopes as long as your device accepts email. You will also have the option of accessing your daily horoscopes from a website online, from anywhere, any time, through a password-protected site for members only, or receiving all 12 signs my email each day.
For more information: http://www.dailyastrologyzone.com
---
MY PERSONAL CUSTOM HOROSCOPE BOOKS
WRITTEN BY SUSAN MILLER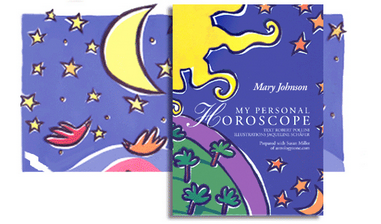 Looking for unique gifts for the summer months? - Choose from My Personal Horoscope for Adults or for Babies, or for a Relationship, the Two of Us.
Have an entire book written by Susan Miller, which runs approximately 65 pages, about your natal horoscope. Get to know your rising sign (also called the ascendant) as well as the placement of each of your planets, and what it all means. Susan's natal chart for babies centers on the talents and gifts of the little child. Order today and you will have your book within two-and-a-half weeks.
Two weeks on average from order receipt to delivery to any US destinations. One week longer elsewhere.
Also PDF option available for destinations overseas where delivery tracking of printed books is prohibitively expensive.
My Personal Horoscope Custom Natal Chart Book $49.99 plus shipping / tax
For more information call Susan's publisher, Arthur Heydendael 914.271.3640 ext 14 or click here:
http://www.americadirectbook.com/Customized_Books
To view a forecast, select a sign from the menu below and click on Go.