Aries Forecast for June 2014
By Susan Miller
You will enjoy June. You have just come through some of the most difficult months of 2014, due to the monster eclipses of April 15 (the key one for you) and the solar eclipse, equally unfriendly, that was due April 28.
If your birthday falls in mid-April, or you have a planet at 25 degrees Aries or Libra, you may have been tested severely. Planets squared off at 90-degree angles to each other on April 15 in your opposite sign of Libra (denoting competitors or relationships), and the planets involved were big, heavy-duty ones: Uranus, Pluto, Mars, and Jupiter.
That April 15 eclipse was preceded by a monstrous new moon, in Aries 10 degrees, March 30, that further set the stage, and you felt that new moon doubly so if your birthday falls with five days of March 30. No matter what your specific birthday, you likely got glimmers of what was to come in early days of April, just prior to the April 15 eclipse. As you moved to mid-April, events were surfacing so quickly that you had little time to sort out every detail in your mind. Something was ending, but with each ending is always a beginning around the next corner. You likely kept thinking about April's events during May as you slowly got used to the new reality of whatever message the eclipse brought up. These were strenuous aspects, so hopefully your health did not suffer.
May was important too because 1) some eclipses deliver news one month to the day later (not on the day they appear), bringing you to May 14, plus or minus five days. Many people of all signs found mid-May chaotic or jarring, for there was a full moon the following day, May 15. It may have seemed every client you have was out of the cage and being unreasonable! Money or relationship was the focus - one or the other, or both.
2) That full moon in Scorpio on May 15 was conjunct Saturn, indicating news was to be somber or serious. Saturn always requires we DO something to get out of the briar patch, so you likely had to face up to the situation, accept it, and move on the advice you received, even if you felt the news and steps you had to take was not at all what you hoped to hear.
Now you have made it to June, a month when Mercury will be retrograde all month from June 7 to July 1. Meetings get cancelled and delayed, but you may completely enjoy the general slowdown to events. In June you will get a getting a free pass to kick back and exhale a little. After such a strenuous April and May, you need to unwind and stop sleeping with one eye open, dear Aries.
The best way to use a month filled with Mercury retrograde is to finish up projects that have languished on your desk, whether those obligations and projects are personal or professional. Reconnect with people from your past, for that is where the golden nuggets lie for you. Any retrograde planet will ask you to look back, but especially Mercury, for the universe wants you to make more of present relationships and ventures you've established before you pioneer forth to form new ones - do your work in new territory and form new relationships in July, not now.
Mercury will retrograde in a travel house, the very area that the new moon in Gemini (as of May 28) has been encouraging you to do, so if you are planning a trip, you may get a good opportunity to leave town. If you drive, be sure to have old school paper maps in your glove compartment. Electronics tend to be unreliable whenever Mercury is retrograde, so do not rely on solely on your GPS navigation system. Do not purchase any new electronic in June either - that's always a no-no. Although Mercury begins to skid backward starting June 7, you cannot rush things (purchases, signing contracts, and making big announcements) during the first week of June, because as you move into the retrograde later, latent problems could easily pop up. It is already too late to set things in motion. Wait until mid-to-late July, your best time next month to make your most decisive moves.
The new moon in Gemini, 6 degrees, that appeared last month on May 28, just days prior to the start of June, was friendly, especially for you, for Gemini is an air sign, and that new moon was to fan your fire sign element and bring you to full-level brightness and vitality. You may be working on a writing project, such as a book, report, or even a resume or CV - the right time to do so. Be sure to edit it thoroughly and have someone qualified look over your work before you send it in. With Mercury retrograde, errors may slip through and those would undermine your credibility. Mars will be helpful (now in Libra 9 degrees), so in the first week of June, a twosome collaboration for work or in your personal life will go exceptionally well. You may also need to confer with your sister or do something together, such as travel to be together or work on a home decorating project.
More and even more exciting travel seems to be on your agenda at the full moon in Sagittarius, 22 degrees, June 12, plus or minus four days. This time, you'll fly to a much farther and exotic point, or you may take your trip a week earlier and find yourself returning from your trip no later than June 16. Uranus will be active, adding lots of surprise and off-the-cuff serendipity.
Still, you may notice background noise near the full moon June 12. If you are on the road with your partner, you may be consumed with a career issue that you can't quite shake in your mind, and it may distract you. This won't earn you any points from your partner. In fact, your partner, if you travel together, is no help - you may feel dominated and pushed in a corner by the unsolicited advice you get, and with no option but to defend yourself, things may escalate. This trend will be at play straight through the weekend of June 14-15, but realize no one can force you to do anything you don't want to do. Fortunately you are an Aries - no one can get the better of you. Keep cool. You will notice this pushy influence strongly if you have a birthday that falls on or close to April 3, so be ready. The person might be a competitor, detractor, critic, or other person you know from your career world, not necessarily your romantic partner or spouse.
If you do not travel over the full moon period June 12, you may be involved in a legal matter instead, and if you are in court, you may come up against a formidable adversary. Still, you also have Uranus in your corner, giving you remarkable ideas - some will say you are showing pure genius. Other topics that may come up at the full moon include a publishing or broadcasting assignment that is finishing up and getting you kudos, or, alternatively you may be focused on an academic exam or a research report, or you may have your appointment to defend your thesis. Full moons bring conclusions and closure, and this one will be friendly to Aries. If your birthday falls on April 12, plus or minus five days, you will feel, and enjoy, the surprise and just plain dumb luck that may come up to you on this full moon.
Your very BEST day of the month will happen on June 18 when Venus and Jupiter will combine forces - you will notice excellent financial news flowing to you. It might have something to do with a new assignment, or it may come as a sale of property or a sale of furniture and other things you would like to sell off. Family support may be very high, dear Aries. If you live in Asia or Australia, you have one extra day, June 19. This is your best day of the month, so be sure to schedule an important action, announcement, or meeting on your calendar!
One day you need to lie low and not shake any tree to see what might fall out will be June 24, when Mars will oppose Uranus. This will be a day that either you will break out of the bonds that have tied you down, or you may suddenly and unexpectedly have an argument with a close partner. Everyone is likely to be edgy on June 24, so try to keep this day, and the days that circle it, calm. Mars is the planet of action and aggression, and Uranus is the planet of explosions and surprise. Admittedly, this aspect does bring courage, so if you are desperate to leave a job you are in now, and you have a plan for setting up your own business or a new job waiting in the wings (as two of many possible examples), you will be able to find the wherewithal to leave. Instead, however, most people will either experience emotional outburst, or confrontation, or a physical mishap, like turning your ankle on a cobblestone street because you were not looking where you were going. Mars is your ruler, so this aspect is important to Aries. Do your best to keep composed. However, if someone is outrageously unfair to you, then let rip, dear Aries, and let him or her have a piece of your mind.
On Friday, June 27, the focus changes, when the new moon in Cancer brings all kinds of luck with property, your residence, and support from your family, particularly your mother. Jupiter will still be in Cancer, so this is your chance to make a big change at home or with other property. You can now sell, buy, lease, renovate, repair - you decide. You won't have Jupiter in your corner (fourth house) for twelve more years after Jupiter leaves next month, so if you do have a plan involving home-related goals, proceed.
On the same day, June 27, Pluto, however, will oppose this new moon, and Uranus will be in hard angle. This will make the first week of July very turbulent. When it comes to home and family matters, you will have to be ready for anything as you go along, as surprise situations are likely to come up that will need to be addressed. Nothing will be straightforward, and remember, Mercury will be retrograde in your communication / negotiation / agreements house all month (until July 1), so the chances of miscommunication or misunderstanding with someone close will be high. As I advised before, you should not sign papers or shake hands on a deal until mid-July, because the atmosphere will be too turbulent. You won't want to build the tension of that first week of July into the DNA of your venture.
Your career may have a temporary setback in late June or early July - don't worry about it. You can get back on the horse. Spectacular aspects are on the way, so have faith that truly nothing can prevent you from success. A business partner may be pushy, or your present or ex romantic partner may present you with an ultimatum. The bone of contention seems to have something to do with your family, or with a certain piece of property. Still, you have Jupiter protecting you in this house, and that is no small potatoes!
Love will not be the main event in June, but it will be in July! What a wonderful two months you have ahead (and even beyond THAT!) Get things done now, as you'll want to save time for bewitching love.
---
Summary
It's time to travel and leave your everyday cares behind. Life has, at times, been quite demanding, and although you are learning how to make your mark on the world, you owe yourself a little time in fresh air and sunshine to clear your head. Focus on the little things that make life special. The new moon of May 29 late last month was just your cup of tea - with a friendly nod to Mars, it will open the door to a flurry of travel, for this new moon's a peach. In early June, plan to flee to a town nearby - bring a camera, a pen, and journal. Choose a few chic weekend pieces for your suitcase along with sunscreen, and you'll be set.
In the first part of June, you may also get welcome advice or assistance from your sister or brother, and if you were thinking of travelling to see your sibling or cousin, that too would be a good idea. If you want to enact a plan you've discussed, such as to buy or rent property together, Mercury will be retrograde from June 7 until July 1, and that's not a time to etch anything in stone. Wrap things up as quickly as possible, in the first days of June.
More travel opportunities will come at the full moon, June 12, and any travel you take at this time will be even more special than a getaway taken earlier. Lighting your ninth house of learning and adventure, this new moon will coax you to travel much farther afield. As an Aries, you love adventure, so you may decide on a camping or hiking trip, or one involving a sport that brings on a feeling of excitement in you. Uranus in Aries will be in an angle denoting extreme harmony, so you may spontaneously decide to pack and go on a whim - perfect!
In terms of relationships, watch June 13, when Mars and Pluto will have a tug of war. It appears someone, in love or that you report to in your career, will likely take a hard line and push you hard to accept a stance you seem to want to resist. As an Aries you know how to stand up for yourself, so no worries - you will protect your turf, but doing so might take a lot out of you.
Good news about money is likely to come on June 18, when Venus exchanges beams with Jupiter. The news may have to do with salary, a property bid, or the sale or purchase of furniture or other things for the home.
Your most stressful day will be June 24, when your ruler, Mars in Libra, will go toe to toe with Uranus in Aries, pushing a relationship to the brink. Take a breath and think before you speak. However, if you feel a partner's transgression has been unacceptable, then speak your mind and let the chips fall where they may.
In the last week of the month, the mood will change, and you will have a chance to move toward grasping a dream close to you, possibly involving home or family. Your first step in achieving a dream, especially one involving property, is to collect information. When it comes to real estate, you will be successful in gathering all the facts you need after the new moon in Cancer, June 27, and continuing two weeks.
The idea of moving, renovating, or re-decorating seems to have been percolating in your thoughts all month, so after this new moon, you'll be given the chance to take action. Neptune will be friendly to this new moon, so you will be ultra-creative - perfect if you will be working on a home design project. Neptune also rules the sea, so perhaps you will rent a cottage by the sea or other beautiful body of water. It's clear that the location that you choose to visit this month will inspire you. If you are creative, bring your tools - paintbrushes, film, laptop - or if you love to cook, gather up fresh produce and spices at a farmer's roadside market. What a truly lovely way to end the month.
The first week of July brings Mercury out of retrograde, so the tempo will pick up, but a band of stormy planets will roll in during July's first week. You may have to battle a boss or business partner/ competitor/ detractor. Everyone, of every sign will feel the tension. Clouds will clear and become very sunny and bright for you from mid-to-end of July. Sit tight, dear Aries - all things come to those who wait.
---
Dates to Note: Aries
Mercury will retrograde June 7-July 1.
Most important dates for love, meetings, or actions Aries: June 11-12, 18, 20, 29, and 30.
Mercury will retrograde June 7-July 1 in Cancer / Gemini. After Mercury goes direct, he will be at top speed July 15.
A very difficult day, when people will be fragile, due to Mars, your ruler, opposite Uranus, will be June 17.
You may travel quite a distance at the full moon June 12 in Sagittarius. If you go the trip will likely be spontaneous, thanks to help from Uranus.
Don't let anyone back you into a corner on June 13, when Mars will make a hard angle to Pluto.
One of your happiest days this month will fall on June 18, when Venus will collaborate with Jupiter. Expect good news about your salary. It is also possible you may receive a gift.
The new moon in Cancer, June 27, will give you a great opportunity to make your home all you hoped it to be. If you have responsibility for the care of a parent, this new moon will allow you to see impressive progress on that front, too.
Venus will move into your short distance travel house June 23 until July 18 - Venus will spice up weekend jaunts.
P.S. for June 2014
The Year Ahead 2014 Astrological Calendar
By Susan Miller
My Year Ahead 2014 collectible calendar is now $9.99 (at a 45% discount, from original price $17.99) plus shipping, any applicable tax
Calendars are used to mark time, but have you ever had a calendar that helped you use your time productively? My new Year Ahead 2014 Calendar can do just that. I write every word myself in this stunning calendar with original fine art by socialite, author, and fine artist Gloria Vanderbilt, mother of newsman Anderson Cooper, and great grandchild of railroad entrepreneur Cornelius Vanderbilt. (Grand Central Station was originally her great grandfather's business headquarters.)
Gloria Vanderbilt, now almost 90 years young, licensed the reproduction rights to her critically acclaimed artwork to Susan Miller who self-published her calendar. The inks are rich, the paper heavy, glossy, and snow white, allowing Gloria's paintings to jump off the page. Each month, from January 2014 though the extra bonus month, January 2015, is found an inspirational quote from Gloria, centering on her philosophy of living life fully and creatively. With fourteen of Gloria's paintings, this calendar will soon become a collector's edition and will not be reprinted when stocks are gone.
Aside from having happy, vibrant art to look at all year, The Year Ahead 2014 calendar has many other uses, unlike any you have had in a calendar before. On every important day of each month I list the aspect and what it means, in easy to understand laymen's language. This means the next time you are about to make an important appointment, and the VIP asks you, "Do you want to come in Monday or Thursday?" you can say you will consult your calendar and know immediately the day to choose.
In a year like 2014, where sparkling aspects will stand side by side difficult ones, this calendar will not be a luxury but a necessity.
Also included in the calendar are:
- All the start and end dates of the retrograde planets in 2014,
- Detailed discussion of the new and full moons (new!)
- The date when planets move into new signs (and how long they will be in that sign), all listed on the same day entry
- The planetary aspects of the four eclipses due in 2014, and explanation of what each eclipse will bring.
No more surprises! Be in the know about upcoming events, so that you can plan your biggest initiations. This calendar is a "must" to keep with you all year, and is available here, from Susan's publisher, but not in bookstores or other retailers. Get it now, while you can: $9.99 plus tax and shipping. We ship to all nations of the world: http://bit.ly/186zM0i
---
A New Service: WiFive.us
Don't we all love a bargain?
We all want to know about the deals being offered nearby in our neighborhoods to save money. I found a way when a brilliant entrepreneur, Luis Sanchez, came to see me to show me he had developed a way of seeing all the various deal-of the-day websites that are featuring discounts on food, entertainment, boutiques, and other establishments, all in one click. Traveling? All you need to do is enter the zip code of your new neighborhood as you travel each day and you can see the deals that may be just across the street from your hotel.
The company is called Wifive.us and is ready to use today. It is a New York-based startup with a location-based search engine that gives you access to thousands of local online deals in a single site.
For now, Wifive.us is only available in the United States. It covers most of the deals and services you would see from various sources (Groupon, Amazon, Google deals, and so forth) all at once, so you don't have to go from site to site to find a deal that appeals to you, as Luis would humorously say, "until your head hurts." There is no registration necessary, and no useless emails to stuff your inbox each day.
Just type your address or ZIP code and get the deals you want when you want them. You pull in your information, which is far better than having many emails pushed to you. Try it and like the service on Facebook!
A word about the web address of WiFive.us
You may be wondering, what exactly is .US?
You might have thought the domain ending .us would only be only for government agencies and schools, but since 2002, individuals, businesses, churches, and non-profits have adopted .US web addresses to make their mark on the Internet. The .US is a new domain ending.
Just remember the name of the new service that no doubt you will be using quite a bit: pronounced as "wi-five-dot-us" otherwise seen as: http://www.wifive.us
---
Goodbye to My Former iPhone App on November 12, 2013
Hello to My New One:
"Susan Miller's AstrologyZone Daily Horoscope FREE!"
Download today!
Now that my former app, Astrology Zone Premier, will no longer be supported for iPhone, you might want to download my free version of "Susan Miller's AstrologyZone Daily Horoscope FREE!" for iPhone today. (A search for Susan Miller or Astrology Zone should bring the app up immediately.)
My former app, Astrology Zone Premier will not automatically change over to the new free app, so you will have to download my new app. Once you have it, you can decide if you would like to upgrade to the version you've come to know and love by looking inside the app and signing up for a subscription inside the app. If you should have to reload and reinstall your app, you will not lose your subscription as long at you responded to Apple's dialog box asking you to register your purchase immediately. If you don't register, if you lose your phone or need to reinstall your app, you won't be able to do so. Be sure to register your app!
If you have any questions or need help, you can write to Jennifer@Phunware.com and engineer Jennifer will be happy to help you.
---
ANDROID AND SAMSUNG USERS
Astrology Zone Premier App is Still Available for You
Android and Samsung users have Astrology Zone Premier to enjoy a little longer. We are writing NEW code for your Android and Samsung cell phones, and making an app similar to the one for iPhone, with some cool features just for your phone.
---
Live Overseas? Or, don't have an iPhone, Android, or Samsung Galaxy?
Get all 12 of my daily horoscopes each day by email or pick yours up each day on special password-protected site.
To plan ahead, receive several daily horoscopes in advance!
By subscribing to DailyAstrologyZone you will receive a week of horoscopes inside your cell phone and / or computer. This means if you have a BlackBerry or feature flip phone, you can still get my daily horoscopes as long as your device accepts email. You will also have the option of accessing your daily horoscopes from a website online, from anywhere, any time, through a password-protected site for members only, or receiving all 12 signs my email each day.
For more information: http://www.dailyastrologyzone.com
---
MY PERSONAL CUSTOM HOROSCOPE BOOKS
WRITTEN BY SUSAN MILLER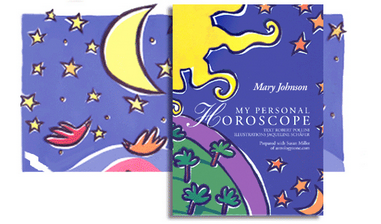 Looking for unique gifts for the summer months? - Choose from My Personal Horoscope for Adults or for Babies, or for a Relationship, the Two of Us.
Have an entire book written by Susan Miller, which runs approximately 65 pages, about your natal horoscope. Get to know your rising sign (also called the ascendant) as well as the placement of each of your planets, and what it all means. Susan's natal chart for babies centers on the talents and gifts of the little child. Order today and you will have your book within two-and-a-half weeks.
Two weeks on average from order receipt to delivery to any US destinations. One week longer elsewhere.
Also PDF option available for destinations overseas where delivery tracking of printed books is prohibitively expensive.
My Personal Horoscope Custom Natal Chart Book $49.99 plus shipping / tax
For more information call Susan's publisher, Arthur Heydendael 914.271.3640 ext 14 or click here:
http://www.americadirectbook.com/Customized_Books
To view a forecast, select a sign from the menu below and click on Go.