Aries Forecast for July 2014
By Susan Miller
Welcome to the best, sweetest, and happiest month of the year. After a strenuous first half of 2014, you will love the change. Not only will Jupiter, giver of gifts and luck, be prominent and astoundingly helpful to you, but the pace will pick up noticeably too. We had a parade of planets retrograde, holding us all back, something energetic Aries does not like to hear at all! First, Venus was retrograde, December 21, 2013 to January 30, 2014. Then Mercury went retrograde, February 7 to 28. Mars, your ruler, was next, March 1 to May 19, and then last month, Mercury was retrograde June 7 to July 1.
All those retrograde planets asked you to address unfinished business of 2013. It was not a time to forge forward into new territory but to look back and polish up what you have already done, or were in the process of doing. That's always positive, however - you had a chance to revise your strategy, polish your projects, and generally go back to make sure you were on track. Retrograde planets slow us down, but they don't stop us completely. You may have had talks and revised some of the plans you made, but all that was to benefit you, for using retrograde periods to look back is exactly what you should do. Now, as you enter July, the year 2014 is effectively beginning for the first time. The planets don't go by our calendar, but their own schedules - pour a glass of champagne, dear Aries, 2014 begins now, at long last!
Okay, now that I have you all excited about what is to come, I will say that we have a few cosmic storms moving through during July's first week, specifically on July 4 (the Sun opposed to Pluto) and July 8 (Uranus in hard square angle to the Sun). These two days have a circle of influence around them of approximately plus or minus two days, so that makes the first week potentially difficult. Pluto is in your house of career, and Uranus rules your house of home / residence / family, so tread carefully during the first week with VIPs at work, and don't tangle with VIPs. The same advice goes in regard to those who are attached to your home, such as your landlord, superintendent, decorator, landscaper, contractor, or a family member (as a few examples), for you may meet unexpectedly strong resistance to your ideas. This first week of July would not be the time to ask for favors from your boss, your landlord, or your family - you can do that a little bit later in July.
You can expect news involving your career within four days of July 12, at the full moon in Capricorn at 20 degrees. This full moon will appear in your tenth house of honors, awards, achievement, and fame, and rules your standing in the industry, and your reputation. If you were interviewing for a new position, one that has status and responsibility, this full moon will bring you your answer about whether you got the job or not. Saturn will be in a great angle to the full moon, and this is significant, for Saturn rules Capricorn, suggesting the long-term outcome of this full moon regarding your career will be positive, particularly in regard to your finances. Saturn rules your tenth house of fame (always), and Mars is currently transiting in your eighth house of other people's money. You may be discussing all sorts of company benefits at this time if you are being offered the position, and your talk may cover everything from vacation days to flex time, to health insurance and the company cafeteria, among other perks. This house also rules your commissions, bonus, royalties, advances, licensing fees, lines of credit at your bank, and investor venture capital, so talks on one of those fronts may come up too.
This full moon of July 12 would, within four days of this full moon, before or after, likely bring up something involving one of these topics, and I feel you'll find the outcome positive. Mars, your ruler, will be in challenging angle to the full moon from your seventh house, ruling your romantic and business partner, anyone who may be representing you in a business deal (lawyer, business partner, agent, manager, and so forth), so you may not see eye to eye with the person involved, and that will take energy. Yet I feel it is more likely that Mars may be pointing to a competitor who will be aggressively vying for the same position as you. Still, I feel you will be triumphant, so stay optimistic. There's nothing like competition to get Aries energized and mobilized.
If you are not currently trying for a new and more responsible position, you may get wonderful publicity or praise from a VIP for the work that you have been doing, and you may discuss a bigger role in your company to start immediately or within a matter of weeks. In fact, you may not be in the workforce, but say, do an exemplary job on a volunteer position that important people in the community laud.
Your very big moment will arrive on July 16 when Jupiter, the grand benefic, will move into Leo and fill your fifth house of love and romance for nearly thirteen months, until next year, August 11, 2015. This is great news on so many fronts. Before I get into how you will benefit from Jupiter in Leo, you do have two more weeks before Jupiter will leave Cancer on July 16.
Jupiter has been in Cancer since June 2013 and set up a delicious trend by bringing you luck in regard to your home, other property, and/or your enjoyment of strong and unwavering family support. You may have moved, done extensive repairs, or decorated your space quite beautifully. If you became obsessed with collecting paint chips and fabric swatches, and have been keeping a vision board of home decorating inspiration, Jupiter was working in a very positive way for you.
During Jupiter's stay in Cancer since last June 2013, at some point you may have bought a house, rented a new one, or added a vacation home. Whether you rented or purchased the house, you did well. Additionally, you may have benefitted in a near-miraculous way from one of your parents, most likely from your mother. (Cancer rules mother.) If you hope to sell property, or buy, push hard to find suitable situations right now, for you may get the perfect opportunity in the first half of July. Once Jupiter leaves your home sector on July 16, you will almost immediately notice a shift in your attention.
On July 16 when the Santa Claus planet Jupiter moves into the warmhearted sign of Leo, it will be exciting news, for Leo is a sign that is classified as fire, just like your Aries element. Jupiter will always give you MORE of anything you could have ever asked to receive, and now he will tour your fifth house of romance in the same fire element as yours, so he can beam rays to you in a way you immediately understand and can take advantage of, without hesitation. The kind of love you are likely to experience will be the real and long lasting. This would not indicate a casual affair, but rather something deep, abiding, and true.
If you are single and have not found your one true love, you will have a superb opportunity to make the acquaintance of someone mighty special at that time. Remember, this trend will last nearly thirteen months, so you need not experience that fateful meeting this month, but you might. There's a solid reason for you to be excited about this month as one of the five-star months with the long say of Jupiter through Leo, so stay with me - I will get to that. I want to stay on the current topic to explain all the ways Jupiter in your fifth house, in Leo, can set your private love life aglow.
You have to do your part by being willing to circulate, and also to be open to meeting all kinds of new people. Don't be too rigid about the type of person you hope to meet - you may be surprised when you are hit with a thunderbolt and find someone that completely captivates you! The person you meet may be nothing like the picture you had in mind of your ideal sweetheart - only better, in different ways.
If you are attached or married, Jupiter will make sure that you have more time to spend together, and much more fun. It is very likely that you will take a trip together overseas this year, to a city new to both of you, adding to the excitement. Jupiter has a very broadening influence, and foreign travel is almost always an option during rare years when Jupiter is powerfully supportive (as you will have July 16, 2014 to August 11, 2019). If you hope to have a baby, either by birth or adoption, this placement of Jupiter in Leo will be your very best placement in over a decade to help make your dream come true. (Pregnancy, birth, adoption, and the care and love of children all fall in your fifth house, which is so lit up for you now.) If you are not ready to conceive, be careful, as you can become pregnant more easily when Jupiter is in the fifth house, a rare, once-in-a-decade experience. The last time you had Jupiter in Leo it was from August 2002 to August 2003.
Jupiter will also help your creativity blossom, so if you are paid for your ideas, you will see a renaissance of original work that you will turn out, and that will stun higher-ups, and you too! Indeed, not only will mid-2014 through mid-2015 be the most significant year in the decade for you to find love and fan the fires of true love you may have already found, but will also help you in every way possible to show off the depth of your imagination. You are likely to get the right projects, ones that lead you to bigger and better things. When Jupiter is involved in the aspect (as Jupiter is now), generous money can't be far behind, so don't be shy - speak up and ask for what you feel is a fair fee, and do it without hesitation.
One day when all these areas that you and I have been talking about just now will come into play (romance, love, emotional happiness, baby, and creativity) is on the luckiest day of the year, July 24. This is the annual event, when the mighty Sun has dinner with Jupiter. Each year they meet in a different sign, so the last time these two heavy-hitters met in your house of true love, it was August 22, 2002. Hopefully, you used that day to its full potential. If not, on July 24, 2014, you will have second chance.
How to use this glittery day? It falls on a Thursday; so plan a romantic dinner out if you are attached, and if single, find a way to circulate. Go to a party, or give one! If you hope to meet someone special, ask friends to make an introduction - one may be willing to do so! If you were already seriously attached, this would be a grand day for an engagement or wedding. If you are married, you are still two people in love - celebrate that love together.
On the heels of this stellar day will be the new moon in Leo at 4 degrees, and Jupiter will be conjunct the Sun and the new moon. Wow. Always pay close attention to the new moon of every month, for if it is a sweet one - and this one will be the finest one of 2014 because of Jupiter's proximity at 2 degrees - for it portends such incredible opportunity for you! The actions you take in the days that follow a new moon are so potent that those actions have the power to plant new seeds and bring in new conditions that will affect you for a full year, until the next new moon has time to come back in the same house, your fifth house of true love, August 14, 2015 (but by then, Jupiter will have moved to Virgo). Do you see how awesome this new moon of July 26 is for you?
If you have had problems with conception, this month would be the right time to consult a fertility specialist. If you are wondering which month to try in vitro, it's late July and the first three weeks of August.
Keep in mind that to make any astrological aspect work for you, you need to do something to help things along. Even if you have been sorely disappointed with an inability to find love with a suitable person you could actually imagine spending your life with, you have new aspects now, and every reason to be optimistic.
There is one other day, not quite as important as July 24 and the new moon of July 26, but nevertheless important, when Venus (love) and Mars (magnetism) will send greetings to each other, setting off a magical display of sparks of love. That will happen on July 13. I am thinking of this day, July 13, as a day two little doves (or little love birds!) will signal each other to herald the impending arrival of Jupiter in Leo, setting off a year of fantastic aspects for you to find true love.
There are a few other things happening this month (can you believe it?), the most important of which will be the move of Mars out of Libra and into Scorpio. In Scorpio, from July 25 to September 15, Mars will have you strongly focused on money. You may have to straighten out a bank statement or see about an insurance question. Your expenses are likely to climb, but only until mid-September. You may already know you need to buy something expensive like a car, mattress, or new refrigerator, so you may not be surprised to read this. If you don't know what it might be, see if you can be conservative in spending until you can see the lay of the land. (Mercury will retrograde in October all month, so I would prefer you buy high-ticket items before October, but if you have no idea why your expenses might climb, you may have no choice but to be slow and careful in spending, at least in August.)
It may also be that you will be discussing company benefits in late July and early August.
The fact that Mars is finally exiting Libra, a tough place for you because Mars, your ruler, was opposed to your Sun, is just as important as the fact that Mars is moving into Scorpio.
In Libra, you may have had problems getting along smoothly with your sweetheart or mate, or with a business partner, writing partner, agent, or other collaborator. Mars can stir the pot and bring feisty confrontations, so you may have had your hands full with one person in your life. Most of the time, we need only deal with six weeks of Mars in a sign, but you had one of the hardest of all the assignments that the cosmos could give - nearly EIGHT months of having Mars opposed to your Sun.
Many Aries readers learned how best to deal with this situation of Mars in Libra, and that was to collaborate as a strong team member, and not try to gain the spotlight and be the winner that you know you can be. Mars in Libra forced you to keep your talents a bit muted, but by the end of July, you won't have to be so careful as you move forward, a change you will find gratifying.
If you have not been getting along with your significant other, you seem to have talked things out over the months since early December 2013, and hopefully sorted out any hidden resentments that your partner may have been harboring. (If not, you have until July 25, when Mars will leave Libra, so you do have time to do so.) For Aries who were having relationship difficulties, the difficult new moon of March 30, the monster eclipse of April 15 and the difficult full moon of May 14 may have marked a trying time. My point in looking back on April and May is that to assure you that a new day is dawning for you, dear Aries. The coming twelve months will all about building a wonderful, warm, nurturing, and exciting emotional life. I am so happy to have this news to report to you!
---
Summary
In many ways, July officially begins 2014. Until now, planets in retrograde from January through June have tested your patience and delayed your plans. Aries, of all signs, likes to see continual progress on all matters, for you are ruled by the warrior Mars. This year that was not going to be possible, so you had to operate in a different mode. Railing against the impossible conditions you faced would have no effect, and if you tried, may have made matters worse. Now, on July 1, the last of a series of planets - Mercury - will turn direct. Say goodbye to lackadaisical planets and the obstacles they put in your path. (The next time you will be affected by a retrograde will be October 4 to 25 when Mercury again will be out of phase.) In the meantime, you have so much to look forward to in July!
The big exciting news is that Jupiter, giver of gifts and luck, will enter Leo, on July 16, for the first time since mid-2002 to mid-2003, to fill your house of true love. Rather than put your career front and center as you have for years, Jupiter will see to it that you put your personal life above career concerns. If you have not met your one true love, Jupiter will work as a little matchmaker to couple you up with someone right for you. Leo is a fire sign like your Aries Sun, which means you can now absorb the goodness of Jupiter easily and nearly effortlessly. You have to do your part by being out and about, and being open to a wide variety of types. Often we think we know who will be ideal for us, when we meet someone completely different - and the result is often kismet.
If you have already met your love, your bond will grow closer and sweeter. This is a once-in-twelve-year visit of the great benefic planet, Jupiter, and you will have this privilege for nearly thirteen months, until August 11, 2015. The first to feel this lovely vibration will be Aries born with March birthdays, but all Aries, of every birthday, will partake of this golden energy as Jupiter orbits in deep through Leo. Every Aries will benefit.
At work, Jupiter will also make you super-creative too, during the coming thirteen months. If you are paid for your ideas, or are part of the support staff for creative people, either way you are now likely to outdo yourself. This is the year to present your ideas for funding - be brave! It's also the time to show that book manuscript or screenplay. Saturn rules your tenth house of fame and honors, and will go direct on July 20. Saturn has been retrograde since March 2, so if you tried to find a new job, you may have been frustrated with options. Saturn's move direct is a positive sign that you can advance in your company or gain clients and prestigious assignments in your own business.
Your luckiest day of the year will be July 24, when Jupiter will conjoin the mighty Sun. Use this day for finding love or celebrating love! You may decide to travel to a beautiful city overseas on this day, and stay at an extravagant hotel - this is a day for luxury and over-the-top romance.
Another day to circle in gold will be the new moon in your love sector, July 26, which will be strong for two weeks after this date. This will be a key moment of the year to find love, or to focus on your desire for a baby. This new moon would be the threshold to begin the process of conception, or if you have a child, to take special care of a child you have now, no matter what age your child happens to be.
Prior to July 16, you will have superb aspects for improving your housing situation. If you need to buy, sell, or lease a space, and are intrigued with an offer, the new moon that appeared June 27 (and that will still be strong in the first half of July) suggests the offer will be a solid one, and worth investigating. You can negotiate if you like - chances are, you'll come away with results that please you. After mid-month, Venus will spend four weeks on your home sector, beginning July 18 until August 12, an ideal time to dress your nest. You may read about sales for furniture and linens, so you may score more than one beautiful bargain.
Finally, Mars has been opposed to your Sun for months, as far back as December 7, but will finally leave Libra on July 25. This has been a long and difficult vibration for you, for it caused you to have to work in a cooperative mode, rather than be the leader or the star that you enjoy being. Alas, for months, this was the only way to get through this difficult patch. Now this will change.
On July 25, Mars, your ruling planet, will move to Scorpio and put a greater focus on your finances, from July 25 and September 13. You will be more determined than ever to find ways to bring in more income. You might also review your current financial commitments to see which ones you'd like to renegotiate, delete, or add. For example you may try for a more attractive mortgage, apply for a home improvement loan, or see if you can get financial aid for study, as three examples. If you qualify for unemployment insurance, or if your ex- owes you money, you will petition for those sums. You'll find the change of sign of Mars to Scorpio to be a breath of fresh air, and allow you to make progress in your current relationship and in terms of your finances where you were not able to make earlier. In all ways, July helps you turn a corner. Your hard days appear to be behind you, dear Aries.
---
Dates to Note: ARIES
Most important dates for love, meetings, or actions on any level, on any front, for Aries: July 9, 13, 17, 21, 22, 24, 26-27, and 31.
Mercury goes direct July 1 after having been retrograde since June 7.
Saturn goes direct July 20, after being retrograde since March 2.
If you have had difficulties getting investors for projects these past few months, Saturn will go direct on July 20 and will help find the money you need.
Saturn's move direct will have an even more powerful effect on your career. If you have been looking for a top position, but have been frustrated at the lack of opportunity, this change of Saturn on July 20 and the months to follow should be gratifying, and represent a substantial change.
The full moon July 12, plus or minus four days, will bring an answer about a career matter that you've been interviewing for lately. If you are not happy with the result, you will have lots more opportunities in coming weeks. Still, this full moon is filled with good aspects too, so I am betting you will love what you hear.
If you are looking for a new apartment or house, or need to lease, sell, or buy property, take all offers seriously in the first two weeks of July. Jupiter is still in your home sector, a place Jupiter's been for a year, but will leave July 16. While you have this planet of good fortune guarding your home sector, focus in!
On July 16, Jupiter, the planet of happiness, will move in to Leo for the first time in twelve years. Jupiter will beam his rays into your house of true love in the coming thirteen months. If single, you will have the best chance ever to meet someone new. If attached, you will draw closer. Also, matters related to pregnancy, children, and creativity would blossom. This trend will continue until August 11, 2015.
The luckiest day of the year will fall on July 24 - fantastic for an episode of love!
The new moon in Leo, on July 26, is a great time to search for new love if you are single or draw closer if attached. You can get engaged or married on July 24 or on July 26, or the week that follows this new moon of July 26. It's incredibly lucky for you!
In the two weeks that follow this important new moon, July 26, you should also present your biggest creative ideas too, for you are likely to get them approved and funded.
P.S. for July 2014
SUSAN MILLER'S APPEARANCES for July 2014
Susan Miller has no appearances during July
---
"OUTLOOK for the Second Half 2014 by Susan Miller" is now available:
In Print $4.99 plus shipping via USPS with tracking. Total under $10.00. One and two copies same shipping charge. https://www.americadirectbook.com/outlook2014
Digital PDF: $5.00 https://www.americadirectbook.com/outlook2014pdf
Amazon's Kindle: http://amzn.to/1lE7a8t
Barnes & Noble Nook: http://bit.ly/Uec9D3
---
The Year Ahead 2014 Astrological Calendar
By Susan Miller
My Year Ahead 2014 collectible calendar is now $9.99 (at a 45% discount, from original price $17.99) plus shipping, any applicable tax
Calendars are used to mark time, but have you ever had a calendar that helped you use your time productively? My new Year Ahead 2014 Calendar can do just that. I write every word myself in this stunning calendar with original fine art by socialite, author, and fine artist Gloria Vanderbilt, mother of newsman Anderson Cooper, and great grandchild of railroad entrepreneur Cornelius Vanderbilt. (Grand Central Station was originally her great grandfather's business headquarters.)
Gloria Vanderbilt, now almost 90 years young, licensed the reproduction rights to her critically acclaimed artwork to Susan Miller who self-published her calendar. The inks are rich, the paper heavy, glossy, and snow white, allowing Gloria's paintings to jump off the page. Each month, from January 2014 through the extra bonus month, January 2015, is found an inspirational quote from Gloria, centering on her philosophy of living life fully and creatively. With fourteen of Gloria's paintings, this calendar will soon become a collector's edition and will not be reprinted when stocks are gone.
Aside from having happy, vibrant art to look at all year, The Year Ahead 2014 calendar has many other uses, unlike any you have had in a calendar before. On every important day of each month I list the aspect and what it means, in easy to understand laymen's language. This means the next time you are about to make an important appointment, and the VIP asks you, "Do you want to come in Monday or Thursday?" you can say you will consult your calendar and know immediately the day to choose.
In a year like 2014, where sparkling aspects will stand side by side difficult ones, this calendar will not be a luxury but a necessity.
Also included in the calendar are:
- All the start and end dates of the retrograde planets in 2014,
- Detailed discussion of the new and full moons (new!)
- The date when planets move into new signs (and how long they will be in that sign), all listed on the same day entry
- The planetary aspects of the four eclipses due in 2014, and explanation of what each eclipse will bring.
No more surprises! Be in the know about upcoming events, so that you can plan your biggest initiations. This calendar is a "must" to keep with you all year, and is available here, from Susan's publisher, but not in bookstores or other retailers. Get it now, while you can: $9.99 plus tax and shipping. We ship to all nations of the world: http://bit.ly/186zM0i
---
MY PERSONAL CUSTOM HOROSCOPE BOOKS
WRITTEN BY SUSAN MILLER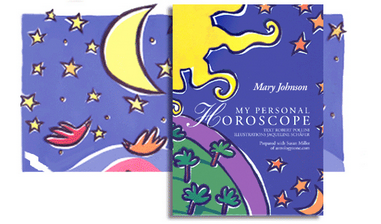 Looking for unique gifts for the summer months? - Choose from My Personal Horoscope for Adults or for Babies, or for a Relationship, the Two of Us.
Have an entire book written by Susan Miller, which runs approximately 65 pages, about your natal horoscope. Get to know your rising sign (also called the ascendant) as well as the placement of each of your planets, and what it all means. Susan's natal chart for babies centers on the talents and gifts of the little child. Order today and you will have your book within two-and-a-half weeks.
Two weeks on average from order receipt to delivery to any US destinations. One week longer elsewhere.
Also PDF option available for destinations overseas where delivery tracking of printed books is prohibitively expensive.
My Personal Horoscope Custom Natal Chart Book $49.99 plus shipping / tax
For more information call Susan's publisher, Arthur Heydendael 914.271.3640 ext 14 or click here:
http://www.americadirectbook.com/Customized_Books
---
A New Service: WiFive.us
Don't we all love a bargain?
We all want to know about the deals being offered nearby in our neighborhoods to save money. I found a way when a brilliant entrepreneur, Luis Sanchez, came to see me to show me he had developed a way of seeing all the various deal-of the-day websites that are featuring discounts on food, entertainment, boutiques, and other establishments, all in one click. Traveling? All you need to do is enter the zip code of your new neighborhood as you travel each day and you can see the deals that may be just across the street from your hotel.
The company is called Wifive.us and is ready to use today. It is a New York-based startup with a location-based search engine that gives you access to thousands of local online deals in a single site.
For now, Wifive.us is only available in the United States. It covers most of the deals and services you would see from various sources (Groupon, Amazon, Google deals, and so forth) all at once, so you don't have to go from site to site to find a deal that appeals to you, as Luis would humorously say, "until your head hurts." There is no registration necessary, and no useless emails to stuff your inbox each day.
Just type your address or ZIP code and get the deals you want when you want them. You pull in your information, which is far better than having many emails pushed to you. Try it and like the service on Facebook!
A word about the web address of WiFive.us
You may be wondering, what exactly is .US?
You might have thought the domain ending .us would only be only for government agencies and schools, but since 2002, individuals, businesses, churches, and non-profits have adopted .US web addresses to make their mark on the Internet. The .US is a new domain ending.
Just remember the name of the new service that no doubt you will be using quite a bit: pronounced as "wi-five-dot-us" otherwise seen as: http://www.wifive.us
---
Goodbye to My Former iPhone App on November 12, 2013
Hello to My New One:
"Susan Miller's AstrologyZone Daily Horoscope FREE!"
Download today!
Now that my former app, Astrology Zone Premier, will no longer be supported for iPhone, you might want to download my free version of "Susan Miller's AstrologyZone Daily Horoscope FREE!" for iPhone today. (A search for Susan Miller or Astrology Zone should bring the app up immediately.)
My former app, Astrology Zone Premier will not automatically change over to the new free app, so you will have to download my new app. Once you have it, you can decide if you would like to upgrade to the version you've come to know and love by looking inside the app and signing up for a subscription inside the app. If you should have to reload and reinstall your app, you will not lose your subscription as long at you responded to Apple's dialog box asking you to register your purchase immediately. If you don't register, if you lose your phone or need to reinstall your app, you won't be able to do so. Be sure to register your app!
If you have any questions or need help, you can write to Jennifer@Phunware.com and engineer Jennifer will be happy to help you.
---
ANDROID AND SAMSUNG USERS
Astrology Zone Premier App is Still Available for You
Android and Samsung users have Astrology Zone Premier to enjoy a little longer. We are writing NEW code for your Android and Samsung cell phones, and making an app similar to the one for iPhone, with some cool features just for your phone.
---
Live Overseas? Or, don't have an iPhone, Android, or Samsung Galaxy?
Get all 12 of my daily horoscopes each day by email or pick yours up each day on special password-protected site.
To plan ahead, receive several daily horoscopes in advance!
By subscribing to DailyAstrologyZone you will receive a week of horoscopes inside your cell phone and / or computer. This means if you have a BlackBerry or feature flip phone, you can still get my daily horoscopes as long as your device accepts email. You will also have the option of accessing your daily horoscopes from a website online, from anywhere, any time, through a password-protected site for members only, or receiving all 12 signs my email each day.
For more information: http://www.dailyastrologyzone.com
To view a forecast, select a sign from the menu below and click on Go.