Aries Forecast for August 2014
By Susan Miller
Your ruling planet, Mars, is in now in Scorpio, a new place for Mars to be, and suddenly you will be focused on matters of cash flow, credit, loans, taxes, all sorts of insurance, mortgage, and refinancing plans, or ways to raise venture capital, to name a few examples. You will be motivated to find ways you can improve your financial picture, whether by saving money by reducing expenses or by making more money - or both! Mars can add lots of energy, so you seem determined to find ways to negotiate better deals and to bring in more cash where you can. If so, your timing is perfect, for you can see lots of progress in August.
Sometimes Mars can stir up strife, so if you are working to find a way to divide property for a divorce, you may encounter a surprising amount of resistance from your soon-to-be ex. What you think is fair may not be what your ex thinks is fair, so prepare to have a lot of discussions. Actually any financial negotiation may prove hard to settle, with anyone. If things should become tense between you, break the connection temporarily and agree to resume talks in a few days. A cooling off period should give you both the time you need to reflect on the other person's point of view.
Saturn, a planet known to bring delays, is also in this same eighth house that rules other people's money, so you may have had to wait a long time to be paid, whether you are waiting for clients to send you checks, or the unemployment office to issue payments. Mars (go!) and Saturn (stop!) will align on August 25, so that's a day you may feel of two minds about a financial matter. Saturn is the slower moving planet, so Saturn will win - you will likely need to stop moving so fast and rethink assumptions.
Generally, however, it would be better for you to begin any financial initiative early in the month, for you will be away from the conjunction of Saturn and Mars of August 25, but still be far from October. Indeed you will have all of August and September to make progress, but you'll need to sit back in October. Here is why.
Looking two months ahead, October will bring two eclipses, a full moon lunar eclipse on October 8 in Aries, and a new moon solar eclipse in Scorpio on October 23. These eclipses won't be as monstrous as those that came by in April, but they will continue and advance the discussion that came up near the eclipse of April 15 (concerning your own wishes, versus those of your partner), and on the solar eclipse in Taurus on April 28 (concerning money.)
Of course, all eclipses demand instant adjustment. News will come in quickly, and it is often hard to know what to do. Wait for the dust to settle, and in a few days or weeks you will know precisely what your next steps will need to be.
The first eclipse, October 8, will affect your dreams and plans, for the full moon eclipse will be in Aries. You will feel that eclipse quite personally and you will be urged to think about what will make you happy. At the same time, a close relationship in love or business may also be part of your meditation. Uranus will oppose the Sun and conjoin the moon on this eclipse, so news will be sudden and jarring, so keep your schedule light in case you will have to roll into action.
Still, the outcome of the October 8 eclipse should please you. Mars will be the main player here, because this eclipse is in Aries, and Mars rules Aries. Mars will be in Sagittarius, a sign that blends beautifully with yours. Furthermore, Mars will be in exact degree of friendliness to send a shimmering beam to Jupiter in Leo. Mars will also be in fine angle to Uranus in Aries. A golden triangle will appear in the heavens, so although news may initially be surprising, you can make things work in your favor.
The second eclipse, October 23, will continue the theme I mentioned earlier, involving money, whether your concern relates to joint finances, credit, loans, mortgage, and other areas I listed above concerning your finances. A solar eclipse is always a new moon and will always open a new path. This eclipse will be friendly too, as long as you are alert and make necessary changes and plans and put them into place.
Another reason you would be wise to begin putting your plans into action at the start of August and in September is that Mercury will be retrograde all through October, from October 4 to October 25. It's never wise to make big commitments or initiations during an eclipse period OR a Mercury retrograde phase, so plan to be highly productive in the coming two months, and to coast in October.
Eclipses shuffle the deck, so no matter what you assumed would be happen in October, you can bet that something else will. The wind will change direction, but at the start, a lot of cosmic dust will be kicked up. In October you would be best to sit back and observe carefully. You will have plenty of time to think about your next move. By October, everyone will be in the same boat, so you won't lose a competitive advantage. Focus on making August and September your best months, for they will be very supportive of all your goals.
Now let's turn back to look closely at August, and find the ways for you to use this lovely month to your full advantage. The new moon that occurred on July 26 in Leo, 4 degrees, and lit your house of romance and fun, will still be strong in early August. New moons are incredibly powerful, so we must always note where the new moon is appearing each month. This one will be the one and only new moon of the year to encourage love, fun, creativity, and matters involving pregnancy and the care of children. This indicates that a new path is opening in regard to these topics.
Furthermore, giving extra clout to this new moon, last month, Jupiter, giver of gifts and luck, entered the same fifth house of true love on July 16 and is set to stay a full year, until August 2015. This means your greatest growth this year will occur in your personal, romantic life. If you are single and unattached, it's time to fall in love, and Jupiter will help you find just the right person you can get excited about.
Lose your list of qualifications for the perfect mate, and live life with the spirit of adventure. You may assume you know precisely what your ideal partner would be like, but you may be surprised to find the person who intrigues you this year is nothing like the picture you had in your mind - and yet this relationship works.
If you are attached, you will spend more time together, and possibly even take a trip to a foreign country together. Talk of marriage is likely to come up, and your partner may even bring up a discussion involving a baby. If you can take a vacation in August, you will have the right time to go, as the trip would be fun and filled with romantic dinners, and maybe a concert, Broadway show, or other special event.
You may also go to art galleries and museum exhibits, and each cultural activity you take in at this time will add to your repertoire of experiences, which you can draw on to become more creative. This year, your creativity will be exceptionally strong, so take a few artistic risks, and use your instinct. Chances are, you'll love the results.
If your birthday falls on March 24, or a planet in Aries, Leo, or Sagittarius, or Aries rising at 4 degrees (or, within five degrees of this mathematical point), you will benefit from this new moon. That new moon was conjunct Jupiter, making this new moon the best in the year.
Your social life will continue to sparkle as you go through the month. This could be one of your favorite months of all of 2014. Here are more dates to circle in gold!
The weekend of August 10 - August 11 will bring a social event with many happy people surrounding you. You may go to a friend's party, or you may give a party. Alternatively you may host an event or fundraiser for your community or favorite charity, as the full moon will be in Aquarius, 18 degrees. If you are working for a political candidate you believe will get elected, schedule your event over this weekend, as this full moon will bring many people together. Uranus, the ruler of Aquarius, will be sweetly angled to this full moon, indicating surprising serendipity and warm friendship will result. As you see, August is filled with happy social activity.
If your birthday falls on April 7, plus or minus four days, you will feel this full moon's benefits the most. The same is true if you have Aquarius rising - or a planet in Aquarius - at 18 degrees, plus or minus four degrees. Uranus rules Aquarius, so this bodes so well for a happy experience for you!
To spice up your month even more, Venus will move into your true love sector when Venus resides in Leo from August 12 until September 5. Venus will also help you find love or help you fan the fires of existing love, for Venus will be in the ideal place to amp up your charm and allure.
Use this rare period to improve your appearance with a good haircut and new clothes. The next season's looks will be entering the stores in August, so be among the first to snap up the best, most flattering styles for you. Selection will be wide, as others may be away or not thinking about the next season. Whether you are male or female, you can be a knockout if you have a look at what's being offered in the shops.
One of the best days EVER will be when Venus in Leo conjuncts Jupiter in Leo, felt over the weekend of August 16 - 17, and also on Monday, August 18. This is a very important set of days, dear Aries. Circle them in red! Cupid will be behind every tree, working hard with his little fleet of angels to make sure you find and enjoy enchanting love you deserve. It's a red-letter weekend, worthy of five stars! Plan to do something (anything!) to improve your love life. Circulate if single, and plan a memorable dinner with your sweetheart / spouse. As an aside, on these days your income may go up, when you discover a generous check in your mailbox.
A lot is happening on August 25, but one of the sweetest is the way Venus in Leo will signal Uranus in Aries. This aspect will peak very early in the day Monday in the US, so no matter where you live, you will feel these two planets moving toward a lovely "trine" over the weekend of August 23 - 24 and also on August 25. These days will sparkle for love and bring lots of unexpected surprises in love.
The next new moon, August 25, will fall in Virgo 2 degrees, and will light your sixth house of work projects. You are likely to be given a plum assignment just after that new moon appears. Mercury, ruler of Virgo, will be in fine angle to Saturn, indicating the work you do will have long lasting effects and may stabilize your finances.
This same new moon will oppose Neptune, however, so if you are confused about what you are expected to do or how to approach this assignment, ask many questions, as you might go down the wrong lane and may have to backtrack. Save time by asking. A new moon will affect you for ten days, up to September 5, so chances are, this will be a busy time for you. Expect to be working hard in early September. Don't be away on vacation! You can be in line for the ideal job if you keep on working.
Saturn, the ruler of your house of honors, awards, achievement, and fame, went direct on July 21, making it easier for you to be awarded the top job. Saturn was retrograde from March 3, 2014 to July 21, 2014, so this move of Saturn direct represents a big shift, and one you will enjoy. The new moon is about day-to-day assignments, not being given the top prestigious job, but you may land a very exciting temporary project that leads you up the ladder of success after you've completed it.
This same new moon will be ideal for thinking about ways to boost your health. If you have been troubled by a health concern, check in with your doctor. If you want a second opinion, wait until the new moon appears August 25, and make your appointment. Schedule tests and screenings, procedures, and exams. See your eye doctor and dentist too. Do so in the last week if August for best luck - you will still be feeling the high energy of the new moon. One word however - if you need a diagnosis, Neptune's position may make it hard for your doctor to pinpoint what is wrong. Be patient. Also, when it comes to medicine, ask about side effects, as Neptune could bring you an unwanted outcome, but if you didn't ask, you may be surprised by how you feel.
When it comes to starting a fitness program, the same rules apply - start now! You will see much more impressive results if you begin now instead of January, because you will have the right new moon behind you. By the time the holidays come by, you'll be the sexy one on the dance floor. Don't pass up this opportunity!
---
Summary
A new, breezy feeling entered your life last month, and suddenly the road ahead seems happier, sunnier, and much easier to navigate. Last month, Jupiter, giver of gifts and luck, moved into Leo, a fire sign like yours, and settled into your house of love and romance for the first time in twelve years. If you feel your life has been a hard long road strewn with rocks in recent years when it came to love - you are right. Unless you had a few terrific aspects that I cannot see from where I sit, you may have been frustrated with the dating process - but that changes now. No matter what happened in the past, a new day is dawning in your love life, dear Aries. August should turn out to be one of your happiest months of the year.
Jupiter will remain in Leo twelve months, until August 2015, so this is a long romantic trend that is now starting up. You'll love what is coming so much that you will eat it all up with a spoon. You are, quite simply, one of the new celestial favorites to find love. You may say, "If I have twelve months ahead that will brim with fine romantic luck, why should I get going now?" August is special in that the new moon of last month, July 26, is still spinning her magic, making this a standout time, with layers of possibilities, that other months won't be able to match in passion and intensity. Plan a vacation to fully enjoy the golden vibrations that are being showered over you in early to mid - August!
If you have already found love, you can grow much closer, quite rapidly, as Jupiter acts quickly. Your love life may blossom so fast it may be like watching a romantic movie on fast forward. If you are already in an established relationship, the topic of having a baby may come up - and if so, it's an ideal month to plan a child.
A stellar social event, brimming with many friends and new faces, should sparkle over the full moon weekend of August 9 - 10. It will come up suddenly - you'll get short notice. With Saturn in hard angle, you might be concerned about the cost of participation. This event seems worth the expense, even if you have to cut corners to go.
There will be other outstanding, spontaneous days for you in this golden month for love.
Travel a short distance over the weekend of August 2-3. Travel spontaneously over the weekend of August 8-10. Plan something highly romantic over August 16-17.
Venus will enter your true love sector on August 12 until September 5, upping the ante for love, and will also be an ideal time to see about improving your looks. It's also perfect timing to get your wardrobe ready for the new season as the new labels fill the stores.
At work, your creativity will take on new heights. Be sure to keep experimenting and bringing your ideas to light. Think though those ideas, and polish them up, and then show them to influential people. With Jupiter's help, you can get them funded.
The bewitching melody of love may suddenly be paused with the arrival of the new moon, August 25, when new work assignments will make their way to you, quite unexpectedly. Whether you work for others or yourself, if you take a getaway, you will need to be back by August 25 to enjoy projects that seem to have your name written all over them. Competitors would be thrilled to take them away from you to have for themselves, but don't let them - these are yours.
At the new moon, August 25, your ruler, Mars, will be holding hands with Saturn, an indication you may be unsure how to proceed with at least one assignment. Ask questions and develop a plan of action that your client or boss approves. If you don't make a plan and discuss things together, you may feel temporarily frozen as you try to figure out in which direction to go.
To banish stress, choose a new fitness program during the new moon period (immediately after August 25) too. If you live in the north hemisphere, gyms will be empty, allowing you the choice of any machine or class you prefer, with no waiting. The new moon of August 25 will be the best of the year to begin your new healthy program, better than any fitness initiative you might begin in January. Work out now, and look stunning in your new fall clothes in no time flat.
---
Dates to Note: ARIES
Most important dates for love, meetings, or actions Aries: August 5, 6-10, 13, 14, 16-18, 19, 22, 23-24, 28, and 29.
The first ten days of August will be very strong for love and romance. If single, start to mingle; the new moon of July 26 last month set this trend in motion. Its influence will be big, and that new moon will still be influential in early August.
On August 2 or August 25, you have an ideal day to sign a contract, thanks to Mercury (agreements) in ideal alignment and conjunction with Jupiter. These are also great days to travel short distances.
August 8 is a brilliant day to find love. The Sun and Uranus shine a spotlight on new perspective dates. You will meet this person in a random, unusual way, so look your best.
The full moon on August 10 will bring an exciting social event within four days of this date, and the event will be dotted with many friendly faces. It's a "must" on your social calendar, even though it may be a bit costly to attend. Find a way to go.
Venus will move into Leo on August 12 to until September 5 and will provide many opportunities for romance. It is a great time to improve your appearance. Start shopping now, for Mercury will be retrograde in October and you'll likely make many returns.
The new moon in Virgo on August 25 will allow you a great start for health and fitness goals. Schedule screenings and start a new fitness / nutritional regime. This same new moon will likely bring an important new assignment, one that everyone wants, but that only you are given.
When Mars joins with Saturn on August 25, you may feel forced to face a difficult financial reality. Nevertheless, you can use the new moon in Virgo August 25 to start to generate income in your profession to improve cash flow in the days that follow.
P.S. for August 2014
SUSAN MILLER'S APPEARANCES for August 2014
Susan Miller Event in Southampton, Long Island
Meet Susan Miller for a fun meet and greet
Bring questions!
Saturday, August 9, 2014 - this weekend
11 AM - 7 PM
No ticket fee
Sequin Southampton
20 Jobs Lane
Southampton, Long Island NY
Store: 631.353.3137
---
FREE Washington Post Worldwide Chat
Wednesday, August 13 at NOON EDT New York with Susan Miller
Use this link to submit your questions: http://wapo.st/1y71o22
When posing your question, please list your first name and sign, and your rising sign too if you know it. Ask your question in a way that would appeal to the widest possible audience of readers of your sign with questions similar to yours. This will increase your chances of having your question chosen.
---
Astrology Zone Coming to TV! More news in weeks to come!
Newsflash: I am very pleased to announce that I am developing the Astrology Zone TV show with Paul Duddridge and TV4, and we plan to be on air from November 2014.
I am being secretive here, but I will say I will be back in Hollywood in September to start work on the show. Viewers in America and in international countries will be able to view it in English. You will get more news as it comes!
---
Android, Samsung Users! IPhone users!
Your new free app will be ready to launch in approximately 10 days. Stay tuned! We have been working on this all year! If you have my old Astrology Zone Premier, it will no longer work soon. You will have to download the brand new app and design - we think you will be dazzled by the look of my new app, as it is completely different. Like the iPhone, you can choose between the free and the subscriber version. On Android and Samsung, you can subscribe for $4.99 for one month if you like, to check out all the new features.
IPhone users will get a completely new interface and beautiful design, too, not only for your iPhone but for all iPad sizes and shapes, including the iPad Mini. If you already downloaded my free version or have a subscription on iPhone, you need do nothing. Just update your app - no extra charge! I made my list of all design corrections today with my dear account person at Phunware who came to New York City to see me in person. The coders are now working their magic! The launch will be approximately one week after the Android and Samsung users get theirs. It will fit most modern Apple formats, including your new iPhone 6 due out in early September. Stay tuned for my announcements on Twitter and FaceBook.
I don't want to divulge the new and improved features of my new app yet, but I will say all versions for all these operating systems will look similar, with no more black background, and a sleek design. In the future, your app will be specially sized to fit the display of the device you are viewing on - this is new, and we know you wanted us to do that for you.
---
"OUTLOOK for the Second Half 2014 by Susan Miller" is now available:
In Print $4.99 plus shipping via USPS with tracking. Total under $10.00. One and two copies same shipping charge. https://www.americadirectbook.com/outlook2014
Digital PDF: $5.00 https://www.americadirectbook.com/outlook2014pdf
Amazon's Kindle: http://amzn.to/1lE7a8t
Barnes & Noble Nook: http://bit.ly/Uec9D3
---
The Year Ahead 2014 Astrological Calendar
By Susan Miller
My Year Ahead 2014 collectible calendar is now $9.99 (at a 45% discount, from original price $17.99) plus shipping, any applicable tax
Calendars are used to mark time, but have you ever had a calendar that helped you use your time productively? My new Year Ahead 2014 Calendar can do just that. I write every word myself in this stunning calendar with original fine art by socialite, author, and fine artist Gloria Vanderbilt, mother of newsman Anderson Cooper, and great grandchild of railroad entrepreneur Cornelius Vanderbilt. (Grand Central Station was originally her great grandfather's business headquarters.)
Gloria Vanderbilt, now almost 90 years young, licensed the reproduction rights to her critically acclaimed artwork to Susan Miller who self-published her calendar. The inks are rich, the paper heavy, glossy, and snow white, allowing Gloria's paintings to jump off the page. Each month, from January 2014 through the extra bonus month, January 2015, is found an inspirational quote from Gloria, centering on her philosophy of living life fully and creatively. With fourteen of Gloria's paintings, this calendar will soon become a collector's edition and will not be reprinted when stocks are gone.
Aside from having happy, vibrant art to look at all year, The Year Ahead 2014 calendar has many other uses, unlike any you have had in a calendar before. On every important day of each month I list the aspect and what it means, in easy to understand laymen's language. This means the next time you are about to make an important appointment, and the VIP asks you, "Do you want to come in Monday or Thursday?" you can say you will consult your calendar and know immediately the day to choose.
In a year like 2014, where sparkling aspects will stand side by side difficult ones, this calendar will not be a luxury but a necessity.
Also included in the calendar are:
- All the start and end dates of the retrograde planets in 2014,
- Detailed discussion of the new and full moons (new!)
- The date when planets move into new signs (and how long they will be in that sign), all listed on the same day entry
- The planetary aspects of the four eclipses due in 2014, and explanation of what each eclipse will bring.
No more surprises! Be in the know about upcoming events, so that you can plan your biggest initiations. This calendar is a "must" to keep with you all year, and is available here, from Susan's publisher, but not in bookstores or other retailers. Get it now, while you can: $9.99 plus tax and shipping. We ship to all nations of the world: http://bit.ly/186zM0i
---
MY PERSONAL CUSTOM HOROSCOPE BOOKS
WRITTEN BY SUSAN MILLER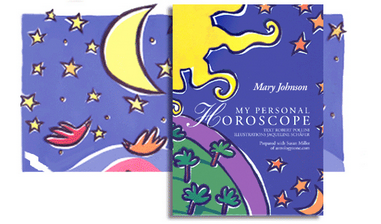 Looking for unique gifts for the summer months? - Choose from My Personal Horoscope for Adults or for Babies, or for a Relationship, the Two of Us.
Have an entire book written by Susan Miller, which runs approximately 65 pages, about your natal horoscope. Get to know your rising sign (also called the ascendant) as well as the placement of each of your planets, and what it all means. Susan's natal chart for babies centers on the talents and gifts of the little child. Order today and you will have your book within two-and-a-half weeks.
Two weeks on average from order receipt to delivery to any US destinations. One week longer elsewhere.
Also PDF option available for destinations overseas where delivery tracking of printed books is prohibitively expensive.
My Personal Horoscope Custom Natal Chart Book $49.99 plus shipping / tax
For more information call Susan's publisher, Arthur Heydendael 914.271.3640 ext 14 or click here:
http://www.americadirectbook.com/Customized_Books
---
A New Service: WiFive.us
Don't we all love a bargain?
We all want to know about the deals being offered nearby in our neighborhoods to save money. I found a way when a brilliant entrepreneur, Luis Sanchez, came to see me to show me he had developed a way of seeing all the various deal-of the-day websites that are featuring discounts on food, entertainment, boutiques, and other establishments, all in one click. Traveling? All you need to do is enter the zip code of your new neighborhood as you travel each day and you can see the deals that may be just across the street from your hotel.
The company is called Wifive.us and is ready to use today. It is a New York-based startup with a location-based search engine that gives you access to thousands of local online deals in a single site.
For now, Wifive.us is only available in the United States. It covers most of the deals and services you would see from various sources (Groupon, Amazon, Google deals, and so forth) all at once, so you don't have to go from site to site to find a deal that appeals to you, as Luis would humorously say, "until your head hurts." There is no registration necessary, and no useless emails to stuff your inbox each day.
Just type your address or ZIP code and get the deals you want when you want them. You pull in your information, which is far better than having many emails pushed to you. Try it and like the service on Facebook!
A word about the web address of WiFive.us
You may be wondering, what exactly is .US?
You might have thought the domain ending .us would only be only for government agencies and schools, but since 2002, individuals, businesses, churches, and non-profits have adopted .US web addresses to make their mark on the Internet. The .US is a new domain ending.
Just remember the name of the new service that no doubt you will be using quite a bit: pronounced as "wi-five-dot-us" otherwise seen as: http://www.wifive.us
---
Live Overseas? Or, don't have an iPhone, Android, or Samsung Galaxy?
Get all 12 of my daily horoscopes each day by email or pick yours up each day on special password-protected site.
To plan ahead, receive several daily horoscopes in advance!
By subscribing to DailyAstrologyZone you will receive a week of horoscopes inside your cell phone and / or computer. This means if you have a BlackBerry or feature flip phone, you can still get my daily horoscopes as long as your device accepts email. You will also have the option of accessing your daily horoscopes from a website online, from anywhere, any time, through a password-protected site for members only, or receiving all 12 signs my email each day.
For more information: http://www.dailyastrologyzone.com
To view a forecast, select a sign from the menu below and click on Go.