Here is your Year Ahead 2015, all 12 signs about 3 minutes each in length. Make sure you click on your rising sign as well, for it is equally as important as your Sun sign (you would have had to have your chart done in order to know your rising sign). http://thescene.com/glamour/series/glamourscopes-with-susan-miller
Aries Forecast for December 2014
By Susan Miller
This December will bring plenty to celebrate. The headline news is that Saturn, the taskmaster planet that teaches us life lessons, will move out of Scorpio and out of your eighth house of other people's money on December 23, just in time to bring a new and optimistic look to the year ahead. Saturn has been touring the area of your chart that rules credit cards, taxes, child support, court settlements, inheritance, mortgage, student loans, identity theft, bankruptcy, bank loans, venture capital, and so forth. One of these areas might have been a source of worry over the past two years, ever since Saturn entered this house in October 2012. Now, welcome relief is in sight.
I will show you the types of concerns you might have had to cope with over the past three years - one of these areas may have been cause for worry. They are just examples to get you thinking. If you are self-employed, a good client may have gone bankrupt and informed you that you would not be paid the balance of the sum owed to you. Or, you may have struggled with a mortgage that was "under water" but found your bank unwilling to adjust that expensive mortgage for property that has dropped substantially in value. You may have heard your ex would not pay child support on time (or anytime soon) because he lost his job. Or, you may have had to pay more in taxes than you ever imagined. You get the idea. Now, however, Saturn will finally leave your credit sector. Now wiser and more experienced, you can set out to make sure the kind of difficulties you faced won't happen again, or even if they do, you can set up contingency plans.
Admittedly, Saturn will retrograde back into this sticky sector, your eighth house of other people's money, but only for a short thirteen weeks: June 14 to September 17, 2015. Those weeks will fly by quickly. You will not likely notice any new financial concerns. You will have to be vigilant during those middle months of the year, perhaps in terms of checking your statements to make sure you are not being targeted in identity theft. In May, in anticipation of credit card bills coming in June, you might also want to slow down spending in case your financial situation changes. For example, you might have another large expense to cover, such as something to fix for your house, or in terms of a relative who needs money because of high medical bills.
Don't let any little cloud hang over your head - you have so much to celebrate in 2015. By the time Saturn leaves Scorpio on September 17, 2015, he will not be back until November 2041, decades from now. It appears you will have substantially more money coming in during 2015 and beyond. Also, over the past two years, if you were employed, you may have found the perks and benefits offered to you to be skimpy and not at all generous. That will change now too - you'll more likely be given better benefits, such as a solid health care insurance policy, more vacation days, and so forth as you move forward. Just don't negotiate those benefits during that June 14 - September 17 phase, and you'll come out well.
Now let's backtrack and look at December, starting from the top of the month.
The first days of December will be exciting. First watch December 4, for it will likely be filled with wonderful news. The Sun in Sagittarius will be in ideal angle to Uranus in Aries, planet of surprise. Also in Sagittarius will be Venus, planet of good looks, love, and happy times, in perfect angle to Jupiter in Leo. Then the following day, on December 5, Mercury will be also move into sensational angle to Uranus.
If that were not enough, the full moon in Gemini, 14 degrees, will receive a happy beam from Uranus too, and also from Jupiter, giver of gifts and luck, making it a romantic time for you. Keep in mind a full moon will have influence over (and deliver its news) four days plus or minus from the day it appears. If your birthday falls within five days of April 3, you will feel this full moon with double strength and have even more to celebrate. Natal planets in Aries, Leo, Sagittarius, Gemini, Libra, or Aquarius within five degrees of 14 degrees will also light up and benefit you. Yet let me reiterate, all Aries will have something to celebrate.
All these aspects, over these days in early December (December 4, 5, 6) bode so well for sudden travel, and if you go, your trip seems to be taken for fun and love to be with someone special to you. Your trip is not likely to take you far from home - it would be within a day's drive or short flight from your base - but would bring all kinds of serendipitous luck. If you do travel for work, it's likely to be to work on a creative endeavor. This would be a great weekend (December 6-7) to do holiday shopping too - you'd find beautiful bargains.
Happy travel is not the only way things may work out. Over these days, you may get great news from a university, perhaps inviting you to study there as part of an early admission program. If you took a major qualifying exam, you may hear news that you came through with flying colors. Or, if you applied for a grant, the university may be interested in funding your study and invite you to come in to talk. Anything having to do with your quest for higher education or research will do well for you.
There are other topics that may come up instead of travel. If you are involved in a court case, it may be coming to a conclusion, and with aspects as sweet as yours in early December, your outcome will likely surprise and please you. Alternatively, you may be writing an important document, and if so, you will be done by week's end. Something unexpected may come up (in a good way) - maybe you will be given another assignment immediately after handing it in, as this full moon is in Gemini, a double-bodied sign signifying "two." In the first week of December, your sister may have big news to share, so be sure to check in with her.
Mars, the guardian planet to Aries, will move into Aquarius, a perfect sign for you, as you are a fire sign, and Aquarius will fuel your enthusiasm and energy by providing its air element. If things were a little dull over the past six weeks, they won't be in the next six weeks. Your friends will play a bigger part in your life while Mars remains in Aquarius, from December 4 until January 12. You will be seeing your friends more often, and you may be invited to a slew of parties - many more than last year.
The first big aspect Mars in Aquarius will make will be on December 20 when Mars will be in happy aspect to Uranus in Aries. Again, more amazing unanticipated developments are due, this time stemming from one or more of your friends. As you may have noticed, Uranus will be very active this month, involved in almost all the big aspects I see. I love December 20 for you - truly a standout day, and perfect for giving a party or gathering in your home.
Remarkably, Uranus has been retrograde and weak for many months, since July 21, but will go direct on December 21, the day after the marvelous aspect mentioned (above). This means Uranus will be doubly strong and will be "stationary" for days prior to turning direct (hanging still, like a lantern in the sky, as it turns its energy in the opposite direction, to go direct, considered by astrologers to be a period of great power). This means December 20 may have special significance - it will be a great day for you.
If you plan to buy a new electronic item, you might want to do so on December 21 or 22, as Uranus, which goes direct on December 21, rules electricity, electronics, and items that are innovative in the digital age. (With the moon in Aquarius during most of Christmas Day, if you celebrate Christmas, it looks like many people will be joyously opening presents with electronics inside - always a happy gift to get!)
Do not buy anything on December 24, however, as Mercury will be in hard angle to Uranus. If it's a gift, the recipient won't like the gift or else not find it functional - this could apply to you too. Mercury rules commerce, agreements, and contracts, and it follows, Mercury also rules all shopping. Mercury also rules travel too, so don't cut travel too close to Christmas if you plan to drive or fly home or to a travel destination. Bad weather is likely to plague many parts of the world with this aspect, and you are likely to be sitting in the airport a long time or not getting to where you hoped to go until the following day.
Let's backtrack a little, to the new moon, December 21, when the new moon will fall on the solstice, in Capricorn, 0 degrees, a very powerful degree. (Yes, this is the same day that Uranus goes direct, making it triply powerful.) Again, happy, warm aspects will prevail - this new moon will light up your prestigious career sector in a HUGE way. I know you are thinking, "Nothing of significance happens in the last ten days of December!" Maybe so, but YOU will be the exception to the rule. Let's look and see why.
If you could see your horoscope wheel, you would see FIVE (count 'em!) heavenly bodies crowded into your tenth house of honors, awards, achievement, and fame sector. These bodies include the Sun and new moon in that powerful 0 degree of Capricorn, along with Mercury (talks, interviews, contracts), Pluto (power), and Venus (charm - yours!) That is half our solar system! This will be the most powerful new moon of all of 2014 for you, and it will be a year until you see anything comparable in strength to this one.
A new job offer or promotion is sure to come up, and so you will want to have your laptop computer and cell phone powered up if you travel. If you fly, buy the Internet service on board if it is offered on the plane - you will need to be on email. The position offered would not be like the jobs you've done in the past, but a true step up in prestige and responsibility.
Neptune, watching all this excitement from his position in your twelfth house, will provide luck to you in regard to your creativity, so on Monday, December 22, present your ideas to anyone who will listen to you. If you are discussing a position that would have you support talent, again, Neptune can help you, as Neptune is the patron of the arts.
Pluto and Uranus will still be in hard angle to one another at the time of the new moon, fresh from an argument they had with each other December 15. These two planets will still be within orb, meaning not far away enough from each other for us to disregard. Fortunately, the aspect peaked on December 15 and is steadily declining - that is, it is continuing to lose power - so that's fortunate for you.
This hard angle between Pluto and Uranus in Aries suggests you will need to convince a very powerful VIP that you are up for the job, as this person appears to be not entirely sure. You can do it. While there will be competition from other candidates, don't worry - chances are the others don't have your glittering aspects. (How could everyone possibly be an Aries?) Also, when you want something badly enough, such as this position, you tend to show so much passion and energy - and humor - that no one can resist you. You will have Venus in your career sector, so adding a little levity and charm to the talks will work in your favor.
With five heavenly bodies in Saturn-ruled Capricorn, dress to look grown up and a bit more conservative than usual. (Saturn rules older, more experienced people, so the firm interviewing you won't want someone who the big boss perceives to be so young as to look 12 years old. Look the part of the job and to be worthy of the generous salary you hope to be given.
Emphasize that you are talented at appropriating budgets, conducting negotiations, and anything having to do with money. It appears that this new position will require someone who is trustworthy and smart about money, as Capricorn is a big money sign. If you are experienced and good in these areas, by all means, speak about your background and show examples.
New Year's Eve brings the moon to Taurus, the sign that rules your income house. It's not the best night out - you seem in the mood to save money, not spend it, so why not invite a few friends over, and make a simple celebration at home? You should celebrate, even if the party is small and simple - you will have so much to look forward to in the New Year!
---
Summary
December will be filled with sugar and spice. Get your holiday wardrobe ready early on, for you will be stepping out quite a bit. The month will be divided in two parts. The first part, thanks to a bountiful new moon, December 6, will send you packing and heading to the airport, in your car, or on the rails, filled with excitement for the approaching holidays.
With your ruling planet, Mars will move into social Aquarius on December 4. You will be eager to catch up with friends, and you will be busy arranging to meet up for drinks and dinners, and planning shopping expeditions. You will also be attending as many festive parties as your schedule will permit. This will be no ordinary holiday season - this one might go down as one of your best. Both Uranus in Aries and Jupiter in Leo will bring a plethora of happy surprises. You will have opportunities to enjoy romance - more than any other time in recent memory - so single or attached, you will enjoy celebrating the arrival of the New Year, and may possibly have someone to love, or if attached, get a commitment from the one you already love.
You have several special days to circle on your calendar: December 4, a highly romantic day; December 5, just made for surprises of every description; December 12, ideal for travel; December 13-14, when love will be in the air and you'll be at your most creative if you want to show off your flair for chic holiday entertaining.
The new moon, December 21, may bring you the best gift Santa could have ever delivered - a prestigious new position or promotion. Your tenth house of honors, awards, achievement, and fame will have five heavenly bodies, including the Sun, suggesting you'll display authority and leadership; new moon, opening opportunity; Mercury, perfecting your articulation; Venus, increasing your popularity with VIPs; and Pluto, indicating high level people will meet with you.
This is coming just as the year is winding down, but make no mistake: you need your cell phone powered up and your computer on and with you. Things do happen in the last days of December, believe it or not! You seem to have been busy seeding a new career plan in late November, and you may see that effort start to bloom. If you didn't work on your career last month, this new moon will be so strong and helpful that I still feel you will see a development anyway. With Jupiter beautifully angled, if you are creative or support creative staff, you will be head and shoulders above the rest.
One warning: December 14 brings a rare dispute between Pluto and Uranus, causing one VIP to wonder if you're up to the new job. Your mission is to convince this high-level person that you are more than qualified. There is always a doubting Thomas among those in every organization. You can turn things to your favor by listing your accomplishments and showing examples why you can easily handle the new job, especially regarding budgets and negotiation as part of your job. A new moon, December 21, opens an important door - this one has your name on it.
On December 23, Saturn will leave Scorpio and finally exit your house of other people's money. Say goodbye to the money stress you may have been subject to since Saturn first entered this part of your chart in October 2012. A new day is dawning for you, Aries!
---
Dates to Note: ARIES
Most important dates for love, meetings, or actions Aries: 1, 2, 4, 5, 6, 7, 10, 11, 16, 20, 21, 23, and 28.
December 4 brings new opportunities for your career. Also check in with your social circle and business contacts, as there is a good chance you may start a new business venture.
On December 6, the full moon in Gemini could bring a sudden trip, to a location not too far from home.
Venus will give you charm and influence during meetings with VIPs while Venus moves through Capricorn from December 10, 2014 to January 3, 2015.
Hold off on any important business development or scheduled meetings with VIPs in dates surrounding December 15. Uranus will clash with Pluto on this day - not a day to plant a seed new venture.
The new moon of December 21 will give you a new chance to make a leap upward in your career and marks the most important point in 2014 to make a professional move. Uranus in Aries will go direct after months of lagging in retrograde, another sign things will move quickly, so hold on to your hat!
Saturn will move into Sagittarius on December 23 and into your ninth house. With Saturn leaving your financial / other people's money / taxes / credit house, you will find you will have a far easier time to manage money. It appears more will be flowing to you now.
Saturn in Sagittarius will help you build on a goal dear to you, as Sagittarius is fire, and your Aries Sun is found in the same element.
P.S. for December 2014
Happy Birthday Astrology Zone!
Since December 14, 1995, 19 Years on the Internet!
I am very excited to see Astrology Zone reach her 19th anniversary!
I have learned so much since 1995, the year I started, and with each passing year I enjoy writing for you more and more.
This past year has been a big challenge for me due to my health condition,
but you stayed with me, and your steadfast encouragement helped me get well.
2015 promises to be a bigger and better year than 2014; that's good news for you.
Before I got sick, I had many surprises in the pipeline for you.
Next month I will be able to show you some of those projects that I kept moving forward,
despite my illness.
My progress was due to the kindness, and help of my partners.
The first project I was working on in January 2014, you may already know about:
It involved replacing my old apps (started in 2003) and introducing two brand new ones.
The world had changed, and it was time to write new code.
My new apps were announced in last September, one for iPhone and another for Android/Samsung. If you didn't get yours yet, they are free and you can download them now in iTunes or Google Play. All the early bugs that showed up in the iPhone app are fixed, and both the iPhone and Android/Samsung apps run flawlessly.
The graphics of my new, redesigned apps are beautiful. Happily, both new apps will resize to fit all your devices. Please check system requirements.
Once inside the app on your smart phone, you will have the option of subscribing to my longer content for $4.99 for one month or $12.99 for three months - you have overwhelmingly chose to subscribe for the third option, the yearly $49.95 subscription.
If you don't have a smart phone or if you live overseas, you can still subscribe to the same content that I write for iPhone, Android, and Samsung.
Check www.dailyastrologyzone.com for more info.
Another project we launched this year is a mirror AstrologyZone site in all Spanish. Please tell your friends about it. It's free, and here is the special URL: www.es.susanmiller.com.
Thank you so much for your support!
I always enjoy hearing your comments on
Twitter (@AstrologyZone) or Facebook ("Susan Miller")
Have a very Joyous Holiday and a very Happy New Year!
Susan
---
Washington Post Worldwide Chat, FREE!
Thursday, December 4, 2014 at NOON EDT New York with Susan Miller
Use this link to submit your question, and you can post today: wapo.st/1zItm5P
This will be the same link you will use to enter the chat session on Thursday, December 4.
This will be our last chat since we've come to the end of the year and my contract is over. Let's make this a blockbuster event!
As said, my chat is Noon EDT in New York City. To find out how that time translates into your local time, go to the world clock on www.timeanddate.com
When posing your question, please list your first name and your Sun sign, and add your rising sign too, if you know it. If you can ask your question in a way that would appeal to the widest possible audience of readers, you will increase your chances of my choosing your question. I strive to answer questions of every sign of the zodiac! I hope everyone reading this will come, and through the generosity of The Washington Post, there is no fee to participate. It's free.
While you are on the Washington Post site this week, look at the news stories - it's an award winning newspaper and you are sure to be fascinated by many of the stories.
---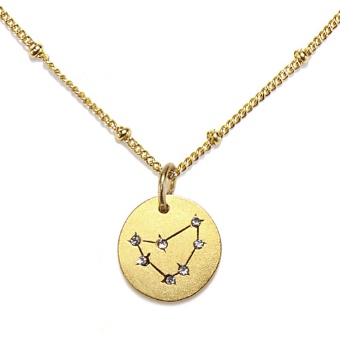 Check Out the Star Map Collection by Sequin
Last March, when I was still well, I was invited by Sequin executive women to look at an idea their talented New York City Sequin Design Studio had for a collection of pendants with an astrological theme. I immediately fell in love with the various astrological pendants, and they asked me to check to make sure all the designs and keyword descriptions of the signs to be used on their site were astrologically correct. I made a few changes to the keywords, but my involvement was very minimal. (Everyone, it seems, at Sequin reads Astrology Zone!) I love the quality of these beautiful pieces. Many girls layer several of these necklaces, using various lengths, and that's a great look too.
The pendants are all made in America and handcrafted by artisans using material components from around the world, and are so well priced that I feel they will fly out of their inventory. These necklaces are gorgeous. They are made of 22K gold-plated brass with antique finish and crystal details. I was impressed with the lovely chain that the pendants come with too, as it is tangle-proof and delicately made to look beautiful when worn. Whenever I wear my necklaces, I get so many compliments.
These necklaces make great gifts, and also would be a beautiful addition to your accessory wardrobe. I quickly chose those necklaces as part of my favorite things to give for holiday gifts, or for a friend's birthday. Imagine how surprised I was that Oprah had chosen this Sequin Star Map Collection as a part of her "favorite things" in her December issue! I was so happy for my new friends at Sequin and the incredible success of this new line of jewelry. It seems Oprah and I think alike!
If you order by December 15, you will get your gift by Christmas. Readers living overseas, please order by December 10 to allow extra time for shipping. Your necklace will arrive in a pretty gift box, perfect for gift giving. Remember to think ahead for upcoming birthdays and Valentine's Day - I know these necklaces are going fast!
Seen here is only one example of the Sequin Star Map Collection of pendants, so click through to see the entire range of jewelry, using this link:
http://www.sequin-nyc.com/collections/star-maps?ref=susanmiller
---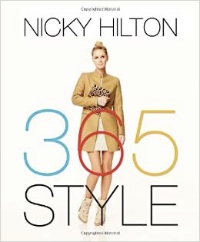 A New and Important Book on Fashion and Style:
"365 Style" by Nicky Hilton
Wow! Amazon tells me you bought SO many copies of Nicky Hilton's book in November!
I love Nicky's book too! Here is my review in case you missed it last month!
There are many books on the market on fashion and style, and I admit, I have bought many of them. In this new book, Nicky Hilton, designer, author, entrepreneur, daughter of Rick and Kathy Hilton, and sister of Paris, has created a completely original, honest, and remarkably wise book on style. It comes complete with many color photographs, and in it Nicky shows you ways you can upgrade your own fashion style from good to style icon level. The goal is to sharpen your personal style by looking within, not by copying someone else's style. Nicky gets you started by showing you some of her favorite style icons, but only to get you thinking. She gives many stories and examples from her own life, and she makes you enthusiastic about going through your own wardrobe to find ways to amp it up. The title of the book refers to Nicky's suggestion that you consider 3 aspects of your lifestyle, and choose 6 staple items of clothing and 5 essential accessories. Doing that will instantly get you a stylish starting point.
Nicky has attended all the fabulous fashion shows in New York, Paris, Milan, and more in her young years, but her advice is down to earth and certainly does not require you have a trust fund. Just the opposite, her tone is one of a best friend going through your closet and handing you advice that is at times funny but always wise. Certainly a lot of what Nicky says makes you think. In one chapter, she advises, "Always dress like you are going to meet your worst enemy" (i.e, bumping into the ex-boyfriend who betrayed you, or the mean girl in high school who made your freshman year a terror.) Nicky gives many examples of her own life and shows how running into that old boyfriend looking like a million because she had taken just a little extra time with her appearance on the way to meet girlfriends for a casual Mexican dinner gave her a happy boost during that unexpected nano-second on-the-street encounter.
With each page, you will rethink your own wardrobe and habits, and occasionally Nicky will casually toss out the very advice you needed most. When it happens, you will feel like you were hit by a thunderbolt. I enjoyed her advice about dressing for a first date, meeting his parents, and more, and all along she gives you many vignettes that allow you to see her own lifestyle. Those peeks into her own life allow you to understand why she has the authority and experience in her early thirties to write this wonderful jewel of a book.
She has advice on such things as:
The $30 wardrobe item you can't live without.

The one closet accessory that keeps everything organized at all times.

Five must-have wardrobe items, all affordable.

How to pack a suitcase like a jet-setter.
I feel you will enjoy this book and get much from it. Just click here to order your copy:
http://amzn.to/1qE6BzC
---
A COMPLETELY NEW WAY TO FIND LOVE ONLINE WITH DREAMCLIQ.COM
I have partnered with a new online dating site Dreamcliq.com, an entirely new way to meet people. We all know how hard it is to write personal descriptions. Dreamcliq is doing something new: users create visual profiles to easily express what they love. Instead of awkward written descriptions of yourself, you can use images to express who you are and what you love in style, art, travel, design, and entertainment. You will click on photographs that express the real you, and the process is fun. If you see someone that interests you when looking at the photographs they chose to express themselves, you can read my previews of your Sun sign's compatibility with the person you are interested in contacting. Just remember, all signs can get along with any other sign, for if love is there, the stars will open a path!
As a special gift to all my readers, you will receive 10 free cliqs to use on Dreamcliq.com when you sign up using this special access link. This promotion will be in place from now through December so that you can increase your chances of starting 2015 with a grand love in your life. This promotion on Dreamcliq is open to all my readers, male and female, straight and gay. Everyone of every sign is invited. Sign up - you have nothing to lose and everything to gain. When CEO of Dreamcliq Melissa Jones came to me with her idea sketched on paper a year ago, I didn't know her yet, but I was so impressed with her originality and intelligence, I knew immediately I wanted to work with Melissa. The media has reviewed her brand new site, and the rave reviews are in. You can see them as you explore the site.
To learn more about love and astrology, read my article on Dreamcliq's blog. I have lots to say in my essay about love and how astrology works to help you find love, so be sure to scroll down to catch all that I wrote. You may find my words helpful as you embark on your new adventure to find love. I love Dreamcliq because by choosing from images for your profile, you reveal your personality in an artistic way that is honest, stylish, and exciting. Give it a try!
---
MY PERSONAL CUSTOM HOROSCOPE BOOKS
WRITTEN BY SUSAN MILLER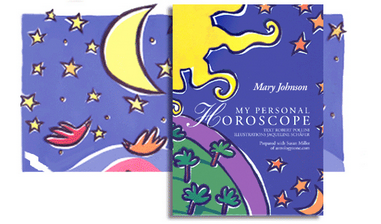 Looking for unique gifts for the coming holidays? - Choose from My Personal Horoscope for Adults or for Babies (Baby Boy light blue cover or Baby Girl pink cover), or for a Relationship, the Two of Us.
Two weeks on average from order receipt to delivery to any US destinations. One week longer elsewhere.
Also PDF option available for destinations overseas where delivery tracking of printed books is prohibitively expensive. The content is same as the print edition with its full-color illustrations by Jacqueline Schafer. The PDF delivers within 7 days on average.
My Personal Horoscope Custom Natal Chart Book $49.99 plus shipping / tax
For more information call Susan's publisher, Arthur Heydendael 914.271.3640 ext 14 or click here:
http://www.americadirectbook.com/Customized_Books
To view a forecast, select a sign from the menu below and click on Go.