Capricorn Horoscope for July 2014
By Susan Miller
For months, you've been under continual pressure in your career, but that is about to abate now, and no one will be more relieved to feel the change than you. The reason for the tensions that you felt has to do with the orbit of Mars. You hosted this assertive energy planet in your tenth house of honors, awards, achievement, and fame sector since December 7, 2013. This is unusual, in that Mars usually only spends six weeks in a sign, not nearly eight months, as you have had lately.
Ordinarily, it's a big plus having Mars in such a high profile career position, for it's often easy to get in to see VIPs. This often marks a time of promotion, praise, and rising status. This year, however, Mars was under siege from Uranus and Pluto, making progress much harder than usual, and the obstacles Uranus and Pluto presented created a lot of tension in your life.
With such a long trend from Mars in your house of fame and promotion - starting initially in early December - being as determined as I know you to be tells me that you probably were able to score a professional victory, but it took everything you had to give to do it. Capricorn is a very ambitious sign, and you will do what is necessary to win a goal. The goat is very sure-footed and continued to climb slowly and patiently to the top of the mountain along an increasingly narrow path as you ascended near the top, passing other little animals who have long given up, lying on the side of the path, having fallen on their backs with their little legs in the air out of pure exhaustion. You are very surefooted, and your earth-sign Capricorn element allows you to deal with what "is" and not spend time wishing for the easier time that could be.
You are practical realist, and that was a big asset over past months. As a rule, you don't spend time and energy bemoaning the fact that the competition was jockeying for the same position that you had your eye on - you used your energy toward winning the job. Cool under pressure, you kept your focus, and that is why you were able to function well since last December. You didn't succeed because you had a lot of help - you succeeded in spite of the fact that you didn't have any cosmic help.
Last January 2014, you were ready and eager to bust out of the gate to nail your new high-status job, but the ruler of your career house was retrograde - Venus - from December 21 to January 31. You may have felt the time was not right to take a new position at the start of 2014, or it may have been you came close, but management didn't really know what they wanted from the person they would choose for that position, and the job fizzled. February brought Mercury, the planet of judgment and communication, retrograde from February 7 to February 28, making it not a wise time to announce any new decisions to sign contracts nor to make a verbal commitment. Mercury is the planet we rely on to keep the rational parts of life spinning on track, but when retrograde, things tend to go haywire. Mercury finally went direct February 28.
Dovetailing almost precisely to that date, on March 1, Mars, touring IN your tenth house of career fame and honors, went retrograde, from March 1 to May 19. This threw a spanner into the works when it came to decisions and actions - you may have been very frustrated with a lack of decisiveness from higher-ups and the general slowdown that the New Year was presenting.
At the same time, your home situation was requiring decisions too. Some Capricorns noticed tension concerning a home or family-related matter (most likely involving a parent) just after the very difficult new moon in Aries, March 30. That new moon led us all into the hardest month of the year, April. As a result, early April may have found you switching your attention from your career life to difficulties arising in your home, other property, or the care of one of your parents. You had little choice but to keep your attention on home, even though your boss or client was demanding much urgent attention from you too.
Then, coming pell-mell after that difficult new moon of March 30 (making the first two weeks of April tough), you may have been rattled next by the April 15 eclipse that forced you to bring your attention back to your career where news of major shifts were also taking place.
In April, particularly, and to some degree, early July (this month), Mars was being bombarded by stressful aspects from Uranus in your home sector, and Pluto in Capricorn in your first house (describing you and all your desires). It appeared you may have had to fend off quite a bit of competition. It may have been, alternatively, that critic / detractor while at the same time keep the home fires burning.
Some Capricorns moved into a new house or condo this year, for with Uranus, the planet of surprise, in your home sector, some Capricorns moved more than once (!) ever since Uranus entered Aries in March 2011. You may feel uprooted or made to change your living situation, and this is a strenuous challenge, considering you have to keep managing an ever-shifting career due to a somewhat unpredictable managerial style at the top.
If your birthday falls near December 30, you may have had more focus on home, and if your birthday falls within four days of January 15, it was likely your career that has been getting your main focus. I cannot see your unique natal chart from where I sit, but mathematically, these areas of emphasis seem likely and the birthdays I mentioned were the Capricorns dealing most with these matters.
If you don't have a birthday near the dates I mentioned, then you may have only felt events in a mild way. You have other planets in your chart too, and if some were lit up lately, you would have felt the movement of the eclipses too, regardless of which day you were born. You certainly had a lot going on in the two key areas of life at the same time - home and career - so you may have felt you were running from pillar to post.
The month of May seems to have been tense too, especially near the full moon, May 14, when your ruler, Saturn, was prominent and conjunct the moon, requiring a decision, so nothing was easy. On May 19 Mars finally ended being retrograde in your career sector. (Mars was IN your career sector but RULES your home sector).
You seem to have been eager to make decisions on both your professional / career and home / property fronts by late May (and who could blame you for begin a tad impatient with all the delays?), but in May and June, progress continued to be slow. All retrograde planets need a little time to come up to speed, like a groggy little person who wakes up from a long sleep, but because this little person is not a "morning person" he needs coffee and quiet time before he can function. It would not be until this month, July, for Mars to reach his peak, energetic self - what a relief. I feel most Capricorns were surprised to enjoy Mercury retrograde in June. I say that because your schedule probably opened up due to postponements and cancellations, so in June, you had a chance to take a breath.
Looking back over the past six months, the personal planets of Venus, Mercury and Mars were all retrograde. They are called personal planets because these planets orbit closest to earth, and as such, strongly affect our daily day-to-day lives in a way the outer planets don't quite do. The fact that these planets were out of phase in the first six months of 2014 was very frustrating, but there was a positive side to this, too.
You were being urged to finish up old business from 2013 before venturing into new territory. All creativity and new ventures require follow-up, tweaking, and refinement. By doing so, you can create a more polished project, and in regard to a new relationship, attention to it allows your new tie to become deeper and closer. I have always felt the most precious gift we can give another person is the gift of our time, and our full, undivided attention. The same is true with a project - spending extra time is akin to giving nutrients and sunshine to your plant, and soon it will start to flower.
Now, all the personal planets will be moving direct from now on, starting July 1. The most difficult eclipses of the year, the ones that came in April, are over, although you will have to keep your eye on October, when two more eclipses are due. You should find those October eclipses less dramatic than the ones that you experienced in April. It is true that Mercury will be retrograde one more time this year, from October 4 to 23, but compared to the frustrations you felt earlier, over the past six months, October will not be anywhere near as troublesome as April. For all these reasons, I truly mean it when I say 2014 will officially begin in July.
Mars will now move out of Libra and your career sector on July 25, and because of the odd setup that the planets have been traveling in, you will see career pressures come off. Mars will be back in your career house on November 12, 2015 next year (to stay until January 3, 2016), so you will have a second chance to enjoy Mars' presence there, and by then, the other outer planets will have moved into much friendlier positions. You will more easily score a professional victory next year, but you can do so this year too, perhaps at the end of October if you have not already done so. Next year, everything will be easier.
In the meantime, Mars will move into Scorpio from July 25 to September 13 and light your eleventh house of friendship and community. This coming phase will be more social, and you will get out of the office - and the house - much more often. You may now reconnect with friends who you have had not seen during the past six months due to lack of time - they will be happy to see you are back. On top of this, Saturn, your ruler, will go direct in your friendship house on July 20, so watch the days that closely circle this date, as you may see a friend go far out of her / his way for you. If you want to join a real life social club or professional organization, don't delay - join. Also, you will find social media to be very helpful to you in the coming weeks, so be sure to post.
The same eleventh house where Mars will be newly circulating will be the house of community, so if you were a politician, you would reconnect with your constituency. If you were an actor, you would see more of your fans and perhaps do more personal appearances or a junket for a new movie you will be promoting. The eleventh house also rules charity and humanitarian efforts, so you may volunteer to be a committee chairman for a cause that is important to you, or you may simply decide to participate in an event, such as to do a 5K power walk to raise money and awareness for your favorite charity. The point is, you will be mixing and mingling more
Now, let's turn to your most important relationship. As you enter this magical month - very likely your favorite of the year - you seem to be thinking about your romantic partner. For a full year, you have hosted Jupiter, the giver of gifts and luck, in your seventh house of marriage, making you the most favored sign for making a commitment. You just had an important new moon, June 26, in this area late last month, and that new moon is still sending you shimmering vibrations to couple up. You might get engaged, or, if not ready, you may decide to promise to be exclusive to each other. If you are already wed, you may decide to make a new promise or plan with your spouse in early July, a good time to do so.
If you have no romantic interest that you are serious about, and are not already married, you can use the first half of July (while that new moon of June 26 will still be strong) toward hiring a close business collaborator, such as a writing partner, agent, publicist, business partner, or other person who would work closely with you in a one-on-one way. In this alliance, both of you would be equally committed to the venture and determined to create a successful outcome. A contract would also be part of the agreement. Now that Mercury is no longer retrograde, you can proceed, but I you prefer you wait just a little longer, until July 10 when the moon will be in Capricorn.
If your birthday falls on December 27, plus or minus five days, or you have Capricorn rising 6 degrees, plus or minus five degrees, you will feel the benefits of this new moon more than most Capricorns and have the urge to do a twosome plan in love or business. The same would be true if you have a natal planet or the moon at 6 degrees Capricorn, Virgo, or Taurus, or Scorpio or Pisces.
You will find this month's full moon important, July 12, for it falls in your sign, Capricorn at 20 degrees. This will be the only full moon of the year in your sign, so something of major importance is coming to culmination. It appears to have something to do with a relationship, and because your ruler, Saturn, will be so nicely oriented, I feel you will be thrilled about the events that take place. Saturn will see to it that your actions have long-term gain, and that you feel settled and secure. You may see this to be true immediately, or later, in hindsight, but this full moon could be a high point for you.
This full moon of July 12 will be doubly important if your birthday falls on or within five days of January 10. The same would be true if you have a natal planet or the moon in Capricorn, Taurus, Virgo, Cancer, Scorpio, or Pisces within five degrees of 20 degrees.
On Sunday, July 13, Venus and Mars will be in perfect sync, an aspect you will feel as this aspect builds the week before. Put a star on Wednesday, July 9, and Friday, July 11, when you may hear incredibly strong news about your career AND good news about salary. If you are in your own business, you may bring in a client for new business, and this client would be a lucrative one if you sew up things near July 9-13.
The truly big moment of the month will occur on July 16 when Jupiter, giver of gifts and luck, moves into Leo and your eighth house of other people's money. This is great news, for from July 16 until August 11, 2015, a span of nearly thirteen months, you will be in line for a very generous influx of money. The cash will likely come in a one-time chunk, and over the course of the year, you may see even more than one large check.
Some of the ways you may benefit may be from a huge commission, royalty, advance, venture capital investment, inheritance, scholarship, or substantial amount of university financial aid. You may win a court case or get a large settlement in a divorce (if you settle after July 16 but before August 11, 2015 next year). You may make a large sale, such as if you sell a house or estate, and make quite a profit. You may now get the line of credit you need from a bank for your business or for a home improvement loan. In fact, you may go on a TV game show and win a nice prize - Leo rules entertainment. You might as well buy a book of charity raffle tickets - someone has to win, let's hope it's you!
To be sure you notice the new presence of Jupiter in your eighth house of money you get from others, you have a big day coming, July 24. On that day, Santa Claus planet Jupiter, who always gives you more of anything you asked to receive, will meet with the Sun, the brightest star in our solar system. This makes July 24 the luckiest day of the year, and for you, it will translate into cash for you - quite a bit of cash!
Thursday, July 24 is such an important date that you should begin to think about how you'd like to use it to maximize your luck. On July 24, discuss company benefits to see if your employer would match funds for your graduate school tuition, or give you flex time so that you may be able to work from home one day a week. Make a presentation to a venture capital group, or a sales presentation to an important client. Petition your bank for a refinanced mortgage at a great rate. Or, if you are in a lawsuit, hopefully the final verdict will come on July 24, or offer the other party a solution you think is fair - you may get it. You may open the doors of your new business on this highly fortunate day, or bid on a house, or accept a bid on your house. This day is special, so you get the idea. If you have a day you are nervous about - say, an audit with the tax man, use this day when luck will be on your side.
Just two days later, July 26, you will have the finest new moon of the year in the same sign, Leo. Think of the new moon as a portal to an entirely new environment - suddenly you will find yourself to be luckier than a Leprechaun. You do have do something to unlock your luck but if you do so in the ten days following that new moon (extending into early August), you will be able to generate dividends, profits, and cash that will continue to flow to you in the coming twelve months, or possibly as long as the coming ten years!
New moons are very powerful, and that is why I devote so much attention to them each month in my report to you. I want you to take full advantage of this new moon - it will come conjunct Jupiter! That makes this new moon the finest one of 2014. You won't see anything like this in years to come - this new moon is that special.
---
Summary
July will be a big game changer, as planets are now on the move. Gone will be the status quo that marked most of 2014. Mercury will go direct speed on July 1, having been retrograde since June 7. Saturn, your guardian planet, retrograde since March 2, will go direct on July 20 this month. Taken together, this will have an enormous influence on your daily activities and speed things forward noticeably. You will be glad to have no more delays. There is more!
Jupiter, the giver of gifts and luck, typically spends one year in each house of the horoscope that it visits. That's because Jupiter takes twelve years to fully circle the Sun and all the houses. Jupiter has been in your marriage / serious commitment house since June 2013, and is about to finish up his visit on July 16. As a last-minute gift, the new moon that occurred just days prior to the start of July on June 26 will nudge you to get serious about your relationship.
If you feel ready to get engaged or married, you might find all conditions are right to do so in early July. If you are already wed, you can draw up exciting plans, such as to have you first baby or to buy a house - these are just two examples of a nearly limitless number of possible goals. You will be thinking big!
You can use this energy to form a serious and very profitable business relationship too, such as for a business partnership or to hire an expert like an agent, manager, publicist, lawyer, and so forth. You may find you are discussing this idea now, and this is the right time to do so.
Once Jupiter moves to Leo on July 11, to stay nearly thirteen months, until August 11, 2015 next year, you will enter one of your most lucrative periods of your life. The house involved rules commissions, bonuses, insurance payout, inheritance, and investor capital to your business, and other such funds. If you are to divorce this year, the settlement you receive this month will likely be generous, as long as the final agreement is made AFTER July 16.
The most fortunate day of the year, for everyone of every sign, will be July 24, when Jupiter will meet with the Sun. For you, these two luminaries will meet in your financial eighth house. Use this day to make an application for a mortgage, scholarship, bank loan, college financial aid, or for investor venture capital. If you sell for a living, or if you need to sell something expensive in your personal life, such as a house or car, use this day to see buyers. If you are about to launch a business initiative, one with large profit potential, choose this day to sign off on the project. Any seed you plant would grow in an impressive way - your venture would grow fast, wild, and tall.
Just two days after this golden day, the new moon in your financial sector will arrive, July 26, another very gilded time to launch new products and services, and to apply for funding that you would need to accomplish any goal. What is the difference between the gifts of July 24 and July 26? The efforts you made in the past will be fully rewarded on July 24. New efforts you initiate now will grow beautifully after July 26. Act soon within ten days after July 26 appears, but with each passing day the energy of that moon will get weaker. Acting sooner rather than later will be important.
On a personal note, for months, you've been heavily focused on your career, for Mars has spent an unusually long time in Libra and your tenth house of fame and honors, reaching back to early December 2013. Now, the pressure will come off and you will have more time to see friends and relax. You've had quite a bit of push-pull in your life, for Uranus has been triggering unexpected developments in your home life too, dating back to March 2011. Now Mars moves to Scorpio, giving you much more time with friends and for purely fun social events, from July 25 to September 13. Enjoy this phase!
---
Dates to note: CAPRICORN
Most important dates for love, meetings, or actions on key dreams, ideal for any purpose for Capricorn: July 1, 2, 6, 7, 11, 15, 16, 20, 24, 25, 29, and 30.
Mercury goes direct July 1 after having been retrograde since June 7.
On July 20, Saturn, your ruling planet will go speedy direct orbit, having been retrograde since March 2, ending setback and delays.
July 8 may stir up news regarding a home matter, and the problem might be your partner's family, due to a hard angle of the Sun to Uranus. Also avoid distant travel that week.
The full moon on July 12 brings a close to matter dearly important to you. This will be the only full moon in Capricorn in all of 2014.
In the first two weeks of July, Jupiter will still be in your marriage house, but will leave July 16, not to be back to this part of your chart for a decade. If you are in love, this is the time to make a commitment.
Venus will move into Cancer on July 18, which brings forth chances to deepen an existing romantic relationship. Venus will help relay your feelings of love and affection to your partner.
In addition to Saturn's good news, Mars moves forward into the sign of Scorpio, on July 25. This provides an excellent two-month window for you to initiate important meetings where you need everyone present.
The meeting of Sun and Jupiter, on the luckiest day of the year, June 24, provides you with a wonderful day to travel overseas or to investigate ways to get an advanced degree. You may also hit on a great opportunity to score in publishing or broadcasting, or in the courts. Strike while the iron is hot, so you can benefit from Jupiter's bounty.
On the new moon July 26 plus ten days, be poised to seek ways to increase your stash of cash. This will be a critically important new moon for your income - you can generate the cash you need, but you need to ask for it.
P.S. for July 2014
SUSAN MILLER'S APPEARANCES for July 2014
Susan Miller has no appearances during July
---
"OUTLOOK for the Second Half 2014 by Susan Miller" is now available:
In Print $4.99 plus shipping via USPS with tracking. Total under $10.00. One and two copies same shipping charge. https://www.americadirectbook.com/outlook2014
Digital PDF: $5.00 https://www.americadirectbook.com/outlook2014pdf
Amazon's Kindle: http://amzn.to/1lE7a8t
Barnes & Noble Nook: http://bit.ly/Uec9D3
---
The Year Ahead 2014 Astrological Calendar
By Susan Miller
My Year Ahead 2014 collectible calendar is now $9.99 (at a 45% discount, from original price $17.99) plus shipping, any applicable tax
Calendars are used to mark time, but have you ever had a calendar that helped you use your time productively? My new Year Ahead 2014 Calendar can do just that. I write every word myself in this stunning calendar with original fine art by socialite, author, and fine artist Gloria Vanderbilt, mother of newsman Anderson Cooper, and great grandchild of railroad entrepreneur Cornelius Vanderbilt. (Grand Central Station was originally her great grandfather's business headquarters.)
Gloria Vanderbilt, now almost 90 years young, licensed the reproduction rights to her critically acclaimed artwork to Susan Miller who self-published her calendar. The inks are rich, the paper heavy, glossy, and snow white, allowing Gloria's paintings to jump off the page. Each month, from January 2014 through the extra bonus month, January 2015, is found an inspirational quote from Gloria, centering on her philosophy of living life fully and creatively. With fourteen of Gloria's paintings, this calendar will soon become a collector's edition and will not be reprinted when stocks are gone.
Aside from having happy, vibrant art to look at all year, The Year Ahead 2014 calendar has many other uses, unlike any you have had in a calendar before. On every important day of each month I list the aspect and what it means, in easy to understand laymen's language. This means the next time you are about to make an important appointment, and the VIP asks you, "Do you want to come in Monday or Thursday?" you can say you will consult your calendar and know immediately the day to choose.
In a year like 2014, where sparkling aspects will stand side by side difficult ones, this calendar will not be a luxury but a necessity.
Also included in the calendar are:
- All the start and end dates of the retrograde planets in 2014,
- Detailed discussion of the new and full moons (new!)
- The date when planets move into new signs (and how long they will be in that sign), all listed on the same day entry
- The planetary aspects of the four eclipses due in 2014, and explanation of what each eclipse will bring.
No more surprises! Be in the know about upcoming events, so that you can plan your biggest initiations. This calendar is a "must" to keep with you all year, and is available here, from Susan's publisher, but not in bookstores or other retailers. Get it now, while you can: $9.99 plus tax and shipping. We ship to all nations of the world: http://bit.ly/186zM0i
---
MY PERSONAL CUSTOM HOROSCOPE BOOKS
WRITTEN BY SUSAN MILLER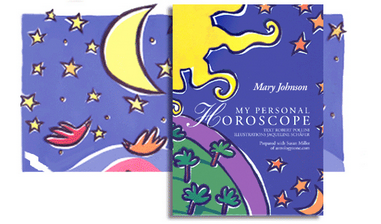 Looking for unique gifts for the summer months? - Choose from My Personal Horoscope for Adults or for Babies, or for a Relationship, the Two of Us.
Have an entire book written by Susan Miller, which runs approximately 65 pages, about your natal horoscope. Get to know your rising sign (also called the ascendant) as well as the placement of each of your planets, and what it all means. Susan's natal chart for babies centers on the talents and gifts of the little child. Order today and you will have your book within two-and-a-half weeks.
Two weeks on average from order receipt to delivery to any US destinations. One week longer elsewhere.
Also PDF option available for destinations overseas where delivery tracking of printed books is prohibitively expensive.
My Personal Horoscope Custom Natal Chart Book $49.99 plus shipping / tax
For more information call Susan's publisher, Arthur Heydendael 914.271.3640 ext 14 or click here:
http://www.americadirectbook.com/Customized_Books
---
A New Service: WiFive.us
Don't we all love a bargain?
We all want to know about the deals being offered nearby in our neighborhoods to save money. I found a way when a brilliant entrepreneur, Luis Sanchez, came to see me to show me he had developed a way of seeing all the various deal-of the-day websites that are featuring discounts on food, entertainment, boutiques, and other establishments, all in one click. Traveling? All you need to do is enter the zip code of your new neighborhood as you travel each day and you can see the deals that may be just across the street from your hotel.
The company is called Wifive.us and is ready to use today. It is a New York-based startup with a location-based search engine that gives you access to thousands of local online deals in a single site.
For now, Wifive.us is only available in the United States. It covers most of the deals and services you would see from various sources (Groupon, Amazon, Google deals, and so forth) all at once, so you don't have to go from site to site to find a deal that appeals to you, as Luis would humorously say, "until your head hurts." There is no registration necessary, and no useless emails to stuff your inbox each day.
Just type your address or ZIP code and get the deals you want when you want them. You pull in your information, which is far better than having many emails pushed to you. Try it and like the service on Facebook!
A word about the web address of WiFive.us
You may be wondering, what exactly is .US?
You might have thought the domain ending .us would only be only for government agencies and schools, but since 2002, individuals, businesses, churches, and non-profits have adopted .US web addresses to make their mark on the Internet. The .US is a new domain ending.
Just remember the name of the new service that no doubt you will be using quite a bit: pronounced as "wi-five-dot-us" otherwise seen as: http://www.wifive.us
---
Goodbye to My Former iPhone App on November 12, 2013
Hello to My New One:
"Susan Miller's AstrologyZone Daily Horoscope FREE!"
Download today!
Now that my former app, Astrology Zone Premier, will no longer be supported for iPhone, you might want to download my free version of "Susan Miller's AstrologyZone Daily Horoscope FREE!" for iPhone today. (A search for Susan Miller or Astrology Zone should bring the app up immediately.)
My former app, Astrology Zone Premier will not automatically change over to the new free app, so you will have to download my new app. Once you have it, you can decide if you would like to upgrade to the version you've come to know and love by looking inside the app and signing up for a subscription inside the app. If you should have to reload and reinstall your app, you will not lose your subscription as long at you responded to Apple's dialog box asking you to register your purchase immediately. If you don't register, if you lose your phone or need to reinstall your app, you won't be able to do so. Be sure to register your app!
If you have any questions or need help, you can write to Jennifer@Phunware.com and engineer Jennifer will be happy to help you.
---
ANDROID AND SAMSUNG USERS
Astrology Zone Premier App is Still Available for You
Android and Samsung users have Astrology Zone Premier to enjoy a little longer. We are writing NEW code for your Android and Samsung cell phones, and making an app similar to the one for iPhone, with some cool features just for your phone.
---
Live Overseas? Or, don't have an iPhone, Android, or Samsung Galaxy?
Get all 12 of my daily horoscopes each day by email or pick yours up each day on special password-protected site.
To plan ahead, receive several daily horoscopes in advance!
By subscribing to DailyAstrologyZone you will receive a week of horoscopes inside your cell phone and / or computer. This means if you have a BlackBerry or feature flip phone, you can still get my daily horoscopes as long as your device accepts email. You will also have the option of accessing your daily horoscopes from a website online, from anywhere, any time, through a password-protected site for members only, or receiving all 12 signs my email each day.
For more information: http://www.dailyastrologyzone.com
To view a forecast, select a sign from the menu below and click on Go.