Make sure you upgrade to my new iPhone app at the Apple App Store. My previous app for iPhone, Astrology Zone Premier, ended service Nov. 12, 2013. My new one is called: Susan Miller's AstrologyZone Daily Horoscope FREE! You will have the option to subscribe for longer, detailed content INSIDE the app once you download. See prices. One example: $12.99 for three months.
Android and Samsung: You can still get my popular Astrology Zone Premier in your app store.
Do you live overseas or don't have a smart phone? Subscribe to my same daily horoscopes, and get all 12 signs each day. They are the same as used for my smart phones. http://www.DailyAstrologyzone.com
New! Spanish speaking friends, read my mirror site to Astrology Zone ALL in Spanish. Go to this new URL: http://es.SusanMiller.com (Note, "es" stands for Espana.)
Do you want to lose weight for the coming season? I am enjoying ordering clothes that are two sizes smaller, and you can too! Order daily gourmet meals, prepared with all farm fresh food. Chefs Diet (www.chefsdiet.com) sets the gold standard. Thanks to new shipping technology, Chefs Diet ships to any city in America. To get a great introductory discount, call the toll free number just for Astrology Zone readers: 800.585.1329 and ask for Michael McDonnell. For your discount, use code "Susan Miller" For menus, photos: http://www.chefsdiet.com
Capricorn Forecast for March 2014
By Susan Miller
This is the month you can break free from routine and enjoy delicious travel, dear Capricorn. The month starts with a new moon in Pisces, at 11 degrees on March 1 (or February 28 depending on your time zone), lighting your house of short distance travel, and exerting a strong influence in the first ten days, from March 1 to approximately March 10. This new moon is sweet in every way, and it will give you an opportunity to plan a romantic trip with your one-and-only to a beautiful spot near water. Neptune will accompany the new moon, so an enchanting resort covered in snow would also be very Neptunian. Mars has been touring your tenth house of fame and honors of your solar chart since December 7, so you are no doubt working very ambitiously to get ahead. Taking a break now would find you back refreshed.
I am particularly excited by Jupiter's position to the new moon in the sky at 11 degrees of water sign Cancer, in perfect angle. In other words, Jupiter, giver of gifts and luck, will send beautiful vibrations to this new moon too, suggesting this trip could be the most romantic and luxurious that you've taken in quite a while. (Jupiter is currently in your house of partnership and marriage, so take your steady date or spouse along, for sure!)
Mercury was retrograde last month, causing delays and miscommunications, but Mercury went direct speed on February 28. Now Mars will retrograde from March 1 to May 19, making projects that require lots of energy, stamina, and assertiveness stop or lack the energetic support and enthusiasm of the team. You won't be feeling as competitive as you normally do - you may find yourself simply going through the motions, and not really up to fighting the good fight in the marketplace. It's the perfect time to take a break. You will find that your proposals and career plans will take longer than you estimated to negotiate and lift off too.
With Mars retrograde in the collaborative sign of Libra, ruling law, business associations, and marriage too, it's not the time to make new commitments and promises. Rather than rail against this environment you will soon find yourself in, you will do best to wait patiently. This is why it would be best to take a little vacation now rather than later. Mars is the booster rocket to all ventures that you start, and with a languishing, lazy little Mars, March 1 through May 19, it would not be the right time to open a new business, launch a new product or service, or unveil any entrepreneurial project. (It also would not be the right time to get engaged or married - wait until after May 19.)
This same new moon will help you launch a very imaginative advertising, direct mail, or publicity campaign for your business. That is because this new moon is also about communication, so these types of initiations would be ideal to get involved with now. It's also the right time to begin a writing project, such as to begin a novel, collection of poetry, or a screenplay. Jupiter is now in your house of collaboration, and exceptionally prominent at this new moon, so if you have a writing partner, you would benefit from your partner too. In the meantime, Neptune will contribute a lyrical cinematic approach to your work, giving you a great eye for visual detail. As you see, this new moon will bring you a great opportunity to show the depth of your talent for the written word, and if asked to give a speech, you also will do well. It would be a shame not to use these precious gifts that this new moon has put together for you!
If you have to sign a contract, you need to be careful because you have Neptune so prominent in your house of communication and agreements. Neptune is great for creative efforts, particularly written ones, but a contract is not that - it's all facts and figures. Neptune is known to obfuscate information, perhaps because the other side doesn't want you to know, or because no one thought about a clause that needs to be added to cover certain contingencies. Actually, the latter case could be quite important to think about, for Neptune also rules all things invisible, and if something comes up that no clause covers, you may be tangled in a legal nightmare for a long time. Contracts are tricky in the first half, so I suggest you sign near March 16, the encouraging full moon.
If your birthday falls on January 1, plus or minus five days, you will do especially well with this new moon, as it will be speaking directly to you. The same is true if you have your natal chart and know you have Capricorn rising, 11 degrees, or if you have a natal planet in Pisces, Cancer, Scorpio, Taurus, Virgo, or Capricorn at that degree, plus or minus five degrees. The planet that you may find is lit will be important one to watch, so make a note of it.
Travel may also be on your agenda at the March 16 full moon in Virgo, 26 degrees, and if you decide to go, you may be off to the Swiss Alps, for this full moon will emphasize foreign travel, especially to the mountains. This same expansive ninth house of your chart, so lit up, also rules international cultures and foreign relationships. There are other things that this house rules too, including college or university education (including a Masters or PhD degree), college qualifying exams, tests like the Bar exam, and defending a thesis. Publishing, including the Internet, broadcasting, and telecommunications would be highlighted, as well as the courts system and legal matters, or those involving immigration (green card, visa, passport, and enhanced ID). All these areas will glitter for you, and one or more will reach a culmination,
If you have been waiting for a passport, for example, or to become a citizen of a certain country, assuming you have put in your application a while ago, you will very likely hear back now. If you need a solid date to defend a thesis, I would suggest scheduling it when Saturn will be in elegant angle to this full moon, in the days leading to March 16. The results should please you, for your ruling planet is Saturn. (A ruling planet is your planet that is meant to take good care of you - yours will always be Saturn.)
If your birthday falls on January 15 plus or minus five days, this will be a big, tender positive full moon for all the areas that I listed for you. Similarly, if you've done your chart and know you have Capricorn rising 26 degrees, or a natal planet at or within five degrees of Capricorn, Virgo, Taurus, Cancer, Scorpio, or Pisces, you (in the case of the rising sign) and/or that planet will be lit, and you will benefit. Take notes - it's always good to be able to look back at points that you had a lot of action in your chart, and to recall what happened.
The month ends on a rather unusual note, and it may bring some turbulence. The new moon will occur on March 30 in your home and family sector. This new moon is not friendly. The new moon will arrive with the Sun and both will be conjunct Uranus in Aries in your house of home and family. Uranus will set up a volatile, unusual, even possibly a strange situation involving your physical home, so you have to be ready for anything. Everything about Uranus is sudden, for this planet strikes without warning.
If it is not your physical home that is the topic of your thinking, it may be that you will be focused on your mother or father, and perhaps one of your parents will suddenly need assistance. Keep your schedule clear. This new moon is in hard angle to Pluto in Capricorn, so you may be tangling with a difficult person in your family or someone connected with your home, such as a landlord, broker, architect, contractor, or roommate. A new moon opens a trend, so it's not likely to bring on an emotional blowup but more likely long-range situation that will take time to be fixed. Readers who were born on or near December 31/January 1, plus or minus five days, will notice this challenging situation the most.
Next month will bring two very hard eclipses, a lunar full moon eclipse in Libra on April 15 and a new moon solar eclipse in Taurus, April 29. The one to watch for you will be April 15, which will bring vast changes to your career, or to your boss, a client, or other individual you report to at the firm. We all need to buckle up - these two eclipses will create sudden change for almost everyone, or if not directly affected, then you may be put in the role of helper.
One last aspect I would like to mention before I go - March 25 and 26 - falling just before the full moon of March 30, when Mercury trine Jupiter and you will receive outstanding support from your romantic or business partner. Mercury will be in a perfect angle to Jupiter, so this person will prove to be quite a gem.
---
Summary
You need to be inspired by being in a new surrounding, and you have no better time to plan a getaway than the new moon of February 28/March 1, to strongly influence the first ten days of March. Take a romantic short trip with your partner, in a private spot near a lake, ocean, or creek, where the two of you can relax and connect lovingly like you did when you first met. The planets stirring this trend will be in Pisces, the sign that wears its heart on its sleeve. Don't miss this opportunity to weave a memory of love together.
More travel, this time to a farther distance, may come up at or near the friendly full moon March 16. This full moon will be in Virgo, suggesting you may go to the mountains, perhaps to ski, or to hike on a trail through an enchanting forest. This full moon will reach out to Saturn in your friendship sector, so you may go with friends and decide to share a chateau together.
A sudden concern over your home, another piece of property, or a family member seems likely to come up after the new moon of March 30, especially if your birthday falls within days of January 1. The situation appears to be something you had never anticipated or planned. The news seems to be something you need to think about and strategize, for although this may have represented a long-term situation, it seems to be changing now and becoming more important that you find a fix to it.
Expect your progress to slow down in your career, for Mars, the energy planet, which rules your home and is visiting your house of profession, will go retrograde and become weak, March 1 to May 19. Although you may have a temporary setback in either the home / family or career area of your life, do not see this as a sign that things won't work out in the end. Home and career appear to be linked in some way - it's possible you are trying to relocate for expanded job opportunities. The coming eclipses in April suggest that you may want to rethink your strategy.
On another note, ventures or relationships started during Mars retrograde tend to fizzle afterward. It's unusual for Mars to go out of phase - it happens only every two years - so sit tight. Before you know it, Mars will be moving direct again. You will get a better, more profitable launch if you wait for Mars to turn direct after May 19.
---
Dates to Note: CAPRICORN
Most romantic dates (and dates you can use for other important purposes too): March 5, 6, 9, 14, 15, 16, 23, 26, and 28.
Your career is very important to you, and during the first part of the year you will have an enormous emphasis on career. If you should get a setback, chalk it up to Mars retrograde March 1 to May 19 - you can make some progress, but be careful. Make your biggest decision after Mars goes direct May 19.
You may be considering relocation to a new city after May 19. Do not make any hard decisions between now and May 19.
Saturn, your ruling planet, will be retrograde from March 2 to July 20. Accordingly, focus on what you have already started rather than initiating anything new.
Jupiter turns direct March 6, after being retrograde since November 7. Your relationship with someone close is about to improve, and you may make plans to get engaged or marry.
The first two weeks of March may be devoted to travel, and if you can get away, you'll enjoy every moment. Make this quick getaway for love and romance, not for business, if possible.
The full moon of March 16 may find you traveling farther away, and it seems you love every moment. Saturn, your ruler, will be very supportive, so expect a fine result. Also favored: legal matters or anything having to do with academia, publishing, or broadcasting.
Financial news should be good, especially if related to your home. For example, you may get an attractive bid from a contractor or find a piece of furniture on sale for a bargain price.
Still, with Mars retrograde, you have to be careful about making any career and home matters for the time being.
The new moon March 30, not a friendly one, may bring up obstacles to making your plans stick for home and family, so you will be glad you waited to see the full picture before making a commitment.
P.S. for March 2014
SUSAN MILLER'S APPEARANCES for March 2014
---
Join my Worldwide Chat for The Washington Post, Wednesday, March 5, Noon to 2:00 PM EST.
If you don't know what time Noon New York translates to your city of the world, check with http://www.TimeandDate.com
You can post questions starting March 1 here:
http://live.washingtonpost.com/astrology-130305.html
You can use any browser EXCEPT Internet Explorer.
---
One March Appearance of Susan Miller
LOS ANGELES, CALIFORNIA
Beverly Hills
SATURDAY, MARCH 15, 2014
Noon to 5 PM
Free event! I will meet and greet you, and talk about coming planetary trends. Bring questions. This beautiful and stylish setting of the boutique of Kyle by Alene Too has an informal setting perfect for getting to know each other and having a fun time.
Kyle by Alene Too - Boutique
9647 Brighton Way
Beverly Hills, CA 90210
For questions, call Kyle by Alene Too: (310) 278-6200
---
Susan has no events so far in April.
---
Save These Dates in May!
1. RYE, NEW YORK (Westchester County)
SATURDAY, MAY 10, 2014
9:45 AM to 3:00 PM
Morning coffee, and later, buffet lunch included
My talk "A Look Ahead" will center on coming planetary trends and eclipses. I will also cover the move of good fortune planet Jupiter out of Cancer and into Leo in July and teacher planet Saturn's impending move out of Scorpio and into Sagittarius on December 23 and what all this means for you.
Saturday, May 10, is the day prior to Mother's Day, and makes a beautiful gift for mother. Whether you are a male or female reader, your Mom will be thrilled to receive a ticket, as this is something unique and memorable for you both to do together.
Wainwright House
260 Styvesant Avenue
Rye, New York 10580
Doors open 9:45AM, check in.
Coffee and cookies provided 9:45 AM until 10:15 AM
Lecture begins at 10:30 AM and ends at 3 PM
You will be given a beautiful buffet lunch (taxes, tips included) starting
1:30 PM, as part of your per-person ticket price. We will be able to chat together and I will take many questions from guests.
Wainwright House is a historic mansion on an estate overlooking the Long Island Sound in Westchester County, and located on many acres of landscaped land. It is located approximately28 miles from midtown Manhattan.
Ticket prices:
$75.00 per person if purchased on or before April 6, 2014
$95.00 per person if purchased April 7 and beyond
$110.00 per person if purchased at the door
Please do not send checks or letters to Wainwright House
For tickets and information, call Arthur Heydendael at 914.271.3640 ext 14 or go to:
https://www.americadirectbook.com/RyeMay#.UxIP79zCEpE
Free Parking
For driving directions from various http://www.wainwright.org/generalinformation.htm
By commuter train:
Take Metro North from Grand Central Station to either Harrison or Rye. It is approximately a 40-minute ride. Taxis are available at both stations. Wainwright House is located about five minutes from either stop.
For questions, call Arthur Heydendael at 914.271.3640, ext 14
Or write to Arthur@AmericaDirectBook.com
---
2. AUSTIN, TEXAS
A 2-Day Event hosted by
Astrological Society of Austin
No prior knowledge of astrology required.
Evening talk, Friday, May 16, 2014 at 7:00 PM
Workshop, Saturday, May 17, 2014 - time and place still being determined
What I will cover:
I will give you an in-depth look at the rest of 2014, including eclipses, planetary trends, and the move of teacher planet Saturn from Scorpio to Sagittarius, and the move of good fortune planet, Jupiter, from Cancer to Leo, and what this all means for you.
We welcome all men and women readers. You need not have prior knowledge of astrology to enjoy the event. My talk will be suitable to laymen and professionals alike, and I mirror the style reflected in my column.
We will need to sell tickets to cover costs, and the cost of each ticket is still being determined. Please check back or ask to be on the email list of
Astrological Society of Austin President, Naomi Bennett (naomibennett9@yahoo.com)
Ticket price: To be determined.
The Astrological Society of Austin
Meets at on Friday nights, 7 PM at!
AOMA Graduate School of Integrative Medicine
Building E
4701 West Gate Blvd.
Austin Texas 78745
Doors open at 7:00 Program 7:30 - 9:45
PLEASE NOTE THE ADDRESS FOR MY FRIDAY EVENT IS NOT NECESSARILY WHERE MY WORKSHOP WILL BE ON SATURDAY.
The actual address, and time, for my Saturday four-hour workshop is still being researched. We will hold it in downtown Austin.
This is my first appearance in Austin, so I hope you will come!
For inquiries and to get on the mailing list, please write to Astrological Society of Austin president, Naomi Bennett (naomibennett9@yahoo.com)
---
3. TORONTO, CANADA
SATURDAY, MAY 31, 2014
VERITY
111d Queens Street East
Toronto
Canada
The Verity Club can only accept 100 guests for this event so when all 100 tickets are sold, we regret we will not be able to accommodate any more guests.
The Verity is a private club housed in a beautiful building.
Noon: Check in, meet and greet
My lecture on astrological trends 1PM to 5PM
Ticket prices:
$99 + HST is for my lecture only
Optional: $250 + HST includes my lecture and buffet dinner prepared by the elegant George Restaurant, with tips included. We will dine together in one of the lovely Verity private spaces.
Parking in lot directly across the street
And subway: Queens Street Subway, very near
I have never appeared in Toronto, so please reserve your ticket soon. Once all 100 tickets are gone, we will not be able to accommodate additional guests.
For information or to reserve a place until Arthur's website is ready to accept orders, Call Arthur Heydendael, my publisher, at:
914.271.3640 ext 14
Or write Arthur@AmericaDirectBook.com
(Note the company name is America Direct Book, not American.)
---
The Year Ahead 2014 Astrological Calendar
By Susan Miller
My Year Ahead 2014 collectible calendar is $12.99 (at a 27% discount, from original price $17.99) plus shipping, any applicable tax
Calendars are used to mark time, but have you ever had a calendar that helped you use your time productively? My new Year Ahead 2014 Calendar can do just that. I write every word myself in this stunning calendar with original fine art by socialite, author, and fine artist Gloria Vanderbilt, mother of newsman Anderson Cooper, and great grandchild of railroad entrepreneur Cornelius Vanderbilt. (Grand Central Station was originally her great grandfather's business headquarters.)
Gloria Vanderbilt, now almost 90 years young, licensed the reproduction rights to her critically acclaimed artwork to Susan Miller who self-published her calendar. The inks are rich, the paper heavy, glossy, and snow white, allowing Gloria's paintings to jump off the page. Each month, from January 2014 though the extra bonus month, January 2015, is found an inspirational quote from Gloria, centering on her philosophy of living life fully and creatively. With fourteen of Gloria's paintings, this calendar will soon become a collector's edition and will not be reprinted when stocks are gone.
Aside from having happy, vibrant art to look at all year, The Year Ahead 2014 calendar has many other uses, unlike any you have had in a calendar before. On every important day of each month I list the aspect and what it means, in easy to understand laymen's language. This means the next time you are about to make an important appointment, and the VIP asks you, "Do you want to come in Monday or Thursday?" you can say you will consult your calendar, and know immediately the day to choose.
In a year like 2014, where sparkling aspects will stand side by side difficult ones, this calendar will not be a luxury but a necessity.
Also included in the calendar are:
- All the start and end dates of the retrograde planets in 2014,
- Detailed discussion of the new and full moons (new!)
- The date when planets move into new signs (and how long they will be in that sign), all listed on the same day entry
- The planetary aspects of the four eclipses due in 2014, and explanation of what each eclipse will bring.
No more surprises! Be in the know about upcoming events, so that you can plan your biggest initiations. This calendar is a "must" to keep with you all year, and is available here, from Susan's publisher, but not in bookstores or other retailers. Get it now, while you can: $17.99 plus tax and shipping. We ship to all nations of the world: http://bit.ly/186zM0i
---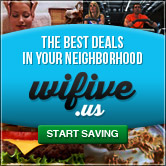 A New Service: WiFive.us
Don't we all love a bargain?
In December, when each of us are busy and shopping for gifts, we all want to know about the deals being offered nearby in our neighborhoods to save money. I found a way when a brilliant entrepreneur, Luis Sanchez, came to see me to show me he had developed a way of seeing all the various deal-of the-day websites that are featuring discounts on food, entertainment, boutiques, and other establishments, all in one click. Traveling? All you need to do is enter the zip code of your new neighborhood as you travel each day and you can see the deals that may be just across the street from your hotel.
The company is called Wifive.us and is ready to use today. It is a New York-based startup with a location-based search engine that gives you access to thousands of local online deals in a single site.
For now, Wifive.us is only available in the United States. It covers most of deals services you would see from various sources, (Groupon, Amazon, Google deals, and so forth), all at once, so you don't have to go from site to site to find a deal that appeals to you, as Luis would humorously say, "until your head hurts." There is no registration necessary, and no useless emails to stuff your inbox each day.
Just type your address or ZIP code and get the deals you want when you want them. You pull in your information, which is far better than having many emails pushed to you. Try it and like the service on Facebook!
A word about the web address of Wifive.us
You may be wondering, what exactly is .US?
You might have thought the domain ending .us would only be only for government agencies and schools, but since 2002, individuals, businesses, churches, and non-profits have adopted .us web addresses to make their mark on the Internet. The .US is a new domain ending.
Just remember the name of the new service that no doubt you will be using quite a bit: pronounced as "wi-five-dot-us" otherwise seen as:
---
Goodbye to My Former iPhone App on November 12,
Hello to My New One:
"Susan Miller's AstrologyZone Daily Horoscope FREE!"
Download today!
To sum up, Astrology Zone Premier will no longer be supported starting November 12, so you might want to download my free version of "Susan Miller's AstrologyZone Daily Horoscope FREE!" today. (Searching simply for Susan Miller or Astrology Zone should bring the app up immediately.)
My former app, Astrology Zone Premier will not automatically change over to the new free app, so you will have to download my new app. Once you have it, you can decide soon if you would like to upgrade to the version you've come to know and love by looking inside the app and buying the subscription inside the app. If you do so soon, you will avoid any disruption in service. If you should have to reload and reinstall your app, you will not lose your subscription as long at you responded to Apple's dialog box asking you to register immediately. If you don't register, if you should lose your phone or need to reinstall your app, you won't be able to do so. Be sure to register your app!
If you have any questions or need help, you can write to Jennifer@Phunware.com and engineer Jennifer will be happy to help you.
---
Live Overseas?
Or, don't have an iPhone, Android or Samsung Galaxy?
Subscribe to DailyAstrologyZone.com
Get all 12 of my daily horoscopes each day by email!
By subscribing, you will receive a week of horoscopes inside your cell phone and / or computer. This means if you have a Blackberry or feature flip phone, you can still get my daily horoscopes as long as your device accepts email. You will also have the option of accessing your daily horoscopes from a website on line, from anywhere, any time, through a password-protected site for members only.
Android and Samsung users have Astrology Zone Premier to enjoy a little longer; we are writing code for your Android and Samsung cell phones, and for you, we are making an app similar to the one for iPhone.
For more information: http://www.dailyastrologyzone.com
---
Welcome Chefs Diet as a Sponsor of Astrology Zone!
Think of Going on a Diet? Try Chefs Diet, Meals to Your Door
Get the Special Introductory Discount Only for Astrology Zone Readers! Call 800.585.1329 ask for Michael McDonnell ONLY and use code word: Susan Miller
If you have been reading my column for a while, you know I am very picky about which companies I endorse. If you want to lose weight, I feel this is the easiest, most fun way to do it. Each day Chefs Diet will deliver farm fresh, healthy foods to your door. In the past it used to be that only those living in New York City and Los Angeles had this option, but now, through new shipping technology, UPS and FedEx have been working with Chefs Diets to find ways to ship and still keep your food as fresh as it was when it left the Chefs Diet kitchens. I simply cannot get over how delicious and carefully prepared these meals are day after day. Meals won't repeat for 90 days so you will love the variety!
You will get three meals a day, with breakfast and dinner a hot meal, and lunch a cold one for convenience. You will also get two satisfying snacks. Best of all, you can change your menu if you see something on the program you'd like to change by very simply logging on to your account and choosing a different meal from the pull down menu. If you have special dietary needs, you can choose the right program for you from the options on the Chefs Diet website. I am NOT diabetic, but I saw that that the diabetic menu had lots of protein to keep me feeling peppy from dawn to the wee hours of the morning. (If you are on social media, you see I often post in the middle of the night - a writer's work is never done.) I love knowing that if I just eat the food given to me each day I will lose weight. There is no thinking, no shopping, no weighing foods or adding points - so easy!
Television producers have told me they rely on Chefs Diets when an actor, male or female, needs to lose weight for a role. It was through that comment of a top producer that I originally found this great company.
Of course, you should always check with your doctor before starting any new dietary program.
For your special discount, call Michael McDonnell (and it MUST be Michael) at 800.585.1329 and you must also mention my name, Susan Miller. You will be given a special introductory discount for a week of meals, so you can see how delicious they are! You will love Chefs Diet! Many famous actors that you see in the movies have these.
I am on the program now because two years ago I broke my femur and had to lie very still until my leg healed. I could not opt to have the femur operated on due to my body's proclivity to bleed excessively in my left leg. (I have already had 40 transfusions in my life.) My leg took a year to recover. During that time it was impossible not to gain a bit of weight (I was bed-bound and could barely move an inch). Now, on the Chefs Diet program, I love being able to fit in my smaller clothes!
Have a look at the Chefs Diet website, http://www.ChefsDiet.com
Call Michael McDonnell at 800.585.1329 to make 2014 your year to look sleek and sexy. Mention me, code word: Susan Miller, and you will be on your way!
To view a forecast, select a sign from the menu below and click on Go.