Capricorn Forecast for June 2014
By Susan Miller
Life certainly has not been dull, but I bet as you enter June, you will say that you would love a quiet month to catch up and reflect upon all that has happened over past months, particularly in April and May. Those were to be the two most difficult months of 2014, so you now know the message of the April 15 and April 28 eclipses, and the subsequent information that would come up at the somber full moon, May 15, which arrived in Scorpio conjunct Saturn.
A lot was being asked of you lately, dear Capricorn, and because the rogue planets that caused you such grief were all in cardinal signs like yours, Aries, Libra, Cancer, and Capricorn, you felt the heat. None of those signs within the cardinal category blend easily with the others because they are each are precisely at harsh 90 degrees from the other. The heavy-duty planets included Pluto, Uranus, Jupiter, and Mars - these are not planets to trifle with. Cardinal signs define direction, because they match up with the east, west, north, south points on a compass. You are part of a very energetic classification, one associated with the need to lead and pioneer into new realms.
The cross pattern that these planets displayed meant energy was concentrated as if in a box with a top securely fastened on top. There no way for the energy to escape - it turned inward, within you, adding a kind of pressure cooker atmosphere. If your birthday falls near January 15, you certainly felt all that I am discussing, but even if you were born in the first week of January, you felt it too. December-born Capricorns were on the sidelines, unless a natal planet was touched.
Your career was a big focus, and you may have seen a number of sudden shifts at your company or industry, or possibly crosscurrents that involved your reputation, which, at the end of the day, means the most to you. Your home life was also was making noise, as you had a difficult new moon March 30, and developments were pressing you to come up with solutions - fast. So many elements of your life were dynamically and rapidly moving in various directions that you needed a score card to keep up.
The monstrous April 15 eclipse focused on your career, but Mars has been too, for a much longer time, since December 7. This is a highly unusual length of time for Mars to tour any part of the chart, as a more typical tour of Mars is six weeks, not nearly eight months! (By the time Mars leaves this professional area of your chart on July 25 next month, Mars will have spent nearly eight months in your career sector.) Mars went retrograde on March 1, so progress became agonizingly slow. You may have felt you were walking through glue, with almost no way to affect any progress. Happily, on May 19, Mars went direct and things were about to improve.
I wish I could say that the minute Mars regulates his orbit he is back to his old speedy self, a little like Mighty Mouse, flying through the sky with his little red cape flapping in the wind and his little arms stretched out as he whips through the air. No, little Mighty Mouse Mars is more like the rest of us - he needs a little time to build up to his former self. At first, all he wants is coffee to get going, but with each day he will become stronger. By July he will be in usual warrior shape, and luckily, you will still have Mars to energize your career until July 25. If you have all your ducks in a row, you can be ready to act by mid-July, your best time to do so.
You may be relieved to hear that this month, June will bring a very slow pace because Mercury will be retrograde June 7 to July 1. This may be the first time in history that just about everyone of every zodiac sign will rejoice, for we all will be given a free pass to kick back and have the time to sort out all that has happened so far this year. Mercury brings changes in scheduling and inability to reach key decision makers, and makes us rethink and refine current projects. With cancellations or postponements almost sure to pop up, you will find lots of empty time in your schedule. Doesn't that sound good, dear Capricorn?
Mercury will retrograde initially in your opposite sign of Cancer and will continue to slide backward into Gemini, so this means that you might rethink a romantic or business relationship in early June. If you feel the relationship has moved forward too quickly, you can hold it back so that you can adjust its pace. If you broke up with someone some time ago and would like to reconcile, you will have your chance June 1-16.
From June 16 to July 1, you will see refinements and changes in assignments. You may have to redo part of a project when a client requests another direction, for example. There are literally hundreds of ways you'll need to backtrack, but the point is, you will have plenty of company in this process. All the zodiac signs will be feeling the same influence and will be in the same boat.
As you begin June, the new moon of May 28 appeared and has opened a portal of opportunity for work assignments. Because Mercury is retrograde, if you hope to find temporary or full time work, or new business if you are self-employed, go back to former clients and colleagues who already know you and admire you - that will be the way to use the new moon in Gemini during the first ten days of June. A new moon is never just for a day, but opens doors that last about ten days, with the first days following the new moon strongest, and each subsequent day getting a little weaker as you move closer to the full moon two weeks later.
Sometimes readers tweet me at my account @AstrologyZone and say, "Gee, nothing happened." I bet many of you already know what I am about to say, but this is a good time to explain to those who are unsure of precisely how astrology works.
When I name certain days, I do not mean to say those are predictive of predetermined events that you are guaranteed to experience. You have to use your own elbow grease to dig in and show the universe your intent. This way, if you follow my advice on the dates I list, you will be working WITH the cycles of the universe and you can take full advantage. I can give you enormous help with your timing, but you will have to do your part to cast a wide net and uncover every stone to get that new assignment, client, or permanent job. If you follow my timing, you should be successful. I can't see every planet in your unique natal chart so there will always be mitigating factors. Did you know no one on earth or in history has ever had your precise natal chart of planets, and never will - you are completely unique - how wonderful is that?
Even having said what I just said about not having your natal chart, I CAN see your Sun sign, and the Sun is the center of our solar system. All the planets dutifully march around the Sun. No planets march around Venus or Mars, for example. Of course, you knew that, but my point is, the Sun is the heart of our solar system, and it occupies a vital, unique place in the chart and tells me SO much about your prospects for good news! The Sun, with his enormous warmth and light, tells me where you shine brightest!
The early part of June will be a superb time for you to begin a fitness routine, to join a gym or new group fitness class, or to hire a trainer. It's also the right time to see your eye doctor, dermatologist, dentist, or family doctor to have your annual battery of tests. Everyone should know their cholesterol and blood sugar levels, as well as their blood pressure stats, but I am continually amazed to see on TV shows like Oprah that not all people in the audience do - don't be that girl or guy! If you need a specialist, start looking. Also you should never be scared of going to any professional - medicine these days have come to the point where they can make you VERY comfortable and most doctors are kind and sympathetic.
On June 12, the full moon in Sagittarius (22 degrees) on June 12 will bring you a chance to rest. Falling in your twelfth house, if you need a medical procedure done, you can find the time to do it. If you need a final diagnosis, it should come within four days of this date. That new moon is friendly, for it will receive a strong and happy beam from Uranus, the planet of surprise, so you may get unexpectedly good news at this time about your health, or about a matter involving your home, property, or family situation. In fact, you may also get good news about money / salary too.
Romantically, you have Venus in Taurus from June 1 to 22, a wonderful placement for you, for Venus will be in your fifth house of true love.
A gorgeous day that deserves a big gold star will be June 18 when Venus and Jupiter, now in your house of committed love, will work together to create a VERY romantic evening. This is a Wednesday, but it's so special that I hope you can find a way to have a dinner or do something else special. (If you live in Asia or Australia, you will also have June 19, as the time zones give you an extra day.)
This same day, June 18, when Venus will be aligned with Jupiter, will also be special for giving a creative presentation, or for working in collaboration, say, with a writing partner on a screenplay, for example. This day is special!
Alas, we have a hard day coming up, June 24. Mars will be in your house of career and will oppose Uranus in your house of home / property / family. You are likely to encounter a very powerful set of demands from both areas. This very same aspect came up on December 23-24 at Christmastime last year, so do you recall any theme that came up then? If you never resolved the matter at year's end, it will come back up for a solution, and it will stick to you, almost like flypaper.
People will be fragile and easily provoked on or near June 24, so don't tempt fate by arguing back - on a day like this that could become so inflammatory, the less said the better. This is a very touchy day, and you may be the subject of criticism. If so, let the matter go. Take the best of what is said to you to improve your performance (assuming you respect the person talking with you), but don't take anything too much to heart, as you will feel better in a day or two. Sometimes it's best to agree to take a break in the talks, and resume a few days later, after you have had time to think about the conversation. Mars opposed to Uranus is passionate and causes sudden separations - if things go over the top, you may see no reason to stay in the situation, and you may simply walk out.
Most of the time this aspect brings an emotional response, but sometimes it brings a physical one, so make sure your home has clear walkways, and that your electrical outlets at home are not overloaded. This would not be my pick for a day to have any procedure having to do with nerves or teeth.
The month ends on a sweet note, with the new moon June 27, in Cancer, 6 degrees. This will light your house of marriage, and Jupiter, the giver of gifts and luck, is still in this very same sector. Jupiter has not been in your marriage house for twelve years, and began his visit last year at the end of June 2013. You've had twelve months of this planet of good fortune to rev up your love (or business) relationship, and next month, on July 16 Jupiter will leave. If you are in love, then you may get engaged next month, after Mercury is done retrograding. I suggest you do so in mid-July. The same timing would be true if you hope to set up an important business partnership or collaboration - either "coming together' would be blessed.
---
Summary
Work has become interesting, for the new moon that occurred shortly before the start of June has revved up your projects. You seem to be in line for at least two new assignments, and both would require a new and clever approach, for the new moon appeared in Gemini, an intellectual double-bodied sign. Mars, now circulating in your house of honors, and no longer retrograde (as of May 19), was in friendly contact with that new moon from your tenth house of career success. This signifies that you can make a big name for yourself if you give those projects your "all." All new moons open a flow of energy that lasts nearly two weeks. If getting work, or new clients, is important to you, you have not a moment to spare.
Make sure you have all necessary facts - Neptune may cloud some of the information or lead you down the wrong path - so get the opinion of the client or a collaborator / expert as you go along. If you are self-employed, business will be brisk, and the publicity you get from working with a new client could set your reputation on a new level and garner you industry respect.
The full moon, June 12, seems to allow you to take a break within four days of this date. You need a quiet environment after being in the center of a cacophony of voices lately. Plan to unwind over the weekend of June 14-15, doing simple things that you love to do and that offer a release, such as sports. Keep your health strong, as many others will depend on you all month, and all the recent pressures to live up to responsibilities may have drained your constitution.
One other thing: If you've been working to improve a living situation, or to help a parent, Uranus in golden angle to the full moon June 12 may now provide you with a breakthrough, at a time you least expect it to happen.
June 24 or one of the surrounding days is likely to be quite stressful, due to the opposition of Mars to Uranus, setting off demands at both the office and at home. You may suddenly become upset with an authority figure at home or at the office, but it might not be wise to voice your frustrations. Stay cool while you decide your next move. This aspect will be in the same sign and almost the same degree as the Mars opposite Uranus on December 23-24, 2013, so think back to what happened just six months ago.
At month's end, you may be focused on your romantic partner. Jupiter, giver of gifts and luck, is now ready to leave Cancer in mid-July after spending a full year in your marriage house. Remarkably, these final hours may be Jupiter's best. The new moon this month, June 27, will bring inspiration and possibly feelings of great love. Neptune is the "higher octave" of Venus, bringing the love of Venus to a much deeper form, loving so much that you would be willing to sacrifice for the one you love. You may travel a short distance over the long weekend of June 27 to 29, to a place near water, and find the trip enchanting. Mercury will be retrograde June 7 to July 1, partly in your commitment / marriage sector, so wait until July to make all plans official.
If you are not involved, you may be talking through an impending business partnership, and it would be good time to do so. Also, the same new moon, June 27, may help you work seamlessly with a creative partner on a new and important creative project. If you have such a project, draw up blueprints and design workflow charts to proceed.
Venus will tour Taurus, in your house of true love, almost all month, a trend that started May 28 and that will continue until June 18. This would be an ideal span of time to circulate socially, for Venus will make you quite unforgettable in a gentle, charming way. If you hope to reconcile with a former love, reach out now, while Mercury is retrograde, for it is the right time to see if you can make a go of a previous relationship.
Venus' elegant angle to your Sun this month until June 18 also will urge you to buy new things to wear, the kind of clothes you love so much you want to rip off the tags and wear them tonight. (Keep your receipts as you may need to make an exchange in size. Do not buy any electronics or appliances this month.) Also see about improving your appearance in any way you like - compliments will follow.
---
Dates to Note: Capricorn
Most important dates for love, meetings, or actions Capricorn: June 4, 5, 9, 14, 18, 21-22, 27, and 28.
Mercury will retrograde June 7-July 1 in Cancer / Gemini. After Mercury goes direct, he will reach top speed again (and be at his best) by July 15.
Venus will be in Taurus, touring your house of true love, from the start of the month until June 18. This is a great time to circulate, and also to see about improving your looks.
The full moon of June 12 may find you in need of shoring yourself up. It seems you've been doing a lot last month and have been under some strain. Stop to rest, especially June 12-15.
You may get good news about property, your residence, the people with whom you share your space, or from someone who helps you with it (like your landlord or decorator). Alternatively, you may see a breakthrough with a matter regarding your parents. These matters may crest at the full moon June 12-15 too.
You and a VIP may not see eye to eye on June 13, and you may feel treated unfairly. Take a breath, step back, and address things next week if necessary. Pluto in hard angle to Mars is a tough aspect.
Your most romantic day of the month will be June 18, when Venus and Jupiter combine forces and bring on a heavenly vibration, linking your fifth house of true love and your seventh house of commitment and marriage. (This aspect may benefit you with a business partner too.)
Venus will tour your fifth house of true love from the start of June until June 23. This will add to your charisma all month.
Brace for turmoil on June 24 when Mars opposes Uranus. Two areas of life will put demands on you - your home / family will be pitted against your career. People in both areas won't want to hear about the other, forcing you to juggle.
The new moon of June 27 may bring a partnership plan closer to fruition. Keep in mind that Mercury will be retrograde until July 1, so hold off a few days (or even a few weeks) until Mercury is moving quickly again. Mercury will be fully functional and in grand shape July 15.
With Neptune so helpful to the Sun and new moon, the weekend of June 28-29 would be divinely romantic. Choose a location near water for the sweetest results.
P.S. for June 2014
The Year Ahead 2014 Astrological Calendar
By Susan Miller
My Year Ahead 2014 collectible calendar is now $9.99 (at a 45% discount, from original price $17.99) plus shipping, any applicable tax
Calendars are used to mark time, but have you ever had a calendar that helped you use your time productively? My new Year Ahead 2014 Calendar can do just that. I write every word myself in this stunning calendar with original fine art by socialite, author, and fine artist Gloria Vanderbilt, mother of newsman Anderson Cooper, and great grandchild of railroad entrepreneur Cornelius Vanderbilt. (Grand Central Station was originally her great grandfather's business headquarters.)
Gloria Vanderbilt, now almost 90 years young, licensed the reproduction rights to her critically acclaimed artwork to Susan Miller who self-published her calendar. The inks are rich, the paper heavy, glossy, and snow white, allowing Gloria's paintings to jump off the page. Each month, from January 2014 though the extra bonus month, January 2015, is found an inspirational quote from Gloria, centering on her philosophy of living life fully and creatively. With fourteen of Gloria's paintings, this calendar will soon become a collector's edition and will not be reprinted when stocks are gone.
Aside from having happy, vibrant art to look at all year, The Year Ahead 2014 calendar has many other uses, unlike any you have had in a calendar before. On every important day of each month I list the aspect and what it means, in easy to understand laymen's language. This means the next time you are about to make an important appointment, and the VIP asks you, "Do you want to come in Monday or Thursday?" you can say you will consult your calendar and know immediately the day to choose.
In a year like 2014, where sparkling aspects will stand side by side difficult ones, this calendar will not be a luxury but a necessity.
Also included in the calendar are:
- All the start and end dates of the retrograde planets in 2014,
- Detailed discussion of the new and full moons (new!)
- The date when planets move into new signs (and how long they will be in that sign), all listed on the same day entry
- The planetary aspects of the four eclipses due in 2014, and explanation of what each eclipse will bring.
No more surprises! Be in the know about upcoming events, so that you can plan your biggest initiations. This calendar is a "must" to keep with you all year, and is available here, from Susan's publisher, but not in bookstores or other retailers. Get it now, while you can: $9.99 plus tax and shipping. We ship to all nations of the world: http://bit.ly/186zM0i
---
A New Service: WiFive.us
Don't we all love a bargain?
We all want to know about the deals being offered nearby in our neighborhoods to save money. I found a way when a brilliant entrepreneur, Luis Sanchez, came to see me to show me he had developed a way of seeing all the various deal-of the-day websites that are featuring discounts on food, entertainment, boutiques, and other establishments, all in one click. Traveling? All you need to do is enter the zip code of your new neighborhood as you travel each day and you can see the deals that may be just across the street from your hotel.
The company is called Wifive.us and is ready to use today. It is a New York-based startup with a location-based search engine that gives you access to thousands of local online deals in a single site.
For now, Wifive.us is only available in the United States. It covers most of the deals and services you would see from various sources (Groupon, Amazon, Google deals, and so forth) all at once, so you don't have to go from site to site to find a deal that appeals to you, as Luis would humorously say, "until your head hurts." There is no registration necessary, and no useless emails to stuff your inbox each day.
Just type your address or ZIP code and get the deals you want when you want them. You pull in your information, which is far better than having many emails pushed to you. Try it and like the service on Facebook!
A word about the web address of WiFive.us
You may be wondering, what exactly is .US?
You might have thought the domain ending .us would only be only for government agencies and schools, but since 2002, individuals, businesses, churches, and non-profits have adopted .US web addresses to make their mark on the Internet. The .US is a new domain ending.
Just remember the name of the new service that no doubt you will be using quite a bit: pronounced as "wi-five-dot-us" otherwise seen as: http://www.wifive.us
---
Goodbye to My Former iPhone App on November 12, 2013
Hello to My New One:
"Susan Miller's AstrologyZone Daily Horoscope FREE!"
Download today!
Now that my former app, Astrology Zone Premier, will no longer be supported for iPhone, you might want to download my free version of "Susan Miller's AstrologyZone Daily Horoscope FREE!" for iPhone today. (A search for Susan Miller or Astrology Zone should bring the app up immediately.)
My former app, Astrology Zone Premier will not automatically change over to the new free app, so you will have to download my new app. Once you have it, you can decide if you would like to upgrade to the version you've come to know and love by looking inside the app and signing up for a subscription inside the app. If you should have to reload and reinstall your app, you will not lose your subscription as long at you responded to Apple's dialog box asking you to register your purchase immediately. If you don't register, if you lose your phone or need to reinstall your app, you won't be able to do so. Be sure to register your app!
If you have any questions or need help, you can write to Jennifer@Phunware.com and engineer Jennifer will be happy to help you.
---
ANDROID AND SAMSUNG USERS
Astrology Zone Premier App is Still Available for You
Android and Samsung users have Astrology Zone Premier to enjoy a little longer. We are writing NEW code for your Android and Samsung cell phones, and making an app similar to the one for iPhone, with some cool features just for your phone.
---
Live Overseas? Or, don't have an iPhone, Android, or Samsung Galaxy?
Get all 12 of my daily horoscopes each day by email or pick yours up each day on special password-protected site.
To plan ahead, receive several daily horoscopes in advance!
By subscribing to DailyAstrologyZone you will receive a week of horoscopes inside your cell phone and / or computer. This means if you have a BlackBerry or feature flip phone, you can still get my daily horoscopes as long as your device accepts email. You will also have the option of accessing your daily horoscopes from a website online, from anywhere, any time, through a password-protected site for members only, or receiving all 12 signs my email each day.
For more information: http://www.dailyastrologyzone.com
---
MY PERSONAL CUSTOM HOROSCOPE BOOKS
WRITTEN BY SUSAN MILLER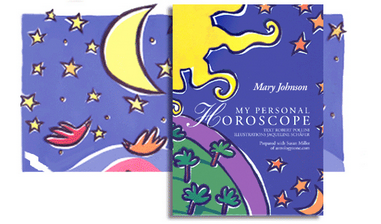 Looking for unique gifts for the summer months? - Choose from My Personal Horoscope for Adults or for Babies, or for a Relationship, the Two of Us.
Have an entire book written by Susan Miller, which runs approximately 65 pages, about your natal horoscope. Get to know your rising sign (also called the ascendant) as well as the placement of each of your planets, and what it all means. Susan's natal chart for babies centers on the talents and gifts of the little child. Order today and you will have your book within two-and-a-half weeks.
Two weeks on average from order receipt to delivery to any US destinations. One week longer elsewhere.
Also PDF option available for destinations overseas where delivery tracking of printed books is prohibitively expensive.
My Personal Horoscope Custom Natal Chart Book $49.99 plus shipping / tax
For more information call Susan's publisher, Arthur Heydendael 914.271.3640 ext 14 or click here:
http://www.americadirectbook.com/Customized_Books
To view a forecast, select a sign from the menu below and click on Go.