Here is your Year Ahead 2015, all 12 signs about 3 minutes each in length. Make sure you click on your rising sign as well, for it is equally as important as your Sun sign (you would have had to have your chart done in order to know your rising sign). http://thescene.com/glamour/series/glamourscopes-with-susan-miller
Leo Horoscope for December 2014
By Susan Miller
As a Leo you love the social side of life. You are sophisticated, with refined taste and quick wit. You also are gregarious, have a great sense of humor, and tend to be well read, and that makes you a great conversationalist. It's easy to see that you would be an asset at any gathering. It looks like you will be invited to a marvelous holiday party over the full moon as the month opens, on December 6, plus or minus four days.
The planets will be in a happy mood, and this full moon, Saturday, December 6, in Gemini 14 degrees, will receive a shimmering vibration from Uranus, so all sorts of exciting, unexpected developments will be popping up. As a matter of fact, you may not know you are about to be invited to this party - it seems to come as a complete surprise. With Uranus so active, when you get to this gathering, you are likely to find the guests to be highly creative types, perhaps working in fashion or the theatre, music, or other cultural arts, and the conversation will be effervescent. This is an A-list party not to miss. It is alternatively possible that you will attend a conference, charity benefit, or trade show, and if so, you will make the acquaintance of many people, some of whom you'll want to stay in touch with in the future.
If your birthday falls on August 6, plus or minus four days, you will feel the joy of this full moon the most, but all Leos will have something special to look forward to doing. If you know your natal chart, and know you have a natal planet in Gemini, Libra, or Aquarius, Aries, Libra, or Sagittarius at 14 degrees, you will hear news too.
Two days prior to the cresting of the December 6 full moon, December 4 will bring a day that will be just made for you. Your ruling star is the Sun, and on this day, the Sun will receive a golden beam, at a 120-degree angle from Uranus (this is the best angle possible, denoting supreme harmony.) Your mind will move at the speed of light, and you will be capable of coming up with highly original ideas. On the same day, Venus and Jupiter will ALSO be in perfect angles, increasing the probability that you will hear superb news about your career. Your star is on the rise, dear Leo, and you will know it now.
The following day, December 5, Mercury will also be conversing with Uranus, another brilliant idea aspect, but also one that will get you news of more money to come to you. More money in December has to be good news, and when it comes, like everything else in December, it will come out of the blue, like a lightning bolt. Over December 4-6, with Uranus so strong, you may jet off to foreign shores, and travel in early December will be simply divine.
More happy financial news, perhaps even better than the news you receive on December 5, should arrive a week later, on December 12. Money, just when you need it most at holiday time!
One of your most romantic weekends will fall on December 13-14, when the Sun in Sagittarius will exchange pleasantries with good fortune planet Jupiter in Leo. What a gorgeous time for you! Festivities will be fun, and apparently you will be on everyone's guest list. Be sure to accept any invitations you receive this weekend! Because the Sun is your ruling star, it means that many other parts of life will glow too - better health, travel, creativity, love - you get it all!
In the meantime, Mars, the action-energy planet, will move into your seventh house of marriage and established relationships, from December 4 to January 12, giving you a chance to spend more time with your partner. If you want to make your relationship official, you may be getting engaged or married, or if you have a business deal cooking, you may be ready to sign papers. Mars will motivate you to crystalize that special relationship. If you are already happily married, you can now find new goals to tackle, with the promise of gratifying results. Actions taken in regard to the house where Mars is visiting suggest you will find success if only because you will attack your activities with such ardor.
Your very best day this month for surprise and fun with your steady sweetheart or spouse will be on Saturday, December 20, when Mars will send a perfect beam to Uranus. All sorts of unexpected developments will keep you alert and laughing - this is as close to ideal as it gets. (Have you noticed - Uranus will be very active this month? The universe is raining down goodies and surprises to one and all of every sign!)
By now you must think I am giddy with news, and you may be right. The biggest headline news is yet to come! Here it is!
Saturn will change signs on December 23, which is HUGE news in astrological circles. Ever since this taskmaster planet entered Scorpio in October 2012, you may have faced a frustrating time in regard to your home, other property you might own, or a family matter. Your apartment may have become too small or dark, and although motivated to find a new place to live, all you found is more small places, and much too expensive for the value you would be getting. You need a space large enough to give you elbow room, sunny enough to keep your spirits high, and in the right neighborhood that would be not require a long commute to work, that is also safe, with a hip, "cool factor" populated by interesting people and offering charming shops and restaurants. (Cappuccino anyone?) It's been a challenge.
If you were trying to sell a house, you were having problems getting your asking price, for Saturn constricts everything it touches. If you hoped to buy a house or condo, sellers were asking high prices way above your budget. Saturn asks for patience and a spirit of practicality, but when it came to home-related matters, you were becoming increasingly frustrated by conditions that seemed to be blocking your every move. You might have stayed put and waited for conditions to improve - and those conditions will improve now, almost immediately.
There are other ways Saturn in Scorpio may have asserted his presence at some point over the past two years. In this manifestation, Saturn showed you that you that you were growing up, and now were ready to take on more responsibility. If you are very young, you may have rented your first apartment when you left your parent's house. Or, if a little older, you may have purchased your first house, and opted to do some of the fixing up that was needed yourself.
Or, in a more serious manifestation of Saturn in your fourth house of real estate, you may have had problems paying your mortgage, and with the value of your house dropping, you may have tried to get your bank to intervene, but with Saturn in hard angle to your Sun, it may have felt like you were fighting City Hall. This sector of your horoscope also rules family, so you may have volunteered to oversee the care of one of your aging parents over the past two years. No matter what you faced, that chapter is now coming to an end, as Saturn is about to leave this part of your chart on December 23. Virtually all these areas will improve, and while it is highly unlikely you were affected by all these areas that I Iisted, the one that you found so challenging will now be over for any number of possible reasons. The point is, you are at the end of this trend.
In truth, Saturn will retrograde back into Scorpio later in the New Year, from June 14 to September 17, a period of thirteen weeks. If you were born near August 19 to 22, you will feel Saturn's presence in Scorpio more than your Leo friends born earlier in the sign, but the thirteen weeks is a short period, and I doubt you will see any new challenges come up - instead, you will tie up loose ends and move forward. You seem to have become very resourceful about dealing with property and family matters. You have matured quite a bit over the past two years, and now the pressure stemming from this part of your chart will come off.
The light, festive atmosphere for the holidays will keep up until you get to the new moon in Capricorn 0 degrees, December 21. After that, you will have FIVE heavenly bodies migrate into your workaday sector and you will have to divert your attention to your work. Still, in an economy where people are unemployed and praying for work, it will feel great to be so valued by your company.
The assignments seem to center on one of two areas - budget appropriation, for Capricorn (where so many planets are migrating) rules large sums of money, or in the protection, preservation, or the selling things of value from the past, such as valuable art or antiques, or in terms of auctioning rare letters of famous historical figures, as examples. Of course, your work may center on other topics, but these are coming up as likely. For some reason, your work life will explode with activity at a very quiet time of the year, the time between December 21 and January 3, so you will have to keep up.
There is another way the new moon of December 21 may affect you. This is the house of health and fitness, so you may be very focused on improving your fitness and moving toward a healthier lifestyle. Many people will make New Year's resolutions in January, but this new moon, with its 0 degree in a cardinal sign (considered so strong it symbolizes the life force) would be a FAR better time to announce your goals and start your program. Alternatively, if you need surgery, you might opt to get it done before the year is out, during this time with so much emphasis on healing and health: December 21 to January 3.
If you hope to go home for Christmas because you celebrate Christmas, keep in mind that you must leave early. December 24 brings the only unhappy Uranus aspect: Mercury in 90-degree angle to Uranus. This suggests unexpected delays in travel, most likely due to bad weather, but there may be other reasons too. Give yourself plenty of time to travel.
New Year's Eve brings the transiting moon to Taurus, so you may be ringing in the New Year socializing with executives you know from work, or, because Uranus will be bursting with energy, you may instead ring in the New Year from distant shores. Sounds wonderful! No matter what you do, with Jupiter, giver of gifts and luck, in Leo until August 11, 2015, and Saturn moving out of Scorpio, the coming year looks to be one of your best ever, dear Leo!
---
Summary
New friends, possible involvement in a new charity event, and lots of festivities events will allow you to kick off the holiday season with gusto. Lots of interesting, creative types will be rubbing elbows with you - among them will be friends you know, and there will be new faces too. Some of the new people you meet will be ones you will want to get to know better. With a new moon in Gemini December 6, conversation will sparkle, and plenty of information will be exchanged. Plan to step out and stay out in early December. Leo loves to dress up in designer clothes for festive occasions, and this holiday season, you will have plenty of reason to do so. Parties you attend will likely be luxurious, with no expense spared. If you are attached, you will be able to spend more time with your sweetheart or spouse, and that's good news, because your partner may have felt a bit neglected in previous months. Your attention was needed elsewhere - but now the two of you can be as romantic as you want to be.
Uranus, planet of surprise, and based in a travel house, will add spice to the month too. You may be jetting off to an exciting city or paradise isle on the spur of the moment, particularly near December 4-7, or the following week, December 12-14. (For sure, December 13 will be super delicious for you, as the Sun will meet with Jupiter.) If you are attached, one of one of your happiest weekends will be December 20-21. Try not to travel over December 24, when Mercury (travel) and Uranus (unanticipated events) will be at sharp odds.
As unlikely as this may seem to you, a fabulous assignment may be awarded to you just after December 21, just when you thought no one was at work and nothing exciting would happen for you at the office. Plenty of people need to work at holiday time, and if you are reachable, the new assignment will be tailor made for you. This new moon brings in the assistance of Jupiter, and when Jupiter is involved, generous pay cannot be far behind. Uranus will be friendly too, indicating the new project would allow lots of room for you to express your individuality and creativity.
In love, if dating seriously, you may decide to exchange rings and promises for Christmas or New Year's, thanks to the move of Uranus, ruler of your seventh house of partnership / marriage, on December 21. Outside conditions surrounding you may have changed, and now you may feel that there's no more reason to wait to get engaged and wed. Mars will tour the very same partnership / marriage and commitment house from December 1, 2014 to January 12, 2015. Saturn will enter Sagittarius and your love sector on December 23 for the first time since 1985 to 1988. You are ready to put down roots when it comes to love, and you might also feel ready to discuss having a baby too.
Single? You have Venus in fellow fire sign Sagittarius, an asset to love and looks, December 1 through December 9, your best time to find love. While Venus is in Sagittarius, it's an ideal time to consult with your favorite stylist to design a new holiday look, and to choose a new evening outfit too.
---
Dates to Note: LEO
Most important dates for love, meetings, or actions Leo: 1, 2, 5, 6, 10, 11, 16, 23, 24, 28, and 29.
On December 4, the Sun's angles with Uranus create a wonderful break for you to take the person you are dating on a lovely getaway. Make the most of the opportunity and head somewhere exotic and warm. This same day you will be exceptionally creative - focus on a current project and brainstorm for ideas.
Also on December 4 Aquarius moves into Mars until January 12, 2015. This will bring a spice to your long-term romantic relationship.
December 5 and December 20 may bring welcome news that more money is coming to you.
Full moon on December 6 in Gemini allows you to get in touch with the right people to push your goals forward. Your best bet may be to contact professional circles or attend conferences in order to obtain the information you need.
On December 8 you might not get the luck you need to make the right moves to push your plans forward. Jupiter will retrograde until April 8, so try to be patient and work on less important aspects of the project.
A new moon in Capricorn on December 21 plus Uranus going direct will bring new assignments. Your work life will explode in a very unlikely time of the year, holiday time.
The December 21 new moon will be the best time of all of 2014 to begin your healthy lifestyle program in line with your New Year's resolutions. Don't wait until January - this new moon is the time to start if you are determined to see results. If you need to attend to a health procedure or surgery, many planets in Capricorn will allow you the time and inclination to do it so that you can start the New Year feeling better.
Saturn's move out of Scorpio on December 23 is wonderful news - your concern over your physical living space, or the care of an elderly parent, will lighten almost immediately. It's been two years since Saturn entered Scorpio, since October 2012. It's all good.
P.S. for December 2014
Happy Birthday Astrology Zone!
Since December 14, 1995, 19 Years on the Internet!
I am very excited to see Astrology Zone reach her 19th anniversary!
I have learned so much since 1995, the year I started, and with each passing year I enjoy writing for you more and more.
This past year has been a big challenge for me due to my health condition,
but you stayed with me, and your steadfast encouragement helped me get well.
2015 promises to be a bigger and better year than 2014; that's good news for you.
Before I got sick, I had many surprises in the pipeline for you.
Next month I will be able to show you some of those projects that I kept moving forward,
despite my illness.
My progress was due to the kindness, and help of my partners.
The first project I was working on in January 2014, you may already know about:
It involved replacing my old apps (started in 2003) and introducing two brand new ones.
The world had changed, and it was time to write new code.
My new apps were announced in last September, one for iPhone and another for Android/Samsung. If you didn't get yours yet, they are free and you can download them now in iTunes or Google Play. All the early bugs that showed up in the iPhone app are fixed, and both the iPhone and Android/Samsung apps run flawlessly.
The graphics of my new, redesigned apps are beautiful. Happily, both new apps will resize to fit all your devices. Please check system requirements.
Once inside the app on your smart phone, you will have the option of subscribing to my longer content for $4.99 for one month or $12.99 for three months - you have overwhelmingly chose to subscribe for the third option, the yearly $49.95 subscription.
If you don't have a smart phone or if you live overseas, you can still subscribe to the same content that I write for iPhone, Android, and Samsung.
Check www.dailyastrologyzone.com for more info.
Another project we launched this year is a mirror AstrologyZone site in all Spanish. Please tell your friends about it. It's free, and here is the special URL: www.es.susanmiller.com.
Thank you so much for your support!
I always enjoy hearing your comments on
Twitter (@AstrologyZone) or Facebook ("Susan Miller")
Have a very Joyous Holiday and a very Happy New Year!
Susan
---
Washington Post Worldwide Chat, FREE!
Thursday, December 4, 2014 at NOON EDT New York with Susan Miller
Use this link to submit your question, and you can post today: wapo.st/1zItm5P
This will be the same link you will use to enter the chat session on Thursday, December 4.
This will be our last chat since we've come to the end of the year and my contract is over. Let's make this a blockbuster event!
As said, my chat is Noon EDT in New York City. To find out how that time translates into your local time, go to the world clock on www.timeanddate.com
When posing your question, please list your first name and your Sun sign, and add your rising sign too, if you know it. If you can ask your question in a way that would appeal to the widest possible audience of readers, you will increase your chances of my choosing your question. I strive to answer questions of every sign of the zodiac! I hope everyone reading this will come, and through the generosity of The Washington Post, there is no fee to participate. It's free.
While you are on the Washington Post site this week, look at the news stories - it's an award winning newspaper and you are sure to be fascinated by many of the stories.
---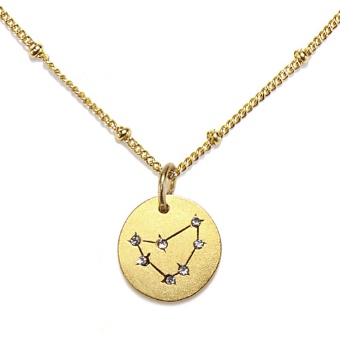 Check Out the Star Map Collection by Sequin
Last March, when I was still well, I was invited by Sequin executive women to look at an idea their talented New York City Sequin Design Studio had for a collection of pendants with an astrological theme. I immediately fell in love with the various astrological pendants, and they asked me to check to make sure all the designs and keyword descriptions of the signs to be used on their site were astrologically correct. I made a few changes to the keywords, but my involvement was very minimal. (Everyone, it seems, at Sequin reads Astrology Zone!) I love the quality of these beautiful pieces. Many girls layer several of these necklaces, using various lengths, and that's a great look too.
The pendants are all made in America and handcrafted by artisans using material components from around the world, and are so well priced that I feel they will fly out of their inventory. These necklaces are gorgeous. They are made of 22K gold-plated brass with antique finish and crystal details. I was impressed with the lovely chain that the pendants come with too, as it is tangle-proof and delicately made to look beautiful when worn. Whenever I wear my necklaces, I get so many compliments.
These necklaces make great gifts, and also would be a beautiful addition to your accessory wardrobe. I quickly chose those necklaces as part of my favorite things to give for holiday gifts, or for a friend's birthday. Imagine how surprised I was that Oprah had chosen this Sequin Star Map Collection as a part of her "favorite things" in her December issue! I was so happy for my new friends at Sequin and the incredible success of this new line of jewelry. It seems Oprah and I think alike!
If you order by December 15, you will get your gift by Christmas. Readers living overseas, please order by December 10 to allow extra time for shipping. Your necklace will arrive in a pretty gift box, perfect for gift giving. Remember to think ahead for upcoming birthdays and Valentine's Day - I know these necklaces are going fast!
Seen here is only one example of the Sequin Star Map Collection of pendants, so click through to see the entire range of jewelry, using this link:
http://www.sequin-nyc.com/collections/star-maps?ref=susanmiller
---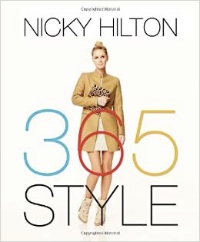 A New and Important Book on Fashion and Style:
"365 Style" by Nicky Hilton
Wow! Amazon tells me you bought SO many copies of Nicky Hilton's book in November!
I love Nicky's book too! Here is my review in case you missed it last month!
There are many books on the market on fashion and style, and I admit, I have bought many of them. In this new book, Nicky Hilton, designer, author, entrepreneur, daughter of Rick and Kathy Hilton, and sister of Paris, has created a completely original, honest, and remarkably wise book on style. It comes complete with many color photographs, and in it Nicky shows you ways you can upgrade your own fashion style from good to style icon level. The goal is to sharpen your personal style by looking within, not by copying someone else's style. Nicky gets you started by showing you some of her favorite style icons, but only to get you thinking. She gives many stories and examples from her own life, and she makes you enthusiastic about going through your own wardrobe to find ways to amp it up. The title of the book refers to Nicky's suggestion that you consider 3 aspects of your lifestyle, and choose 6 staple items of clothing and 5 essential accessories. Doing that will instantly get you a stylish starting point.
Nicky has attended all the fabulous fashion shows in New York, Paris, Milan, and more in her young years, but her advice is down to earth and certainly does not require you have a trust fund. Just the opposite, her tone is one of a best friend going through your closet and handing you advice that is at times funny but always wise. Certainly a lot of what Nicky says makes you think. In one chapter, she advises, "Always dress like you are going to meet your worst enemy" (i.e, bumping into the ex-boyfriend who betrayed you, or the mean girl in high school who made your freshman year a terror.) Nicky gives many examples of her own life and shows how running into that old boyfriend looking like a million because she had taken just a little extra time with her appearance on the way to meet girlfriends for a casual Mexican dinner gave her a happy boost during that unexpected nano-second on-the-street encounter.
With each page, you will rethink your own wardrobe and habits, and occasionally Nicky will casually toss out the very advice you needed most. When it happens, you will feel like you were hit by a thunderbolt. I enjoyed her advice about dressing for a first date, meeting his parents, and more, and all along she gives you many vignettes that allow you to see her own lifestyle. Those peeks into her own life allow you to understand why she has the authority and experience in her early thirties to write this wonderful jewel of a book.
She has advice on such things as:
The $30 wardrobe item you can't live without.

The one closet accessory that keeps everything organized at all times.

Five must-have wardrobe items, all affordable.

How to pack a suitcase like a jet-setter.
I feel you will enjoy this book and get much from it. Just click here to order your copy:
http://amzn.to/1qE6BzC
---
A COMPLETELY NEW WAY TO FIND LOVE ONLINE WITH DREAMCLIQ.COM
I have partnered with a new online dating site Dreamcliq.com, an entirely new way to meet people. We all know how hard it is to write personal descriptions. Dreamcliq is doing something new: users create visual profiles to easily express what they love. Instead of awkward written descriptions of yourself, you can use images to express who you are and what you love in style, art, travel, design, and entertainment. You will click on photographs that express the real you, and the process is fun. If you see someone that interests you when looking at the photographs they chose to express themselves, you can read my previews of your Sun sign's compatibility with the person you are interested in contacting. Just remember, all signs can get along with any other sign, for if love is there, the stars will open a path!
As a special gift to all my readers, you will receive 10 free cliqs to use on Dreamcliq.com when you sign up using this special access link. This promotion will be in place from now through December so that you can increase your chances of starting 2015 with a grand love in your life. This promotion on Dreamcliq is open to all my readers, male and female, straight and gay. Everyone of every sign is invited. Sign up - you have nothing to lose and everything to gain. When CEO of Dreamcliq Melissa Jones came to me with her idea sketched on paper a year ago, I didn't know her yet, but I was so impressed with her originality and intelligence, I knew immediately I wanted to work with Melissa. The media has reviewed her brand new site, and the rave reviews are in. You can see them as you explore the site.
To learn more about love and astrology, read my article on Dreamcliq's blog. I have lots to say in my essay about love and how astrology works to help you find love, so be sure to scroll down to catch all that I wrote. You may find my words helpful as you embark on your new adventure to find love. I love Dreamcliq because by choosing from images for your profile, you reveal your personality in an artistic way that is honest, stylish, and exciting. Give it a try!
---
MY PERSONAL CUSTOM HOROSCOPE BOOKS
WRITTEN BY SUSAN MILLER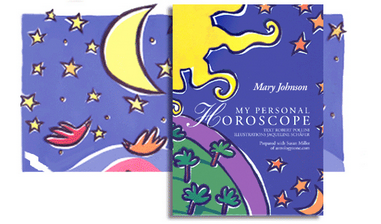 Looking for unique gifts for the coming holidays? - Choose from My Personal Horoscope for Adults or for Babies (Baby Boy light blue cover or Baby Girl pink cover), or for a Relationship, the Two of Us.
Two weeks on average from order receipt to delivery to any US destinations. One week longer elsewhere.
Also PDF option available for destinations overseas where delivery tracking of printed books is prohibitively expensive. The content is same as the print edition with its full-color illustrations by Jacqueline Schafer. The PDF delivers within 7 days on average.
My Personal Horoscope Custom Natal Chart Book $49.99 plus shipping / tax
For more information call Susan's publisher, Arthur Heydendael 914.271.3640 ext 14 or click here:
http://www.americadirectbook.com/Customized_Books
To view a forecast, select a sign from the menu below and click on Go.