See Susan Miller's new Astrology Zone 30-minute streaming TV Show! For now, it will be seen once a month and will not duplicate any information you get on Susan's site - the broadcast will provide fresh, new material. For more info, see Susan's note to you found here, in the PS (post script) directly below your sign's summary and the dates to note. Express your ideas about Susan's new show in social media - we will be reading your comments. The show will not be seen yet on Susan's smart phone apps (stay tuned) but instead here on your computer or tablet. Please tell your friends to have a look!


Astrology Zone with Susan Miller for March 2015 from Television Four on Vimeo.



---


Last month I showed you the surprise I had for you, special animated videos called Glamourscopes that I had done with Conde Nast Entertainment (CNE). Each sign's video runs a little under three minutes. The animators illustrated my words with visuals in a very original and imaginative way, so most people think the videos are especially cute. You told us you loved the videos, but said in a loud and clear way, "We want them longer!"

We listened! Here is the short version of Glamourscopes:

http://bit.ly/1yPzZEF

and the NEW Extended Cut version of Glamourscopes:

http://bit.ly/15nk8m5

Each sign's video has new material, there is no duplication of information that you will get. Don't miss these! Listen for your Sun sign and your rising sign as both are equal in importance.


---

Dear Reader,
Since December I have been struggling with my auto-immune condition. In February things got much more serious. My medicine suddenly stopped working as I had built up immunity to it, my inflammation grew, I could not eat, and I lost 16 pounds in two weeks. I am in the hospital. I am still on clear liquids. This month I could only write a short forecast, but I feel it's really special, as I wrote it with all the love I have to give you. If you are reading my note on your app, be assured that I write my daily horoscopes three months in advance - your service will continue as usual. (I am still writing this note from my hospital bed - writing to you makes me happy.)

Also, if you are reading this note on your app, please check your forecast on your computer or tablet on the Internet because we have some surprises to entertain and inform you that can ONLY be seen on the Internet, on my site, AstrologyZone.com. The first is the second edition of my new TV show for March that I taped months ago and runs approximately 30 minutes. Thousands of readers (you!) from all over the world have been pouring in each HOUR. Thanks to your spirited enthusiasm, it means I can make more shows - we want to add different formats to keep things lively. My producer, Paul Duddridge, based in Hollywood, hires a professional crew of 12 to hold my show to the highest production standards. (To give you an idea, the composer that worked for Hunger Games trailers wrote my show's custom music.) To cover costs, and to do the exciting things we have in mind for you, we will have to charge $1.99 per show, starting with the new moon eclipse, March 20. You will not see any advertising. Be sure to check the show before that happens; we hope you love it and will want to come back for more each month.

If you didn't see the GlamourScopes (3 minutes) and the "Extended Cut GlamourScopes" (7 minutes) intended for both men and women, where I talk about the Year Ahead 2015, all adorably animated, you are missing out on something fun. Those are free. Again, the link is only on my site AstrologyZone.com online, not on my app.

Lastly, I was interviewed by esteemed British talk show host Paul McKenna last month for Hulu, and Paul says liked the interview so much they made a Part 1 and Part 2 out of it! (Heavens! Now I wonder, what did I say? They were just sent to us at press time!) Here, this month, is Part 1. It reveals my views on astrology and the more personal side of me. It's free, so let me know what you think - each part runs 30 minutes. Again, due to embed code that can only happen on my Internet site, you will have to go to your computer to see it properly.

In the meantime I have a team of doctors who keep hovering over me, and I trust them. Little angels swoop in each morning (but I know are really vampires) to take my blood. I don't have to worry about my health - that's their job. I get to attend to you. This time they are not taking my computer away, I will get to write. Yay! - Susan


---
Leo Forecast for January 2015
By Susan Miller
This will be your year, dear Leo, for Jupiter, the giver of gifts and luck, is in Leo for the first time since August 2002 to August 2003. Jupiter spends one year in each of the signs he visits, and last year, on July 16, 2014, Jupiter re-entered Leo. The road is open and clear - you finally have all the elements you need to succeed on something you've long dreamed to accomplish, on any level, in any part of life. Jupiter will stay with you until August 11 of this year, giving plenty of time for you to take action on a dream dear to you. The time you have now with Jupiter is precious, for you waited twelve years to have Jupiter all to yourself, and it won't be until June 2026 to have this same trend again.
Jupiter will open doors for you now and give you outstanding favor from VIPs. It's time to dust off your wish list, for the projects you start now will begin to grow and blossom financially after Jupiter leaves on August 11, when Jupiter moves into the harvest sign of Virgo.
You are about to earn an abundance of cash in late 2015 through most of 2016, but it ALL will be directly related to the efforts you make between now and mid-August 2015. Opportunities will come to you from every corner, and it will be important not to spread yourself too thin. Choose the projects that are quintessentially "you" - projects that acknowledge your need for creativity, feed your soul, and that have the most future potential. You are unique, and your projects should be as unique as you. In 2016 you won't have to "settle" for anything in your life - you should stand up for yourself confidently and keep searching for your ideal situation, for with Jupiter at your side, if you insist on that, you will find it.
When it comes to love, if you are single, this year Jupiter will help you meet your one true love from now until mid-August. If you already have found the love of our life, you may now move to commitment and set the date of your marriage. If you are already married, or in an established relationship, you will find new ways to make your love deepen, grow, and flourish. This is, very simply, your best year in twelve, so make it count!
Your residential (or other property) situation or, alternatively, your concern for a parent (or someone you think of as a parent), has been a pressing demand and continual distraction for you for more than two years. That situation will now settle down that Saturn recently left this area of your chart, December 23. Saturn, the culprit in this trend, will be back to Scorpio (the same thorny position) from mid-June to mid-September, and may bring up a rerun of the same issues. You have experience now, and you won't be thrown by anything you learn then. When Saturn says goodbye in mid-September 2015, he will not be back to your home and family portion of your chart until 2041, decades from now. As you see, demanding Saturn is leaving, and Jupiter, giver of gifts and luck, is now with you in Leo. Out with the bad, in with the good. This all means your outlook is doubly good in months ahead.
On January 4, the full moon in Cancer 14 degrees (influential for an additional four days after the full moon), will light your twelfth house of privacy and behind-the-scenes activities. A secret that has been hidden, perhaps deliberately by someone close to you, is about to come to light. This full moon will be in an angry mood; the news won't be easy to take. This full moon will be in hard angle to Pluto in your solar sixth house of work projects, and also to Uranus in your ninth house of travel, legal matters, academia, publishing or broadcasting or the digital world, and international relationships abroad. You may get upset because you may find out that someone has been working at cross purposes to you, and hoping you'd never find out.
Other signs will feel this full moon more directly - they will have a harder time with it - but it's an angry moon that can cause tension, so do not have an overly packed schedule so that you can turn to take care of anything that might come up. You are an excellent manager, so you will know what you have to do, and you won't have a lot of time to take care of it. You will be able to put this matter behind you, so under no circumstances should you feel that you will "lose" anything in terms of reputation or anything else as a result. This is a very cranky full moon, but not an eclipse, and an eclipsed moon or Sun would have had a much stronger effect on you. Also, this full moon is falling in a cadent (weak) part of your chart, so it will not likely upset you as much as it would if it were lighting a different area.
Mercury and Saturn will cooperate beautifully the day following this full moon, January 5, so logic and reason will prevail, despite the emotion that will swirl about you. Saturn will lend a very stabilizing, calming influence to Mercury, planet of thinking and perception. You can, and will, react the right way.
You will have to watch your health near January 4, for this is the last house of the horoscope (your solar twelfth house), an area known to be a place of rest, and you may feel quite drained by that period.
Mercury will go retrograde later, from January 21 to February 21, not a time to make any binding commitments, whether in love, in your career, or for anything else. It is not a time to buy any electronic items or any product with moving parts, like a car or kitchen appliance. Our judgment tends to be off during these phases, so don't rush into anything new. Instead, spend time working on projects already on your desk, and work to polish them up until they gleam. Sometimes in modern life, we are not given enough time to lovingly lavish detail on a project. Now, during this upcoming Mercury retrograde period, you will have the time, as things will get postponed and schedules change. Finesse this assignment, and it will bring you a career victory by May. This is true whether you are employed by others or self-employed. Mercury will turn retrograde on January 21, but I would like you to stay far away from that date, as you will feel the slowdowns and delays much sooner than January 21. Too often readers race toward that deadline of the turning date of Mercury retrograde, and then later wonder why things didn't go according to plan. If possible, make your biggest moves in the second half of February. My favorite day for you to act on big plans will be February 26.
Financially, you may see your expenses rise from January 12 to February 19, while Mars tours your solar eighth house of other people's money, ruling credit cards, mortgage, financial aid, taxes, bank loans, lines of credit, insurance, and similar money you may receive and also pay out to satisfy financial obligations. You may expect to have to write a large check in the second half of January, but if not, slow down spending on big-ticket items until you can see the lay of the land. With Mercury in retrograde, it would not be wise to spend for items that can be purchased later at any time. Items bought with Mercury retrograde never seem to deliver the satisfaction they promise at the onset, and that includes the purchase of (or closing of) a house.
One day not to take any action that involves money would be January 19, when Mars will link to Neptune. You won't have all the facts and may make a very wrong decision. Neptune is known to fog facts and actions, so ask many questions. With Mercury about to retrograde just two days later, you will be in a highly unstable environment. I would prefer you make your biggest decisions in late February. Check financial statements carefully in case you were subject to identity theft.
Now let's turn to other elements in your chart. If you could see your horoscope map, you will see that most of the planets are situated on the Western part of the chart, putting the spotlight on partners. This indicates just how cooperative and conciliatory you will need to be this month to get results; don't be afraid to compromise now and then, for you will get to a great result if you do. You don't hold all the pieces of the puzzle now, but that seems immaterial - you may thoroughly enjoy the collaboration you will be making this month, and this will be true in work and in your private life. The new moon, January 20, in your partnership sector will open up a new era for your alliances. This new moon will be elegantly angled to Saturn, indicating plans you are making now for the future will have the strength of a sturdy old oak tree, with very deep roots.
You certainly have been focused on a partner, and with Venus in your relationship sector, your interactions should be as smooth as silk all month. Venus will remain in your committed relationship sector from January 4 to January 27. Yay! This holds true whether you are making a romantic or business relationship official soon - the point is, you will get along very well.
One of your most romantic dates will be January 13, when Venus and Uranus will be playing tag in the cutest way. Love will sparkle, especially if you are attached. (Admittedly, attached Leos will have the edge over singles in January.) The following day, January 14, will be equally wonderful, when Mercury in your relationship house will signal Uranus too. This same aspect will occur again, January 27.
If you did not travel for the holidays, January 10 to 17 would be an ideal time to go, or at month's end, January 24 to January 31. Bring your partner. When Mercury mixes with Uranus, spontaneity rules, so be flexible and go when the spirit moves you! If you have children, see if Grandma wouldn't mind doing some loving babysitting.
You will have another highly romantic day, January 23, when Saturn, now in your true love house, will signal the Sun, again in your committed relationship sector. Promises made will be promises kept, dear Leo. If you were going to get engaged, hold off until the middle to end of February, when Mercury will be regulated. You can act on Valentine's Day, which may be just what you had in mind.
In your career, you will be busy, continuing the trend that started in the third week of December when work demands were suddenly so strong they were bordering on insane. As you enter January, take things a little slower. It looks as though you will have to tie up details before you can move forward on new assignments. If you are in the middle of a project now (very possible), brace for new client input that may cause you to backtrack and reconfigure the plan when your client suddenly has an epiphany about ways you can make her project even better. Directives change, and we all have to remain flexible during Mercury retrograde periods, January 21 to February 11.
Here is a favorite day for you to put a gold star on, January 23, when the Sun your ruling star, will receive stabilizing vibrations from Saturn. Here is the perfect day to meet with an older, wise authority figure to talk about your future or to get advice. You'll have to be very realistic about any new venture you'd like to start to work on in months ahead. Saturn will have it no other way. Mercury is retrograde by now, so take time to think through your plans before you etch your plan in stone, and while you do, check all your assumptions.
One day when you will do very well on the job, impressing everyone with your mastery over your material, will be Friday, January 30. This is when Mars will reach out to Pluto in a very friendly way, and this tells me you may make a nice sum of money as a result.
---
Summary
As you begin January, it looks like you've been very busy at work in December, and you will have a bit of follow-up to attend to in early January. You may work in seasonal business, where the holidays required you to work hard. That work-around-the-clock emphasis is ending, so you will get a chance to give a sigh of relief.
This month, almost all the transiting planets are on the western part of your chart, suggesting you won't have full control over events. With so many planets in your collaboration / partnership sector, you will do best by being a conciliatory team member. Acting solo, and trying to lead the way alone, will not work in January or in February either, but the situation is temporary. If you have a business partner or alliance, let that person set the agenda.
It would be wise to turn your attention to your blooming private life, and if you are attached romantically, to focus on your partner. You may want to think about what you hope for your relationship's future and then to take steps to make that dream a reality. Venus will tour your seventh house of marriage all month, so you may get engaged now, or if you are already engaged, set the date of the wedding. If you are already wed, you may think of how to make your relationship deeper, perhaps by having a baby or planning new goals you can do together. Your partner will be in sync with your feelings, and you will see this to be true at the new moon, January 20, when a new path will open for the two of you.
Friday, January 23, with Saturn in lovely angle to the transiting Sun, would be a lovely date to sketch out your plans together.
If you are single, you will continue to have Jupiter in your sign until birthday time in mid-August. Having a good fortune Jupiter in your own sign, Leo, is a rare, once-in-twelve-year blessing, and will increase your likelihood of meeting your true love tenfold. This behooves you to continue to circulate. Last November or December - holiday time - may have brought an introduction to an intriguing new romantic interest. You were under excellent romantic aspects, so if you are smitten with that person, give him / her a chance and stay the course. If not, each month will bring you new opportunities, dear Leo, so look your best and continue to be open to meeting new people.
Financially, you have Neptune in your joint financial sector, so now and in the future, look over every detail in any agreement you are asked to sign. You may miss a clause, and you may suffer as a result. Having your lawyer at your side will be worth his weight in gold, something you may see on January 19 when Mars and Neptune meet. It's a day you need to be very careful in all financial talks and should also check your statements for errors.
All month, plan to be present in any discussions that would affect your savings or investments, for you will want to voice your thoughts, not have someone else speak for you, assuming they know your wishes. It is fine to have a financial advisor - most people do - but have regular conversations to let him know your goals and to review the progress of your holdings. Good days for positive financial news include January 5, 14, and 27.
---
Dates to Note for Leo:
The full moon, January 4, influential plus four days, will likely bring hidden facts to light. It seems to be about something you were not to ever find out about, and when you do, you may be understandably upset to learn the truth.
January 4 brings a stabilizing vibration between Mercury and Saturn, a good time to state a firm decision or action. If you must sign a contract this month, do it on this day.
Mercury will retrograde January 21 to February 11 in Aquarius. Never run up too closely to Mercury retrograde.
Mars will move into Pisces on January 12 and stay until February 19, boosting your spending.
Do not commit funds on January 19 when Mars will join foggy Neptune, obscuring important financial facts. Be present in all financial talks being done on your behalf. Guard against identity theft on January 19.
Venus will tour your house of relationships from January 3 to January 27, making your relationship happy and bright.
A new day will dawn for your closest relationship January 20 when the new moon will appear arm-in-arm with wise Saturn, helping you make all the right decisions for the future. Remember to wait until February to make firm commitments to each other due to Mercury retrograde. Any contract signed when Mercury is retrograde does not work out and has to be renegotiated later, if you would even want to continue the relationship.
A lovely day for fun and love, especially if you travel, is January 13.
On January 14, teaming up with another person at an event (or when you go to one) will turn out to bring a stellar evening.
January 23 would be great for meeting with an older, wiser executive, or for having a fun, romantic night out, due to the signals between the Sun and Saturn, now in your most romantic sector. Singles, this day would be for you.
You'll aim to impress VIPs at work on January 30, and you will, in spades. You may score another jewel for your crown.
P.S. for January 2015
A Surprise for You, from Me! Happy New Year 2015!
See my 12 "Glamourscope Videos" by Sign for a Look at Your Year Ahead 2015!
Here is your Year Ahead 2015, all 12 signs about 3 minutes each in length. Make sure you click on your rising sign as well, for it is as equally as important as your Sun sign (you would have had to have your chart done in order to know your rising sign).
http://thescene.com/glamour/series/glamourscopes-with-susan-miller
Dear Readers,
Each year you have begged me to do a series of videos where I could share information about the year ahead for each sign of the zodiac. I wanted quite badly to do them, but I also wanted them to have beautiful production values, be completely unique, and be presented in an imaginative way. That was a tall order, which is why it has taken me so long to actually film videos. This is my first time!
My chance to do these beautiful videos came up when Conde Nast Entertainment (CNE) came to me with a proposal and a promise: we can help you in your quest, and you will adore the results! CNE told me that they would animate my words to illustrate my points in a compelling way. The CNE idea was so creative that I jumped at the chance to be part of this amazing project.
The team was large, and included the CNE team and the team from one of New York City's best animation houses. When I was on set, I learned to speak in such a way to allow the animators ease and accuracy in editing. We did each forecast in many different ways, in case the animators had to go back in to pull information. During the process, the animation editors and CNE executives were gradually learning about astrology, and I was learning about how such a complex and creative endeavor would fit together, piece by piece. This is a fascinating process!
The final results are adorable, sometimes funny, sometimes serious, and always accurate and informative. I know you will love these videos, and that you will want to share the links with friends and family. Each sign's video runs 4 minutes. Be sure to view your Sun sign forecast, and also the one for your rising sign if you know it. (You would have had to have had your natal chart cast by precise minute of birth to know your rising sign.) Both the Sun sign and the rising sign are exactly equal in importance, so both would be relevant to know when looking at your year ahead. In the videos you will see I give precise dates, so you may want to write them down. Of course, you can run the videos many times, and they will always be free to view.
---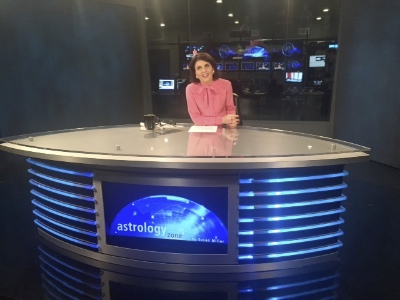 My Second Surprise for You!
Astrology Zone is Coming to Television!
I can only tell you the tiniest details, as I promised not to announce too much until I debut my new TV show on February 1. You will see it no matter where you live in the world, and all you need to do is come here, and you will get further instructions.
Here is a picture of the set, taken by an assistant with an iPhone. If you follow me on Twitter (@AstrologyZone) or Facebook ("Susan Miller"), you were among the very first to see this picture of my set, built just for me. We use real movie film (not video), and our production is done in Hollywood, California. Having my own show is the culmination of a long-held dream, so of course I am very excited!
I can give you only one little hint: my new TV show will not duplicate what you will have already read on Astrology Zone - all the material I will present will be fresh and new. It's my aim to help you get much more from your monthly forecasts. Come back next month when I will reveal all!
---
SUSAN MILLER'S APPEARANCES in 2015
Susan has no appearances in January.
---
LOS ANGELES CA:
SATURDAY, FEBRURY 7, 2015
MY ANNUAL KEYNOTE at the CONSCIOUS LIFE EXPO
Saturday, February 7, 2015, Noon TO 1:30 PM
La Jolla Room
LAX Hilton Hotel
(The Expo is based in the LAX airport for ease of access, and is quite a beautiful, comfortable, and affordable hotel. The hotel's interior was designed by a Feng Shui master. Special hotel rates for Expo attendees.)
5711 Century Boulevard
Los Angeles, CA 90045
Find out about the Planetary Trends/Forecasts/Eclipses for 2015!
Legendary Astrologer, Susan Miller dissects illuminating aspects about what lies ahead for all the zodiac signs. In this workshop you will discover:
What to expect in your personal life and career.

Learn all about four major eclipses of 2015 in Aries-Libra and Virgo-Pisces and how they will affect your sign even if you are not one of these signs.

Find out about the major move of Saturn out of Scorpio, where it?s been for over two years and into Sagittarius, and what that means for you.

Learn how to plan for the upcoming Venus retrograde from July 25 to September 5, 2015.

Discover how you can use the coming positive trends to your advantage and how to prepare for any possible challenges.
In this informative, fun-filled, entertaining, and interactive workshop, Susan will allow ample time for audience questions and comments.
Saturday Day Pass required plus workshop ticket
Day Pass: If bought in advance: $20. At the door, later: $25
Plus you would need a ticket to get into my speech, $25.00 if bought in advance, or $35 at the door.
Advanced ticket purchase for Susan Miller workshop talk: $25
http://www.consciouslifeexpo.com/-2015-workshops/susan-miller.html
Remember, you need to buy a Day Pass, besides the advance $25 ticket to hear me speak.
ENTIRE EXPO INFO:
February 6, 7, 8, 2015
Post Conference Seminars - February 9, 2015
Contact: 1-800-367-5777
Visit website: www.consciouslifeexpo.com
---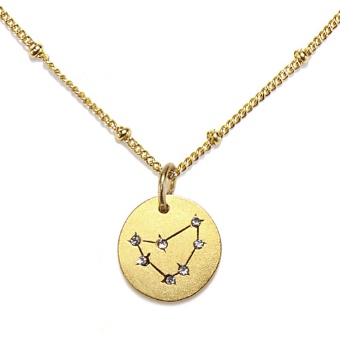 Check Out the Star Map Collection by Sequin
Last March, when I was still well, I was invited by Sequin executive women to look at an idea their talented New York City Sequin Design Studio had for a collection of pendants with an astrological theme. I immediately fell in love with the various astrological pendants, and they asked me to check to make sure all the designs and keyword descriptions of the signs to be used on their site were astrologically correct. I made a few changes to the keywords, but my involvement was very minimal. (Everyone, it seems, at Sequin reads Astrology Zone!) I love the quality of these beautiful pieces. Many girls layer several of these necklaces, using various lengths, and that's a great look too.
The pendants are all made in America and handcrafted by artisans using material components from around the world, and are so well priced that I feel they will fly out of their inventory. These necklaces are gorgeous. They are made of 22K gold-plated brass with antique finish and crystal details. I was impressed with the lovely chain that the pendants come with too, as it is tangle-proof and delicately made to look beautiful when worn. Whenever I wear my necklaces, I get so many compliments.
These necklaces make great gifts, and also would be a beautiful addition to your accessory wardrobe. I quickly chose those necklaces as part of my favorite things to give for holiday gifts, or for a friend's birthday. Imagine how surprised I was that Oprah had chosen this Sequin Star Map Collection as a part of her "favorite things" in her December issue! I was so happy for my new friends at Sequin and the incredible success of this new line of jewelry. It seems Oprah and I think alike!
If you order by December 15, you will get your gift by Christmas. Readers living overseas, please order by December 10 to allow extra time for shipping. Your necklace will arrive in a pretty gift box, perfect for gift giving. Remember to think ahead for upcoming birthdays and Valentine's Day - I know these necklaces are going fast!
Seen here is only one example of the Sequin Star Map Collection of pendants, so click through to see the entire range of jewelry, using this link:
http://www.sequin-nyc.com/collections/star-maps?ref=susanmiller
---
My New Apps for Android, Samsung Galaxy, and iPhone are Ready to Download!
Last January, Phunware met with me and we set out to design a completely new app for AstrologyZone readers. We have a free version and an optional paid subscription version for Google's Android and Samsung Galaxy, just like the iPhone readers experienced approximately a year ago.
My new app has a completely new, sleeker design and many new features. You will still have a free daily horoscope, or if you prefer to subscribe, a much longer daily horoscope. The long version is the one most readers prefer. The new applications work with iOS 7.0+ and Android OS 4.0+. If you are already a subscriber to my app on your iPhone, the new design will just slide in to replace the old design when you updated your app. If you have a Samsung Galaxy smart phone, you use the Android operating system, so you will get the new design too. The bugs in the iPhone are all fixed, no more signing in each time you check your forecast, and the tools section for subscribers, the prettiest section, is working flawlessly now. Android/ Samsung Galaxy were bug-free from day one, so go get my app in either one of our retailers, Google Play or Apple App Store, depending on your smart phone type. Search: "Susan Miller."
A feature of my new apps is that each app will automatically expand or shrink to fit your other devices, whether iPad or tablet, or any size smart phone you choose, large screen or small. These newly designed applications have kept screen real estate in mind, allowing users with phones or tablets to get a fully optimized experience for their device screen size. The iPhone 6 is now out, and my app will beautifully translate to that new screen size as well. Keep in mind that you are purchasing a subscription to my app from Apple or Google as retailers, not from us at Astrology Zone. I get a commission on the purchase price of the subscription you buy.
Whether you choose the free version of my app or choose to subscribe to the premium version, either way you will still always have your monthly Astrology Zone report on your phone, and my previous month's report as well. You can check all twelve signs of the daily or monthly horoscopes too by simply going to the home screen and choosing a different sign. The new apps will list my appearances too, but so far, I have no appearances on my schedule, but that might change in time, and if it does, you will be able to see where I will be immediately. Until now, only readers who went to their computers online would know in what city I would have new events. You can also see my Twitter feed on your mobile device too. The designs for Android and iOS are consistent; you get the same visual design and features for either application.
I would appreciate you taking the time to review my app, for I will read all your comments. I am grateful that sales of the premium subscription are so strong, for this allows me to keep Astrology Zone free. Thank you for your support and understanding while I recover from my illness.
---
Live Overseas? Or, don't have an iPhone, Android, or Samsung Galaxy?
Get all 12 of my daily horoscopes each day by email or pick yours up each day on special password-protected site.
To plan ahead, receive several daily horoscopes in advance!
By subscribing to DailyAstrologyZone you will receive a week of horoscopes inside your cell phone and / or computer. This means if you have a BlackBerry or feature flip phone, you can still get my daily horoscopes as long as your device accepts email. You will also have the option of accessing your daily horoscopes from a website online, from anywhere, any time, through a password-protected site for members only, or receiving all 12 signs my email each day.
For more information: http://www.dailyastrologyzone.com
---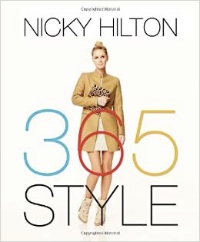 A New and Important Book on Fashion and Style:
"365 Style" by Nicky Hilton
Wow! Amazon tells me you bought SO many copies of Nicky Hilton's book in November!
I love Nicky's book too! Here is my review in case you missed it last month!
There are many books on the market on fashion and style, and I admit, I have bought many of them. In this new book, Nicky Hilton, designer, author, entrepreneur, daughter of Rick and Kathy Hilton, and sister of Paris, has created a completely original, honest, and remarkably wise book on style. It comes complete with many color photographs, and in it Nicky shows you ways you can upgrade your own fashion style from good to style icon level. The goal is to sharpen your personal style by looking within, not by copying someone else's style. Nicky gets you started by showing you some of her favorite style icons, but only to get you thinking. She gives many stories and examples from her own life, and she makes you enthusiastic about going through your own wardrobe to find ways to amp it up. The title of the book refers to Nicky's suggestion that you consider 3 aspects of your lifestyle, and choose 6 staple items of clothing and 5 essential accessories. Doing that will instantly get you a stylish starting point.
Nicky has attended all the fabulous fashion shows in New York, Paris, Milan, and more in her young years, but her advice is down to earth and certainly does not require you have a trust fund. Just the opposite, her tone is one of a best friend going through your closet and handing you advice that is at times funny but always wise. Certainly a lot of what Nicky says makes you think. In one chapter, she advises, "Always dress like you are going to meet your worst enemy" (i.e, bumping into the ex-boyfriend who betrayed you, or the mean girl in high school who made your freshman year a terror.) Nicky gives many examples of her own life and shows how running into that old boyfriend looking like a million because she had taken just a little extra time with her appearance on the way to meet girlfriends for a casual Mexican dinner gave her a happy boost during that unexpected nano-second on-the-street encounter.
With each page, you will rethink your own wardrobe and habits, and occasionally Nicky will casually toss out the very advice you needed most. When it happens, you will feel like you were hit by a thunderbolt. I enjoyed her advice about dressing for a first date, meeting his parents, and more, and all along she gives you many vignettes that allow you to see her own lifestyle. Those peeks into her own life allow you to understand why she has the authority and experience in her early thirties to write this wonderful jewel of a book.
She has advice on such things as:
The $30 wardrobe item you can't live without.

The one closet accessory that keeps everything organized at all times.

Five must-have wardrobe items, all affordable.

How to pack a suitcase like a jet-setter.
I feel you will enjoy this book and get much from it. Just click here to order your copy:
http://amzn.to/1qE6BzC
---
A COMPLETELY NEW WAY TO FIND LOVE ONLINE WITH DREAMCLIQ.COM
I have partnered with a new online dating site Dreamcliq.com, an entirely new way to meet people. We all know how hard it is to write personal descriptions. Dreamcliq is doing something new: users create visual profiles to easily express what they love. Instead of awkward written descriptions of yourself, you can use images to express who you are and what you love in style, art, travel, design, and entertainment. You will click on photographs that express the real you, and the process is fun. If you see someone that interests you when looking at the photographs they chose to express themselves, you can read my previews of your Sun sign's compatibility with the person you are interested in contacting. Just remember, all signs can get along with any other sign, for if love is there, the stars will open a path!
As a special gift to all my readers, you will receive 10 free cliqs to use on Dreamcliq.com when you sign up using this special access link. This promotion will be in place from now through December so that you can increase your chances of starting 2015 with a grand love in your life. This promotion on Dreamcliq is open to all my readers, male and female, straight and gay. Everyone of every sign is invited. Sign up - you have nothing to lose and everything to gain. When CEO of Dreamcliq Melissa Jones came to me with her idea sketched on paper a year ago, I didn't know her yet, but I was so impressed with her originality and intelligence, I knew immediately I wanted to work with Melissa. The media has reviewed her brand new site, and the rave reviews are in. You can see them as you explore the site.
To learn more about love and astrology, read my article on Dreamcliq's blog. I have lots to say in my essay about love and how astrology works to help you find love, so be sure to scroll down to catch all that I wrote. You may find my words helpful as you embark on your new adventure to find love. I love Dreamcliq because by choosing from images for your profile, you reveal your personality in an artistic way that is honest, stylish, and exciting. Give it a try!
---
MY PERSONAL CUSTOM HOROSCOPE BOOKS
WRITTEN BY SUSAN MILLER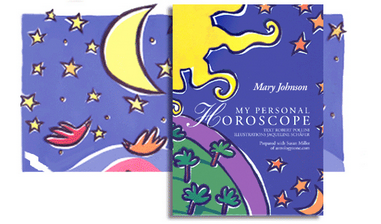 Looking for unique gifts for the coming holidays? - Choose from My Personal Horoscope for Adults or for Babies (Baby Boy light blue cover or Baby Girl pink cover), or for a Relationship, the Two of Us.
Two weeks on average from order receipt to delivery to any US destinations. One week longer elsewhere.
Also PDF option available for destinations overseas where delivery tracking of printed books is prohibitively expensive. The content is same as the print edition with its full-color illustrations by Jacqueline Schafer. The PDF delivers within 7 days on average.
My Personal Horoscope Custom Natal Chart Book $49.99 plus shipping / tax
For more information call Susan's publisher, Arthur Heydendael 914.271.3640 ext 14 or click here:
http://www.americadirectbook.com/Customized_Books
To view a forecast, select a sign from the menu below and click on Go.