Libra Forecast for July 2014
By Susan Miller
Libra, symbolized by the scales, is said to prefer life in balance, but over the past several recent years, your life has been anything but balanced. You were caught in the middle of some fierce planetary conflict that brought you challenges at every turn, and it all came through no fault of your own. One close relationship may have concerned you - in love or business - or you may have been beset with a competitive colleague who put obstacles in your path, perhaps because this person was threatened by your talents. You would have noticed this near April 15, a monstrous full moon eclipse in Libra, or a month later, in May. (In some cases, eclipses deliver news one month to the day later, plus or minus five days.)
Career has been a very big focus too, and if you feel you could still use more help with professional matters, the new moon in Cancer (6 degrees) that occurred June 27 would still be sending you strong and friendly help in early to mid-July. That new moon was to be all about generating fresh opportunities in your professional life. It appeared in your tenth house, an area that rules fame and honors, so this tells me this month would be the best one for generating high status job options.
You can now find a way to make a step up to a position of greater responsibility and power, not one that seems just more of the same of what you've done until now. Of course, you would have to want it. You will have to act fast, as Jupiter, the giver of gifts and luck, is winding up a year's visit to Cancer and residing in this vary same prestigious house, but will leave July 16, not to return for twelve years. When Jupiter is present, doors open more easily than at other times. (As an aside, Mercury was retrograde last month, but that changes now, for Mercury will move forward on July 1. Although Mercury is always a little sleepy in the days after he moves forward, he will be peppy again by July 16, so life will have a quicker pace with each passing day.)
While you will always have a chance to scale new heights in your career after Jupiter leaves Cancer (not to return until 2025), right now you will have a big edge over the competition. All you need to do is make calls and find a position to aim toward. Look at listings, but also enlist people you know in your industry to help you find jobs that are emerging before they become public knowledge. Some of your friends may able to vouch for your qualifications and experience. You would need to do all of this in the first two weeks of July for best luck.
This new moon of June 27, still strong in early July, was in elegant angle to Neptune in your house of work assignments (sixth house), so if you are paid for your ideas and work on creative projects (or if you support creative talent in your work), you will do extra well. This same new moon was opposed to Pluto, so you will have to be very persuasive, but who better than an analytical Libra to do that?
If you decide to stay with the same company where you are working now, you will still have a chance for a promotion, but again, it will be the depth of your determination and passion for the work that will make the difference between you getting the job or someone else being given the plum assignment. In other words, you will have to fight for your promotion, but you can win.
Your home or other property is likely to draw your attention at the full moon in Capricorn, July 12. You've had a lot going on in this area of your life lately, so you may have been making extensive repairs to your home or painting; or having a professional shampoo your rugs, carpets, and upholstery; or you may have been de-cluttering closets, or renovating your kitchen or bath. Or, you may have just recently moved into your new space and are deciding where to store things.
The project you have been doing seems to be coming to conclusion on July 12, or within four days. Additionally or alternatively, you might have rented a country house to allow you a number of fun weekend getaways, and if so, you may be having friends or family over to stay with you this weekend, July 12-13.
I feel you will love the results of the work on your home and any entertaining you do. On Sunday, July 13, Mars and Venus, the two planets that belong together to set off the sparks of love and beauty, will meet July 13, one of your favorite days of the month. The whole weekend will be sprinkled with pixie dust, for Venus rules Libra.
If you have had no emphasis on your residential apartment or house, then you may need to attend to something that will come up at this time. Your parents are ruled by the fourth house of home, so if you were concerned about your mother or father, that situation is about to crest now at the full moon. Saturn will be very friendly to this full moon, a great sign that the final outcome of your decisions and actions will be positive. (Saturn rules Capricorn, the sign the full moon will appear in this month. With the ruler of that moon, Saturn, in great shape, the outcome should please you, and also be long-lasting.)
The second part of July is when the magic happens. Two planets will move into new signs, giving you fresh hope for a better day-to-day experience. If you felt stuck, the move of planets and the friendly new moon will help you move forward again.
First, the most exciting shift will be when Jupiter, the giver of gifts and luck, will move into Leo on July 16, to stay thirteen months, until August 11, 2015. This is great news because Jupiter will now be in a fire sign that will blend beautifully with your Libra air sign element. Now Jupiter will light your eleventh house of hopes and wishes, so something you have dearly wanted for a long time may now be manifested for you.
The wish can be spiritual ("I wish for a baby" or "I want to find my true love") or material ("I badly need a new car" or "I want to own my own apartment someday.") This year the universe will work to help you get started on that dream. If you were born in September, you will feel this influence now, almost immediately, before your October-born Libra friends do. Still, ALL Libras will benefit, as Jupiter will move over all degrees of Libra, from 0 degrees to 30 degrees, between now and the date Jupiter will leave Libra next year, August 11, 2015. Everyone wins.
The same eleventh house rules friendship, and where you will also see enormous benefits - current and long-term friends, and the new people that will pour into your life from now on. They will be a source of comfort, inspiration, stimulation, and pleasure.
Friends will also help you in practical ways and may be more helpful than professionals you hire. Need to sell a house? Ask a friend if she knows anyone who is in the market. Need special tutoring for your child? Rather than pay professional consultant, ask other mothers and fathers in your child's school (you can always hire the expert later if need be). If you need a refrigerator, friends will direct you to the places you can buy the one you have your heart set on far below retail. Friends will link you to job opportunities this year and to social activities, and if you are single, one friend may bring you a new romantic interest if you ask for an introduction.
The point is, this is the golden spot in your chart in your chart, so your friends and acquaintances - and even casual contacts - are the people with whom you will gain the most personal growth and enjoy the most luck and happiness. You will expand your circle many fold from now until early August 2015. It would be a superb year to join a social club, or a professional club in your industry. You need to attend meetings and events to benefit, of course, but if you do, you'll be glad you did. You worked on your professional life (or meditated about what should come next) This month, you will get a clear indication of just how much friends are willing to do for you.
It's been said that your friends make up the family not that you were born into but the family you choose, and that will be quite true this year. Some friends will fade out of the picture, which is normal part of the attrition process in life. You may see that in some cases you and certain friends won't have as much in common as you did in the past. You will be developing new interests, partly because of the influence of the new people you will be rubbing shoulders with in the coming months. With Jupiter in this house, the people you meet will be successful types, and they will inspire you.
All that I have been discussing will take on a new twist at the important new moon, July 26, in Leo, 4 degrees. In the two weeks that follow this new moon, you will see the scene shift and life become more vibrant. Friends you've not had time to call will suddenly be back in your life, and you'll find yourself drawing up plans for dinner, to attend parties, to go shopping together, or to draw up business ideas to enact together (a good idea!). This new moon will, remarkably, be conjunct Jupiter, making it the finest in 2014. In the ten days that follow that new moon, be sure to circulate and be open to new faces. Some of the people will be very different from the friends you've had, but that's the point! You'll be in the mood for fresh and new - go with that!
To see what I mean, put a big read circle around the luckiest day of the year, July 24, when Jupiter and the Sun will meet in Leo in your friendship house, and you will benefit from the efforts of a friend or from a club you belong to. Someone you know will be willing to go quite far out on a limb for you, and you are likely to be touched by this person's kindness and by how much your pal believes in you. The eleventh house, so golden on July 24, is associated with humanitarian efforts, so if you lead a benefit fundraiser on this day, you are likely to generate quite a bit of money, transforming you into a tower of strength in the community.
Now let's shift over to the move of Mars into a new sign. Mars has been in Libra for a very long time, and that's usually a big plus. I spoke about this last month. Normally you would jump for joy to have Mars, the energy planet, in your own sign, for it places you in a high profile position, and better yet, it give you lots of control over events.
However, in 2014, Uranus, Pluto, and Jupiter were all at hard angles to Mars, to precise degree, including this month, so you may have felt worn to the bone with Mars in such a vulnerable place. Instead of control, you were hammered with a great deal of pressure. With astrology, you always have to look at where the other planets are moving and synthesize their actions into a whole. You can't just look at one aspect, Mars in Libra. Since December, the other planets ganged up on Mars like a rowdy gang on a dark street. It was not a pretty picture.
On July 25, Mars will finally move into Scorpio and your second house of earned income. Although this will not be the easiest place to host Mars, compared to what you have gone through, I see this as an improvement. Money has been a sore point for you for months, extending back as far as October 2012, due to the arrival of Saturn, the taskmaster planet, in Scorpio. Saturn has tightened your cash flow, but you also learned to stretch your dollars impressively to allow you much value. You may have found ways to negotiate more effectively, too, not only in your professional life but in your personal life too. Saturn has been giving you a cosmic financial MBA, and you are still being tutored. The lessons you learn this year will carry you forward for three decades, and you will be all the wiser for having gone through this period.
By the end of 2014, Saturn will move out of Scorpio temporarily, from December 23, 2013 to June 14, 2015, and you will have instant relief from all the financial juggling you may have been doing lately. Saturn will be back to Scorpio from June 14, 2015 to September 17, 2015, a relatively short time, so that middle period of 2015 won't be very troublesome at all - Saturn will be on his way out, and you will feel change in the air. You did some of your hardest work learning about money last years, but will continue to do so this year.
Adding to Saturn will be the move of Mars in Scorpio too, and Mars, an assertive, determined planet, will tend to force your expenses up. You may have planned to write checks say, for an overseas vacation, or a summer house you had eyed and want to rent next month. In life we have expensive months and ones that hardly require any large outlays. Your high spending will keep up until September 13, and then, instant relief.
Romantically, the new trend that is starting up with Jupiter in Leo will help you in the romance department, for new friends will bring you more new friends. They, in turn, will invite you to events, and may be willing to make introductions. Welcome the changes that are coming, dear Libra - they will ease your situation and bring you much more fun and love.
In the meantime, this month, enjoy your ruler and planet of love and attraction, Venus, in Gemini, a great spot for you, from the start of the month until July 18. Get some new clothes, a great haircut, or a new scent (and that includes you, my guy readers!). A new day is dawning and I want you to be ready!
---
Summary
If you are serious about getting ahead in your career, you must use the energy of the recent new moon in your achievement sector (the one that appeared June 27) during the first two weeks of July. Schedule your meetings, interviews, and presentations immediately. Jupiter, the great planet of good fortune, is about to leave your professional sector on July 16 this month, not to be back until June 2025. While you will always have opportunities to get ahead in your career in the intervening years, Jupiter is the very power of goodness (and even covers miracles!) and can make things happen fast. Jupiter will help you with a warm and comforting spirit of generosity. Jupiter will leave your prestigious tenth sector on July 16, so you will be given a second chance to get ahead now. Use it to your advantage. Remember that you need not land the new job now (or, you might) but what matters is that you start the process.
Your expenses will now likely start to mount because now Mars will move into your second house of earnings and spending on July 25, to stay until September 13. You may have a number of big expenditures coming up, for tuition, a summer cottage rental, fix-ups to your residential space, a costly vacation, or for other reasons. Mercury was retrograde last month so you may have wisely put off buying electronics or other big purchases. Mercury goes direct July 1, so that's good news - no more reason to delay those acquisitions. Also this month, Saturn, the ruler of your home sector, will move ahead (being no longer retrograde) on July 20. You may make an important home-related decision over the full moon, July 12, just prior to Saturn's turn direct. Things are getting settled this month, and in so many ways, you will like the faster pace.
Once Jupiter enters Leo on July 16, to stay until August 11, 2015, a period of nearly thirteen months, this great planet of expansion and happiness will bring his goodness to your area of friendship and fun. In coming months, you will see that your friends believe in you and are willing to go out of their way to help you. Leo is a fire sign, so it blends beautifully with your Libra air-sign element. Jupiter will expand your opportunities quickly, and you will absorb Jupiter's goodies more easily than when Jupiter was in water-sign Cancer.
You will meet many new people from all sorts of backgrounds and nations, and many of those will be distinguished, successful types. Ambassadors, judges, professors, businessmen, and other accomplished people will come into your sphere and be quite stimulating. You will socialize much more, and that will please you, gregarious Libra. In your future, you will expand your contacts tenfold, so whenever you leave the house, do so with business or personal cards. Your friends will also help you financially, by giving you tips on buying things below retail, and by giving you persuasive references when you need them.
Watch for an extremely important social event to dot your calendar July 24, when a friend may go out of his way to help you. This is your golden, lucky day, and the best of all of 2014. If you are doing a charity or community benefit, you will raise an impressive amount of money to help your cause.
Two days later, the new moon, July 26, will appear in your same social sector and open you up to many invitations and interesting people. Devote late July and all of August for fun, and put career concerns on the back burner for just a little while. The people you meet now can help you on many fronts, including career, so it would be a shame not to use the package of energies the universe has prepared for you!
---
Dates to Note: LIBRA
Most important dates for love, meetings, or actions on any front for Libra: July 9, 13, 17, 21, 22, 24, 26, 27, and 31.
Mercury goes direct July 1 after having been retrograde since June 7.
Saturn goes direct July 20, after being retrograde since March 2.
The first two weeks of July will be superb for finding a prestigious career position. Jupiter in Cancer will help you before moving on to Leo, and the new moon of June 27 will be critical as well - jump on career matters quickly in July.
Try to stay close to home around the July 4, when you may have an event with family or need to focus on your property that will need attention.
July 8 may bring about turbulence with your partner when the Sun will be in hard angle to Uranus. Avoid bringing up any sensitive topics around this day.
The full moon on July 12 will hopefully bring about a conclusion to a difficult or strenuous matter regarding your home or a family member. You may sell a house or buy one, or see a renovation conclude. Important news about one of your parents may come up now too, and it may yield a final answer to a question that has been going on for some time.
Venus moves into the sign of Cancer on July 18, which will boost your popularity in your career. Use this time to make proposals to VIPs. Venus will provide this boost till August 12.
Jupiter will join the Sun on July 24 making it the luckiest day of the year. These two luminaries will meet in your house of friendship - get set to see how dearly your friends love you and are willing to go out of their way for you. What you start on this day will have long lasting benefits for the maturation of projects.
If you hoped to join a club or get involved in social media, you will have your chance in the two weeks after the new moon arrives July 26. A new, close friendship is very likely to develop soon too, and having a new close friend will refresh you in ways you can't imagine.
P.S. for July 2014
SUSAN MILLER'S APPEARANCES for July 2014
Susan Miller has no appearances during July
---
"OUTLOOK for the Second Half 2014 by Susan Miller" is now available:
In Print $4.99 plus shipping via USPS with tracking. Total under $10.00. One and two copies same shipping charge. https://www.americadirectbook.com/outlook2014
Digital PDF: $5.00 https://www.americadirectbook.com/outlook2014pdf
Amazon's Kindle: http://amzn.to/1lE7a8t
Barnes & Noble Nook: http://bit.ly/Uec9D3
---
The Year Ahead 2014 Astrological Calendar
By Susan Miller
My Year Ahead 2014 collectible calendar is now $9.99 (at a 45% discount, from original price $17.99) plus shipping, any applicable tax
Calendars are used to mark time, but have you ever had a calendar that helped you use your time productively? My new Year Ahead 2014 Calendar can do just that. I write every word myself in this stunning calendar with original fine art by socialite, author, and fine artist Gloria Vanderbilt, mother of newsman Anderson Cooper, and great grandchild of railroad entrepreneur Cornelius Vanderbilt. (Grand Central Station was originally her great grandfather's business headquarters.)
Gloria Vanderbilt, now almost 90 years young, licensed the reproduction rights to her critically acclaimed artwork to Susan Miller who self-published her calendar. The inks are rich, the paper heavy, glossy, and snow white, allowing Gloria's paintings to jump off the page. Each month, from January 2014 through the extra bonus month, January 2015, is found an inspirational quote from Gloria, centering on her philosophy of living life fully and creatively. With fourteen of Gloria's paintings, this calendar will soon become a collector's edition and will not be reprinted when stocks are gone.
Aside from having happy, vibrant art to look at all year, The Year Ahead 2014 calendar has many other uses, unlike any you have had in a calendar before. On every important day of each month I list the aspect and what it means, in easy to understand laymen's language. This means the next time you are about to make an important appointment, and the VIP asks you, "Do you want to come in Monday or Thursday?" you can say you will consult your calendar and know immediately the day to choose.
In a year like 2014, where sparkling aspects will stand side by side difficult ones, this calendar will not be a luxury but a necessity.
Also included in the calendar are:
- All the start and end dates of the retrograde planets in 2014,
- Detailed discussion of the new and full moons (new!)
- The date when planets move into new signs (and how long they will be in that sign), all listed on the same day entry
- The planetary aspects of the four eclipses due in 2014, and explanation of what each eclipse will bring.
No more surprises! Be in the know about upcoming events, so that you can plan your biggest initiations. This calendar is a "must" to keep with you all year, and is available here, from Susan's publisher, but not in bookstores or other retailers. Get it now, while you can: $9.99 plus tax and shipping. We ship to all nations of the world: http://bit.ly/186zM0i
---
MY PERSONAL CUSTOM HOROSCOPE BOOKS
WRITTEN BY SUSAN MILLER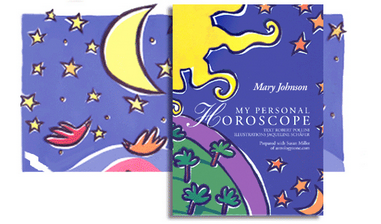 Looking for unique gifts for the summer months? - Choose from My Personal Horoscope for Adults or for Babies, or for a Relationship, the Two of Us.
Have an entire book written by Susan Miller, which runs approximately 65 pages, about your natal horoscope. Get to know your rising sign (also called the ascendant) as well as the placement of each of your planets, and what it all means. Susan's natal chart for babies centers on the talents and gifts of the little child. Order today and you will have your book within two-and-a-half weeks.
Two weeks on average from order receipt to delivery to any US destinations. One week longer elsewhere.
Also PDF option available for destinations overseas where delivery tracking of printed books is prohibitively expensive.
My Personal Horoscope Custom Natal Chart Book $49.99 plus shipping / tax
For more information call Susan's publisher, Arthur Heydendael 914.271.3640 ext 14 or click here:
http://www.americadirectbook.com/Customized_Books
---
A New Service: WiFive.us
Don't we all love a bargain?
We all want to know about the deals being offered nearby in our neighborhoods to save money. I found a way when a brilliant entrepreneur, Luis Sanchez, came to see me to show me he had developed a way of seeing all the various deal-of the-day websites that are featuring discounts on food, entertainment, boutiques, and other establishments, all in one click. Traveling? All you need to do is enter the zip code of your new neighborhood as you travel each day and you can see the deals that may be just across the street from your hotel.
The company is called Wifive.us and is ready to use today. It is a New York-based startup with a location-based search engine that gives you access to thousands of local online deals in a single site.
For now, Wifive.us is only available in the United States. It covers most of the deals and services you would see from various sources (Groupon, Amazon, Google deals, and so forth) all at once, so you don't have to go from site to site to find a deal that appeals to you, as Luis would humorously say, "until your head hurts." There is no registration necessary, and no useless emails to stuff your inbox each day.
Just type your address or ZIP code and get the deals you want when you want them. You pull in your information, which is far better than having many emails pushed to you. Try it and like the service on Facebook!
A word about the web address of WiFive.us
You may be wondering, what exactly is .US?
You might have thought the domain ending .us would only be only for government agencies and schools, but since 2002, individuals, businesses, churches, and non-profits have adopted .US web addresses to make their mark on the Internet. The .US is a new domain ending.
Just remember the name of the new service that no doubt you will be using quite a bit: pronounced as "wi-five-dot-us" otherwise seen as: http://www.wifive.us
---
Goodbye to My Former iPhone App on November 12, 2013
Hello to My New One:
"Susan Miller's AstrologyZone Daily Horoscope FREE!"
Download today!
Now that my former app, Astrology Zone Premier, will no longer be supported for iPhone, you might want to download my free version of "Susan Miller's AstrologyZone Daily Horoscope FREE!" for iPhone today. (A search for Susan Miller or Astrology Zone should bring the app up immediately.)
My former app, Astrology Zone Premier will not automatically change over to the new free app, so you will have to download my new app. Once you have it, you can decide if you would like to upgrade to the version you've come to know and love by looking inside the app and signing up for a subscription inside the app. If you should have to reload and reinstall your app, you will not lose your subscription as long at you responded to Apple's dialog box asking you to register your purchase immediately. If you don't register, if you lose your phone or need to reinstall your app, you won't be able to do so. Be sure to register your app!
If you have any questions or need help, you can write to Jennifer@Phunware.com and engineer Jennifer will be happy to help you.
---
ANDROID AND SAMSUNG USERS
Astrology Zone Premier App is Still Available for You
Android and Samsung users have Astrology Zone Premier to enjoy a little longer. We are writing NEW code for your Android and Samsung cell phones, and making an app similar to the one for iPhone, with some cool features just for your phone.
---
Live Overseas? Or, don't have an iPhone, Android, or Samsung Galaxy?
Get all 12 of my daily horoscopes each day by email or pick yours up each day on special password-protected site.
To plan ahead, receive several daily horoscopes in advance!
By subscribing to DailyAstrologyZone you will receive a week of horoscopes inside your cell phone and / or computer. This means if you have a BlackBerry or feature flip phone, you can still get my daily horoscopes as long as your device accepts email. You will also have the option of accessing your daily horoscopes from a website online, from anywhere, any time, through a password-protected site for members only, or receiving all 12 signs my email each day.
For more information: http://www.dailyastrologyzone.com
To view a forecast, select a sign from the menu below and click on Go.