Taurus Horoscope for September 2014
By Susan Miller
You have just entered a light, sweet month. You are now in the realm of Virgo's birthday, an earth sign that blends beautifully with your earth sign, dear Taurus. You just came through the new moon in Virgo at the end of last month that appeared August 25 and put you in the mood for love. That new moon still has some life to it, so if single, keep going out after work. Venus will brighten up your social life from September 6 to 29, a great time to improve your appearance and to shop for new things to wear.
This month, a very special social event, one that is quite romantic and poetic - the full moon, also called the Harvest Moon in September - falls in Pisces 16 degrees on September 8. This full moon event is likely to bring a beautiful event over the previous weekend, September 6-7. This will be a highly romantic event, for everything about Pisces is soft, emotional, and warm. There'll be flowers, soft lighting, music, and wonderful food. This is no business party - this is purely social, very possibly given by a friend.
Neptune will be very prominent, so you are likely to be transported to an otherworldly place of the mind and heart by the exquisite mood the host has created. If you aren't invited to any events, than consider giving a party yourself, and spin a memory with the enchanting atmosphere you create. You can give a tiny dinner party for 4 or 6 and make it one of your best. Pluto will also be prominent, too, so whether you attend a friend's party or you give one yourself, it appears among the guests will be a number of highly successful people who will be fascinating and add much to the glow of the party.
Next, September 10 will bring another wonderful day to socialize or to shop for new things for the coming season, for yourself or, if you prefer, to get new things for your home. Mercury will be meeting with Jupiter on your behalf and setting off lovely sparks. This would also be a golden day to sign a contract.
Single Taurus have great aspects for love due to that August 25 new moon I just mentioned, but some attached Taurus have been struggling with a difficult relationship. This comes due to the long tour of Saturn through your relationship sector that started in October 2012. Saturn, the taskmaster / teacher planet that makes us more realistic and readies us for greater responsibilities, has been busy testing the commitment you have to one individual. That person may NOT have been a romantic partner, such as your spouse, but instead may be a business partner, agent, manager, lawyer, accountant, or other person you collaborate with in a one-on-one way. If you have no partners in your life, or, if those relationships were all strong, Saturn also tested the state of your health.
In terms of your relationship with a close partner, Saturn has been teaching you that in life, a partnership cannot always be a 50-50 situation. Sometimes you will need more from your partner than what you are able to give, and at other times you will get more help from your partner when you go through a hard patch. In another manifestation, if your partner has been taking advantage of your good nature, in love or business, this will (or already has) become evident in a way you can no longer ignore or excuse (as you have done in the past). In cases like that, it may make you physically sick to see the true colors of a partner who has betrayed you, but you will have little choice but to leave.
The reason these types of questions are coming up so strongly now is that you have Saturn in your committed partnership house (ruling all contractual relationships, in love and in business) and you ALSO have hosted Mars there too. Mars' job is to patrol that area of your chart to see if he can find any weak links. You may have assumed all was fine with your relationships until Mars came by in late July. When Mars stirs the pot, hidden actions and feelings come up to the surface. With a family of eclipses in Taurus-Scorpio and Saturn in Scorpio zeroing in on the same partnership area of your life, you've had a LOT of energy there. As said before, if your partnerships were in good shape, Mars began to move on to test your health and stamina. If you need medical advice, you found out quickly.
Having Saturn opposing your Sun make you feel, at times, lonely and distanced from all your usual people who support you, for this is a trademark outcome of Saturn opposed to the Sun, and you also had to juggle surprising, unpredictable news from eclipses in Taurus and Scorpio. That is a lot to handle, dear Taurus. You certainly have had a time of it, and you have my full sympathies.
The last eclipse you had in Taurus was April 28, 2014, and if you have a birthday that falls near that date, you likely saw some sort of change regarding a relationship at that time. We have another eclipse coming next month, in October, that will affect you, but this time much more positively. Actually, to be accurate, two eclipses are on the way, a full moon lunar eclipse in Aries on October 8 and a new moon solar eclipse in Scorpio on October 23. That October 23 eclipse in Scorpio will be friendly, and it may open a door to a new conversation involving a partner (the present one you've been thinking about, or a new one). The eclipses in April were hard ? the April 15 eclipse was downright monstrous, and the April 28 one in Taurus less so. Nothing like that will arrive in October.
Taurus who were born in April or have a birthday that falls prior to May 8 are now finished with the most extreme tests of Saturn. If you have a birthday that falls from May 8 to 20, you are feeling Saturn moving over your Sun right now. I would rather have not told you about that, as I don't want to make too big a deal over this. You already knew things were hard, and fortunately, they won't get any harder. In fact, your life is about to get much, much happier.
Here is the sensational news on two fronts:
1. Mars will leave Scorpio on September 13, not to return to Scorpio until January 2016, and by then Saturn will have been long gone, and the eclipses in your sign will be finished for nine years, so they won't be back either. Relationships will improve or else you will leave the alliance, in which case you won't be frustrated with it anymore.
2. Saturn will leave Scorpio, too, and stop opposing your Sun on December 23, 2014 - yes, of this year! Again, you either will have left the relationship or repaired it, or if you had only strong relationships in business or love, your health may have suffered. It will now be due for an uptick.
This news must sound like a miracle. You are so close to feeling relief, it's crazy. Saturn never rewards during his period of tutoring. He does reward when he leaves, so you are about to get Saturn's gift, and when it comes you will instantly understand it is from him, as thanks for dealing with his vigorous training. It may come shortly after December 23 this year, or wait until the technical end of Saturn in Scorpio's opposition to your Sun, in September or October of 2015. Either way, a reward will come.
It is true that Saturn will retrograde back into Scorpio for a short thirteen-week stay next year, from June 14 to September 17, 2015, but you will not notice his return very much, and only slightly if your birthday falls from May 18-20, as Saturn will orbit in the very latest degrees of Scorpio. If you are mumbling to yourself, "Oh great, that's me!" I say to you that you already know Saturn's drill, as you have already had months of experience with his tutoring. Next year's thirteen-week span won't be anything new. As Saturn returns in retrograde, his mind will be mostly on his next stop, Sagittarius (only two degrees away), not Scorpio anymore, so don't be anxious about his return. For all practical purposes, come December 23, 2014, he will be gone, and you won't miss him. Saturn will not to trouble you again until 2041, decades from now, and the second (or third) visit of Saturn is always infinitely easier.
It's interesting to note that Saturn rules older, mature people, and Uranus rules small children and teens. When we are young, we like Uranus - Uranus encourages rebellion and individuality. As we get older, we find the unpredictable side of Uranus maddening (think of a little toddler darting about a room, getting into everything - that's pure Uranus.) Yet as we age we find Saturn's insistence on routine and consistency comforting. Kids find Saturn restrictive and boring. As you see, the older you get, the more you begin to like Saturn, and the less you have to learn from him, for hopefully you got all the information you need from Saturn during his first or second visit. (We only get a maximum of three visits from Saturn in opposition to the Sun in a lifetime, as each visit happens every 29 years for about a two-and-a-half-year tutoring session.)
When Mars enters Sagittarius this month, from September 13 to October 26, you will focus more on money - not salary that you earn, but jointly held finances, ruled by the eighth house. You may think of your credit card, loans, and mortgage as your money, for example, but technically, those fall under the eighth house of shared money. Your lines of credit emanate from a bank / credit card company, so it is not yours; it is money that you have to pay back. The eighth house generally rules big money to fund a dream, such as to buy a house, go to college, do home improvements, and so forth. It is money usually that would be more than the average person has saved in the bank, so the customer goes to a bank to get the capital he needs to get started. This is the area of your chart that will light up September 13.
Last month you and I talked about how Jupiter, the giver of gifts and luck, has just entered your fourth house of home and property. Jupiter expands and improves everything it touches, so your home may feel bigger now (or soon will), perhaps because you are moving to a new space (or just did), have been clearing out clutter, or saw a roommate, ex-lover, or soon-to-be-ex spouse move out, thereby doubling your space without having to move. (It looks like you will be able to cover the cost of the rent / mortgage / common charges without a new roommate because I see your space staying large.) These are just a few examples, but you see my point.
When you have a large outer planet sitting on the north, south, east, or west point of the chart, that is, the first, fourth, seventh, or tenth houses as you have right now with the great benefic, Jupiter (fourth house), that planet always acts very powerfully, like a wild stallion. In this case, that's GREAT news, as you want a powerful Jupiter! (Saturn and Mars are on one of those sensitive points too right now - seventh house - but as said, these two guys are leaving soon! Mars will leave on September 13!)
Because Jupiter is in your house of home, now that Mars is entering your eighth house, and expenses will mount, you may be doing most of your spending on your house or apartment. You may be buying, selling, or renting property (including a vacation house), or you may plan to refresh your rooms with a fresh new coat of paint. You may make extensive repairs, order cleaning maintenance on your upholstery and rugs, or schedule major renovations, such as to put in a new kitchen or bath. Or, you may buy a handsome piece of furniture or beautiful rug, several new kitchen appliances, or a new mattress/box spring. Your chart suggests this is where your money will be going, and so if it is, you will enjoy these changes.
Here is what you need to know: Mercury will retrograde from October 4 to 26, so you need to make your selections and to buy / sell property in September, staying away from October. You must never buy an electronic item with Mercury retrograde, so as you see, the whole month of October will be a bad time to shop. Do not run up against the start and end dates of Mercury retrograde (October 4 and 26), as you should leave a number of days empty. The more space you leave, the better.
Here is the fabulous news I have been bursting to tell you! On Thursday, September 25, good luck Jupiter will receive a golden beam from surprise-a-minute Uranus. This adds up to incredible luck in regard to all your home ventures. News will arrive like lightning, and it's something you'd have never expected in a million years.
If you need to see a bank about funding, choose September 25 to make application and to meet with your banker. If you need to close on a house, do it on this day. Need the perfect piece of furniture? Shop on this day. Jupiter in "trine" angle to Uranus happens only very rarely. The last time these two powerhouses of the solar system communicated in a similar friendly fashion, it was January 4, 2011. Take this aspect seriously as it is one of the emerald aspects (as I call it) of 2014 - precious and sparkling, sent from a loving universe to revive our sense of hope, optimism, and happiness, and to help us start a fresh new chapter somewhere in our lives. You get to choose! I love that this aspect will arrive on September 25, for it will come only one day after the new moon in Libra. This will give the aspect more power and punch.
The new moon of September 24 will arrive in Libra, 1 degree, and allow you to make positive changes to your solar sixth house. This sixth house of your chart rules two things: 1) the steps you take to get and stay healthy, and 2) your day-to-day work assignments. Let's look at both.
As I wrote earlier, you might be having a health concern, and if so, this new moon will be unusually powerful (in a good way) because it will appear at 1 degree of a cardinal sign (aligning with the point of the compass, considered VERY energetic). See a new doctor for a second opinion if you like, or start a series of protocols to address a present health matter, or start working with a physical therapist to get a joint to move more smoothly. If you feel fine, it's a great time to go back to the gym, to join a new group fitness class, or to hire a trainer. Many people make New Year's resolutions in January, but this new moon is actually better than any time you could have chosen earlier this year.
In terms of your work, the sixth house is NOT the area where you will get a promotion but where you get new assignments from your present employer, or side work that will bring in more money. While you won't get a promotion if you change jobs (it would be a simple lateral move, no matter what the new employer tells you; I can see it mathematically), you can build your reputation by doing a great job on those assignments. It seems a great deal of work will be coming in, which would be good news if you are self-employed because that adds up to profits! You will have to be organized to do all this work in coming days, so investigate new software and other ways to streamline your work. You might have to hire new recruits too, so save those resumes people send you.
As you see from your September outlook, you have so much to look forward to, dear Taurus! It's sure to be a busy month, but in October, things will slow down due to Mercury retrograde. Plan to let go a little - there will be nothing you can do to force things forward (and it would not be a good idea to even try).
In October, return to unfinished projects and find ways to make them better. Reconnect with friends and business colleagues from your past, clear out clutter, and get ready for a better life when Saturn leaves December 23. You may want to plan a special celebration on that date!
---
Summary
Lucky you, you have a divine romantic experience coming up on the shimmering Harvest Moon, September 8. You will likely feel the enchanting affects a bit earlier, over the weekend of September 6-7. This tender full moon will act like a little matchmaker to see you coupled up if single, or if attached, to enjoy much more loving attention from your partner.
In addition to this gorgeous new moon, you will also have love and beauty planet Venus, now in Virgo, the best place for Venus to be for Taurus. Venus in Virgo will tour your house of true love and add to your charm throughout September, so no doubt you will sparkle at any gathering.
While you have Venus, the planet of beauty and love, in Virgo (the only time this year that this will happen), do all you can to improve your appearance. Call your favorite stylist to design a fresh new hairstyle for you or book a soothing and luxurious spa treatment, such as a wrap, massage, or facial. Venus will remain with you until September 29, just in time to choose new wardrobe additions for the coming season. The boutiques will begin to brim with fashionable items now - don't delay. Start to decide which clothes you'll need to look your best. I am including you, my male readers in this advice. Get busy streamlining your wardrobe! Next month, Mercury will be retrograde, not the time to purchase anything expensive, but this month will be heaven-sent, so head to the boutiques now!
Mars will focus you on your partner too, and because Mars' job is to cleanse what is going on under the surface, Mars will bring to light any difficulty that existed that you never noticed. You will have two weeks, until September 13, to work out a solution with your partner. You will soon see that no difficulty will be beyond your ability to fix. If there are no hidden resentments under the surface, you will sail through this period fairly easily, for Mars will have nothing to show you. You may now talk seriously about the next step you both will want to take, together, hand in hand, to make your relationship even more fulfilling, closer, and more loving. However, sometimes Mars does bring up serious problems, and even a betrayal, and because Saturn is in the same house, you won't be able to make excuses for your partner's bad behavior. It will clearly be time to move on.
When Mars moves into Sagittarius on September 13 and starts to cruise in your financial eighth sector, money management will be on your agenda until Mars leaves, October 26. You may pay large bills, or if you hope to start a business, raise venture capital. It does seem, however, that most of your spending will be on your home, as that appears to be a joyous place for you these days, and if you focus on home, it can become your castle. (Good fortune Jupiter is in Leo, the sign of royalty!) On a small but nevertheless important scale, you may negotiate with Internet and cable providers for a better rate, petition for university financial aid, or ask the bank for a refinanced mortgage.
Mars will encourage you to take action to improve your financial picture, so you may want to meet with your financial advisor. If you are interviewing for a new job, Mars will keep you sharp when negotiating your benefits package, such as for things such as generous vacation days, a solid health insurance policy, and maybe a year-end bonus. These are just examples, but you get the idea - speak up!
Speaking of work, you seem to have a large project that will likely come in to you at the new moon, September 24, plus or minus four days. This project appears to have financial elements or budgetary concerns that you'll need to oversee for accuracy. For this assignment, you may be working closely with a partner, co-worker, or expert you hired, because the new moon is in Libra, the sign of collaboration.
Your favorite day will be September 25, when Jupiter and Uranus will cook up happy coincidences regarding your house, apartment, or other real estate option. You may get a confidential tip on a rental or purchase, or suddenly sell the property you own at a lucrative price. You'll need to stay on your toes, as you'll get no notice you are about to be the recipient of this outstanding luck and opportunity to make good money or find a bargain - if you drop the ball, the opportunity will fade in a flash. Family support for your goals will be very high, so if you need a loan for a down payment, your mother or father is likely to give it to you.
This day, September 25, is so special that we've seen nothing like it since 2011. It will give you reason to believe that just one day can make a huge difference, turning life from gray to brilliant white. If you have been thinking about how to help your parent who may be in need, the luck you see on September 25 will help you by providing answers you long sought to uncover as well. September 25 is worthy of four stars.
---
Dates to Note: TAURUS
Most important dates for love, meetings, or actions: 4, 8, 11, 12, 16, 17, 22, 26, and 27.
Venus, your guardian planet, will move into your fifth house of true love, and love will reign supreme. Venus will remain in your love sector from September 5 until September 28.
A beautiful social event should occur on your calendar over the weekend of September 6-7. Or, that event may occur sometime in the week that follows September 8 to 11 that you will love - it is a must to attend.
When Mars enters Sagittarius September 13 to October 25, your expenses will rise. If you have planned for this, that's great. It looks like you will be spending on your house or apartment. If you have no idea of what might come up and you can delay a big purchase, do, until you can see if any other expenses come up.
Hone new work methods, perhaps by learning new software to become more efficient on your assignments after the new moon September 24.
If looking for a home-related solution, the perfect one may show up suddenly on September 25, due to Jupiter's missive to Uranus. It is a truly 5-star day, one of the best of 2014!
When Venus enters Libra September 29, look into buying new gym clothes to boost your morale as you work out.
P.S. for September 2014
My New Apps for Android and iOS Are Ready to Download!
Last January, Phunware met with me and we set out to design a completely new app for AstrologyZone readers. The new Android application is free to download with an option to upgrade to a paid subscription to get in-depth, full daily horoscopes, just like the iPhone readers received a year ago. The apps are now on the Google Play App store, and Apple will debut my new app design this week in the Apple App Store as well. My new app has a completely new, sleeker design and many new features. You will still have a free daily horoscope, or if you prefer to subscribe, a much longer daily horoscope. The long version is the one most readers prefer. You will purchase your subscription directly from Apple App Store or Google Play, depending on your smart phone type. The new applications work with iOS 7.0+ and Android OS 4.0+. If you are already a subscriber to my app on your iPhone, the new design will just slide in to replace the old design when you updated your app. If you have a Samsung Galaxy smart phone, you use the Android operating system, so you will get the new design too.
A feature of my new apps is that each app will automatically expand or shrink to fit your other devices, whether iPad or tablet, or any size smart phone you choose. These newly designed applications have kept screen real estate in mind, allowing users with phones or tablets to get a fully optimized experience for their device screen size. Don't worry - once the iPhone 6 is out, the app will beautifully translate to that new screen size as well! Keep in mind that you are purchasing a subscription to my app from Apple or Google as retailers, and I get a commission on the purchase price of the subscription you buy.
Whether you choose the free version of my app or choose to subscribe to the premium version, either way you will still always have your monthly Astrology Zone report on your phone, and my previous month's report as well. You can check all twelve signs of the daily or monthly horoscopes too by simply going to the home screen and choosing a different sign. The new apps will list my appearances too, but so far, I have no appearances on my schedule, but that might change in time, and if it does, you will be able to see where I will be immediately. Until now, only readers who went to their computers online would know in what city I would have new events. You can also see my Twitter feed on your mobile device too.
The designs for Android and iOS are consistent; you get the same visual design and features for either application. When we were ready to send the app to Apple and Google for approval, Phunware flew to New York in May and asked me if I had any last minute changes. I went through the app with my account person, and I had a few - 89 in all! They were tiny changes that were important to me, and she agreed they were good suggestions. I was a bit worried they would think I was a bad client for tweaking my app so much, but my account person assured me the team liked my suggestions and were happy to make the tweaks. My point in telling you about this is that a lot of thinking goes into the development of an app, and I am very excited to finally be able to show it to you. I feel as though I am having twins - two apps, and I love each one equally.
I would appreciate you taking the time to review my app, for I will read all your comments. I am grateful that sales of the premium subscription are so strong, for this allows me to keep Astrology Zone free. Thank you for your support and understanding while I recover from my illness. In case you were wondering, I write the daily horoscopes three months in advance, so although my long, 48,000-word monthly may have been a little late, my dailies are never late. I am getting better every day as the doctors tweak my medicine. I am very optimistic and excited about getting my old life and original strength back!
---
Live Overseas? Or, don't have an iPhone, Android, or Samsung Galaxy?
Get all 12 of my daily horoscopes each day by email or pick yours up each day on special password-protected site.
To plan ahead, receive several daily horoscopes in advance!
By subscribing to DailyAstrologyZone you will receive a week of horoscopes inside your cell phone and / or computer. This means if you have a BlackBerry or feature flip phone, you can still get my daily horoscopes as long as your device accepts email. You will also have the option of accessing your daily horoscopes from a website online, from anywhere, any time, through a password-protected site for members only, or receiving all 12 signs my email each day.
For more information: http://www.dailyastrologyzone.com
---
SUSAN MILLER'S APPEARANCES for September 2014
Susan Miller has no further appearances during September
---
A COMPLETELY NEW WAY TO FIND LOVE ONLINE WITH DREAMCLIQ.COM
I have partnered with a new online dating site Dreamcliq.com, an entirely new way to meet people. We all know how hard it is to write personal descriptions. Dreamcliq is doing something new: users create visual profiles to easily express what they love. Instead of awkward written descriptions of yourself, you can use images to express who you are and what you love in style, art, travel, design, and entertainment. You will click on photographs that express the real you, and the process is fun. If you see someone that interests you when looking at the photographs they chose to express themselves, you can read my previews of your Sun sign's compatibility with the person you are interested in contacting. Just remember, all signs can get along with any other sign, for if love is there, the stars will open a path!
As a special gift to all my readers, you will receive 10 free cliqs to use on Dreamcliq.com when you sign up using this special access link. This promotion will be in place from now through December so that you can increase your chances of starting 2015 with a grand love in your life. This promotion on Dreamcliq is open to all my readers, male and female, straight and gay. Everyone of every sign is invited. Sign up - you have nothing to lose and everything to gain. When CEO of Dreamcliq Melissa Jones came to me with her idea sketched on paper a year ago, I didn't know her yet, but I was so impressed with her originality and intelligence, I knew immediately I wanted to work with Melissa. The media has reviewed her brand new site, and the rave reviews are in. You can see them as you explore the site.
To learn more about love and astrology, read my article on Dreamcliq's blog. I have lots to say in my essay about love and how astrology works to help you find love, so be sure to scroll down to catch all that I wrote. You may find my words helpful as you embark on your new adventure to find love. I love Dreamcliq because by choosing from images for your profile, you reveal your personality in an artistic way that is honest, stylish, and exciting. Give it a try!
---
A New and Important Book on Fashion and Style:
"365 Style" by Nicky Hilton
There are many books on the market on fashion and style, and I admit, I have bought many of them. In this new book being published September 15, Nicky Hilton, designer, author, entrepreneur, daughter of Rick and Kathy Hilton, and sister of Paris, has created a completely original, honest, and remarkably wise book on style. It comes complete with many color photographs, and in it Nicky shows you ways you can upgrade your own fashion style from good to style icon level. The goal is to sharpen your personal style by looking within, not by copying someone else's style. Nicky gets you started by showing you some of her favorite style icons, but only to get you thinking. She gives many stories and examples from her own life, and she makes you enthusiastic about going through your own wardrobe to find ways to amp it up. The title of the book refers to Nicky's suggestion that you consider 3 aspects of your lifestyle, and choose 6 staple items of clothing and 5 essential accessories. Doing that will instantly get you a stylish starting point.
Nicky has attended all the fabulous fashion shows in New York, Paris, Milan, and more in her young years, but her advice is down to earth and certainly does not require you have a trust fund. Just the opposite, her tone is one of a best friend going through your closet and handing you advice that is at times funny but always wise. Certainly a lot of what Nicky says makes you think. In one chapter, she advises, "Always dress like you are going to meet your worst enemy" (i.e, bumping into the ex-boyfriend who betrayed you, or the mean girl in high school who made your freshman year a terror.) Nicky gives many examples of her own life and shows how running into that old boyfriend looking like a million because she had taken just a little extra time with her appearance on the way to meet girlfriends for a casual Mexican dinner gave her a happy boost during that unexpected nano-second on-the-street encounter.
With each page, you will rethink your own wardrobe and habits, and occasionally Nicky will casually toss out the very advice you needed most. When it happens, you will feel like you were hit by a thunderbolt. I enjoyed her advice about dressing for a first date, meeting his parents, and more, and all along she gives you many vignettes that allow you to see her own lifestyle. Those peeks into her own life allow you to understand why she has the authority and experience in her early thirties to write this wonderful jewel of a book.
She has advice on such things as:
The $30 wardrobe item you can't live without.

The one closet accessory that keeps everything organized at all times.

Five must-have wardrobe items, all affordable.

How to pack a suitcase like a jet-setter.
I feel you will enjoy this book and get much from it. Just click here to order your copy:
http://amzn.to/1qE6BzC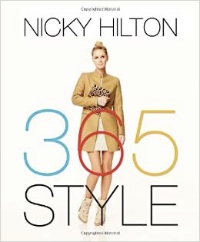 ---
My Book
If you ordered my book, you can get you money back in full. Please email Arthur at Arthur@AmericaDirectBook.com with your full address and phone number, or call Arthur at 914.271.2640.
I had asked my publisher not to advertise the book until it was written as a policy, but Arthur, being the optimist that he is, did anyway. I am very sorry. You can get all your money back.
---
Astrology Zone Coming to TV! More news in weeks to come!
Newsflash: I am very pleased to announce that I am developing the Astrology Zone TV show with Paul Duddridge and TV4, and we plan to be on air from November 2014.
I am being secretive here, but I will say I will be back in Hollywood in September to start work on the show. Viewers in America and in international countries will be able to view it in English. You will get more news as it comes!
---
"OUTLOOK for the Second Half 2014 by Susan Miller" is now available:
In Print $4.99 plus shipping via USPS with tracking. Total under $10.00. One and two copies same shipping charge. https://www.americadirectbook.com/outlook2014
Digital PDF: $5.00 https://www.americadirectbook.com/outlook2014pdf
Amazon's Kindle: http://amzn.to/1lE7a8t
Barnes & Noble Nook: http://bit.ly/Uec9D3
---
The Year Ahead 2014 Astrological Calendar
By Susan Miller
My Year Ahead 2014 collectible calendar is now $9.99 (at a 45% discount, from original price $17.99) plus shipping, any applicable tax
Calendars are used to mark time, but have you ever had a calendar that helped you use your time productively? My new Year Ahead 2014 Calendar can do just that. I write every word myself in this stunning calendar with original fine art by socialite, author, and fine artist Gloria Vanderbilt, mother of newsman Anderson Cooper, and great grandchild of railroad entrepreneur Cornelius Vanderbilt. (Grand Central Station was originally her great grandfather's business headquarters.)
Gloria Vanderbilt, now almost 90 years young, licensed the reproduction rights to her critically acclaimed artwork to Susan Miller who self-published her calendar. The inks are rich, the paper heavy, glossy, and snow white, allowing Gloria's paintings to jump off the page. Each month, from January 2014 through the extra bonus month, January 2015, is found an inspirational quote from Gloria, centering on her philosophy of living life fully and creatively. With fourteen of Gloria's paintings, this calendar will soon become a collector's edition and will not be reprinted when stocks are gone.
Aside from having happy, vibrant art to look at all year, The Year Ahead 2014 calendar has many other uses, unlike any you have had in a calendar before. On every important day of each month I list the aspect and what it means, in easy to understand laymen's language. This means the next time you are about to make an important appointment, and the VIP asks you, "Do you want to come in Monday or Thursday?" you can say you will consult your calendar and know immediately the day to choose.
In a year like 2014, where sparkling aspects will stand side by side difficult ones, this calendar will not be a luxury but a necessity.
Also included in the calendar are:
- All the start and end dates of the retrograde planets in 2014,
- Detailed discussion of the new and full moons (new!)
- The date when planets move into new signs (and how long they will be in that sign), all listed on the same day entry
- The planetary aspects of the four eclipses due in 2014, and explanation of what each eclipse will bring.
No more surprises! Be in the know about upcoming events, so that you can plan your biggest initiations. This calendar is a "must" to keep with you all year, and is available here, from Susan's publisher, but not in bookstores or other retailers. Get it now, while you can: $9.99 plus tax and shipping. We ship to all nations of the world: http://bit.ly/186zM0i
---
MY PERSONAL CUSTOM HOROSCOPE BOOKS
WRITTEN BY SUSAN MILLER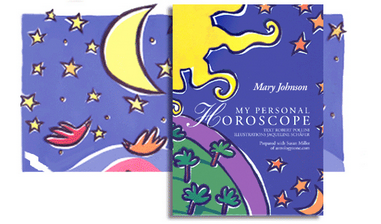 Looking for unique gifts for the summer months? - Choose from My Personal Horoscope for Adults or for Babies, or for a Relationship, the Two of Us.
Have an entire book written by Susan Miller, which runs approximately 65 pages, about your natal horoscope. Get to know your rising sign (also called the ascendant) as well as the placement of each of your planets, and what it all means. Susan's natal chart for babies centers on the talents and gifts of the little child. Order today and you will have your book within two-and-a-half weeks.
Two weeks on average from order receipt to delivery to any US destinations. One week longer elsewhere.
Also PDF option available for destinations overseas where delivery tracking of printed books is prohibitively expensive.
My Personal Horoscope Custom Natal Chart Book $49.99 plus shipping / tax
For more information call Susan's publisher, Arthur Heydendael 914.271.3640 ext 14 or click here:
http://www.americadirectbook.com/Customized_Books
---
A New Service: WiFive.us
Don't we all love a bargain?
We all want to know about the deals being offered nearby in our neighborhoods to save money. I found a way when a brilliant entrepreneur, Luis Sanchez, came to see me to show me he had developed a way of seeing all the various deal-of the-day websites that are featuring discounts on food, entertainment, boutiques, and other establishments, all in one click. Traveling? All you need to do is enter the zip code of your new neighborhood as you travel each day and you can see the deals that may be just across the street from your hotel.
The company is called Wifive.us and is ready to use today. It is a New York-based startup with a location-based search engine that gives you access to thousands of local online deals in a single site.
For now, Wifive.us is only available in the United States. It covers most of the deals and services you would see from various sources (Groupon, Amazon, Google deals, and so forth) all at once, so you don't have to go from site to site to find a deal that appeals to you, as Luis would humorously say, "until your head hurts." There is no registration necessary, and no useless emails to stuff your inbox each day.
Just type your address or ZIP code and get the deals you want when you want them. You pull in your information, which is far better than having many emails pushed to you. Try it and like the service on Facebook!
A word about the web address of WiFive.us
You may be wondering, what exactly is .US?
You might have thought the domain ending .us would only be only for government agencies and schools, but since 2002, individuals, businesses, churches, and non-profits have adopted .US web addresses to make their mark on the Internet. The .US is a new domain ending.
Just remember the name of the new service that no doubt you will be using quite a bit: pronounced as "wi-five-dot-us" otherwise seen as: http://www.wifive.us
To view a forecast, select a sign from the menu below and click on Go.