See Susan Miller's new Astrology Zone 30-minute streaming TV Show! For now, it will be seen once a month and will not duplicate any information you get on Susan's site - the broadcast will provide fresh, new material. For more info, see Susan's note to you found here, in the PS (post script) directly below your sign's summary and the dates to note. Express your ideas about Susan's new show in social media - we will be reading your comments. The show will not be seen yet on Susan's smart phone apps (stay tuned) but instead here on your computer or tablet. Please tell your friends to have a look!


Astrology Zone with Susan Miller for April 2015 from Television Four on Vimeo.



---

Last month I showed you the surprise I had for you, special animated videos called Glamourscopes that I had done with Conde Nast Entertainment (CNE). Each sign's video runs a little under three minutes. The animators illustrated my words with visuals in a very original and imaginative way, so most people think the videos are especially cute. You told us you loved the videos, but said in a loud and clear way, "We want them longer!"

We listened! Here is the short version of Glamourscopes:

http://bit.ly/1yPzZEF

and the NEW Extended Cut version of Glamourscopes (not duplicating the short forecasts of Glamourscopes above):

http://bit.ly/15nk8m5

Each sign's video has new material, there is no duplication of information that you will get. Don't miss these! Listen for your Sun sign and your rising sign as both are equal in importance.

---
Your long monthly forecast by Susan Miller is found directly below this letter.

An Important Message about My New TV Show from Susan Miller

Dear Reader,

I want to thank you for your kind words for my TV show. Trust that all your comments are read, so please keep sending them. It is early days of my show, but with your feedback, the show can only get bigger and better. We want to make the show more interactive in the coming months so that we will be able to address some of your specific questions that we find coming up as typical of many readers. We do have ideas!

The show will now be available 10 days before the start of every new month. So, for example, we are posting the April show on March 20. If you would like to see that April broadcast, we will charge $1.99 for the show, and you will never see commercials.

If you would rather not pay the $1.99 for the new show as it comes available, you will have an option to see it for free if you are willing to wait a few weeks. If you are willing to wait for the following month, say, April 16, for example, to view April, you will have free access through the end of the month and in all the shows we archive. Then, by April 20, the new show will be posted to give you the option to see May 2015, for $1.99. So you do have the chance to stream from the middle of every month at no cost. As said, April's show will be available free from April 16 onward.

Astrology Zone and my normal long monthly horoscopes will always remain free as they always have every month for the past nineteen years on the Internet. We will not overlap material from my website to my new TV show - viewing the TV show will give you special insight and detail on the coming month and also help you get much more from the information you are already familiar with getting from me on Astrology Zone each month.

I hope to teach you a few handy skills that will give you an ah-ha moment that will allow you to understand how astrology works and how you can harness that information for your own purposes to achieve your goals and enjoy a brighter, happier life!

I am so excited about this project and hope you are too! I am weaving my material with clarity and love - and listening to every suggestion you have had for us! Thank you, dear reader!

Sincerely,

Susan Miller


---
Taurus Forecast for March 2015
By Susan Miller
The tender full moon of March 5 will be magically romantic, and all that happens at that time will bring a cozy feeling of stability, thanks to a friendly beam from Saturn. If you are alone without a special someone in your life, you may not be alone for long, as this full moon will have the power to bring about a fateful meeting. With Mercury in fine angle to Uranus, you might feel hit by lightning when you lock eyes with someone intriguing across the room at the full moon. Be careful, however, to go slowly into any new relationship - with Venus, your protective planet, in conjunction with Mars (the sex appeal aspect) and Uranus, planet of surprise, you may be falling for a person who is not available. Go slowly and get to know your new love interest well before you go head over heels.
In the first part of 2015, you were promised by good fortune Jupiter to be very fortunate in regard to home and property. Proof of this will come nearly immediately when Jupiter receives a beam from Uranus on March 3, a rare aspect that is one of the big features of 2015. Keep your cell phone powered up, when you find a dream of an apartment, a piece of furniture you love goes on sale, or a buyer for your property shows up and will be ready to bid above your asking price. All sorts of good news can happen. Your luck won't stop there. March 10 will be another banner day for breakthroughs on the home front too. You can make so much home-related progress this month.
The solar eclipse of March 20 will be a blessing to your social life, for it will generate lots of activity. This new moon eclipse will bring many new people to your life and give you a chance to make new friends and contacts. A solar eclipse has the power of three new moons rolled into one, and usually brings with them events that have great weight and import. You may see a friend move away, for example, when your friend is "eclipsed out" of your everyday life while at the same time, a new acquaintance is likely to grow in friendship. On solar eclipses, something ends and something else begins. Saturn will be friendly, so it is also possible that you may come to know a significantly older person who will give you wise advice and may act as a mentor. It's all good news, dear Taurus.
P.S. for March 2015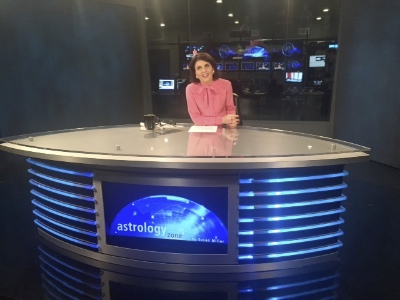 Proudly Announcing the Debut of my NEW TV Show!
For many years, I have had the dream of having my own TV show - that dream came true last month, February 1, when my show debuted. It runs 30 minutes and will stream internationally on Vimeo.com, our host provider.
Each month, I will explain points about astrology in an easy to understand way. All the material on the broadcast will be fresh and new and not be anything duplicated on my site. My aim is to help you understand how astrology works, and how you can harness this ancient art yourself to make your dreams come true.
Tell us how you feel on my social media accounts, on Twitter @AstrologyZone, and on Facebook "Susan Miller." Also, Vimeo.com, our server host for the show, provides a place for comments too, and so do post a note there too - all of us will be reading your comments.
Link:
---
Announcing the NEW, Extended Cut Glamourscopes Videos!
Last month I showed you the surprise I had for you, special animated videos called Glamourscopes that I had done with Conde Nast Entertainment (CNE) on a forecast for The Year Ahead 2015. Each sign's video runs a little under three minutes. The animators illustrated my words with visuals in a very original and imaginative way, so most people think the videos are especially cute. You told us you loved the videos, but said in a loud and clear way, "We want them longer!"
To CNE's credit, they immediately went back into the film I had already done for the original videos to see if they could create longer ones. I had originally taped for three hours per sign in various ways to help the animators do their work, so there was plenty of material for CNE to sort through. CNE designed new, longer, seven-minute videos that did not duplicate any of the material I had given you on the first, shorter, three-minute versions.
Called the NEW Extended Cut Glamourscopes, you are telling us that you love these even more. Don't miss them! In these Glamourscopes, I give you plenty of dates, so you will want to click on the links below to hear all the advice I have for you, dear reader! Remember to listen to your Sun sign and rising sign - both!
Shorter Glamourscopes: http://bit.ly/1yPzZEF
Extended Cut Glamourscope (not duplicating the short forecasts of Glamourscopes above): http://bit.ly/15nk8m5
---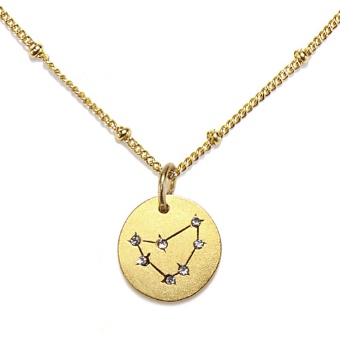 Check Out the Star Map Collection by Sequin
Last March, when I was still well, I was invited by Sequin executive women to look at an idea their talented New York City Sequin Design Studio had for a collection of pendants with an astrological theme. I immediately fell in love with the various astrological pendants, and they asked me to check to make sure all the designs and keyword descriptions of the signs to be used on their site were astrologically correct. I made a few changes to the keywords, but my involvement was very minimal. (Everyone, it seems, at Sequin reads Astrology Zone!) I love the quality of these beautiful pieces. Many girls layer several of these necklaces, using various lengths, and that's a great look too.
The pendants are all made in America and handcrafted by artisans using material components from around the world, and are so well priced that I feel they will fly out of their inventory. These necklaces are gorgeous. They are made of 22K gold-plated brass with antique finish and crystal details. I was impressed with the lovely chain that the pendants come with too, as it is tangle-proof and delicately made to look beautiful when worn. Whenever I wear my necklaces, I get so many compliments.
These necklaces make great gifts, and also would be a beautiful addition to your accessory wardrobe. I quickly chose those necklaces as part of my favorite things to give for holiday gifts, or for a friend's birthday. Imagine how surprised I was that Oprah had chosen this Sequin Star Map Collection as a part of her "favorite things" in her December issue! I was so happy for my new friends at Sequin and the incredible success of this new line of jewelry. It seems Oprah and I think alike!
Your necklace will arrive in a pretty gift box, perfect for gift giving. Remember to think ahead for upcoming birthdays and Valentine's Day - I know these necklaces are going fast!
Seen here is only one example of the Sequin Star Map Collection of pendants, so click through to see the entire range of jewelry, using this link:
http://www.sequin-nyc.com/collections/star-maps?ref=susanmiller
---
My New Apps for Android, Samsung Galaxy, and iPhone are Ready to Download!
Last January, Phunware met with me and we set out to design a completely new app for AstrologyZone readers. We have a free version and an optional paid subscription version for Google's Android and Samsung Galaxy, just like the iPhone readers experienced approximately a year ago.
My new app has a completely new, sleeker design and many new features. You will still have a free daily horoscope, or if you prefer to subscribe, a much longer daily horoscope. The long version is the one most readers prefer. The new applications work with iOS 7.0+ and Android OS 4.0+. If you are already a subscriber to my app on your iPhone, the new design will just slide in to replace the old design when you updated your app. If you have a Samsung Galaxy smart phone, you use the Android operating system, so you will get the new design too. The bugs in the iPhone are all fixed, no more signing in each time you check your forecast, and the tools section for subscribers, the prettiest section, is working flawlessly now. Android/ Samsung Galaxy were bug-free from day one, so go get my app in either one of our retailers, Google Play or Apple App Store, depending on your smart phone type. Search: "Susan Miller."
A feature of my new apps is that each app will automatically expand or shrink to fit your other devices, whether iPad or tablet, or any size smart phone you choose, large screen or small. These newly designed applications have kept screen real estate in mind, allowing users with phones or tablets to get a fully optimized experience for their device screen size. The iPhone 6 is now out, and my app will beautifully translate to that new screen size as well. Keep in mind that you are purchasing a subscription to my app from Apple or Google as retailers, not from us at Astrology Zone. I get a commission on the purchase price of the subscription you buy.
Whether you choose the free version of my app or choose to subscribe to the premium version, either way you will still always have your monthly Astrology Zone report on your phone, and my previous month's report as well. You can check all twelve signs of the daily or monthly horoscopes too by simply going to the home screen and choosing a different sign. The new apps will list my appearances too, but so far, I have no appearances on my schedule, but that might change in time, and if it does, you will be able to see where I will be immediately. Until now, only readers who went to their computers online would know in what city I would have new events. You can also see my Twitter feed on your mobile device too. The designs for Android and iOS are consistent; you get the same visual design and features for either application.
I would appreciate you taking the time to review my app, for I will read all your comments. I am grateful that sales of the premium subscription are so strong, for this allows me to keep Astrology Zone free. Thank you for your support and understanding while I recover from my illness.
---
Live Overseas? Or, don't have an iPhone, Android, or Samsung Galaxy?
Get all 12 of my daily horoscopes each day by email or pick yours up each day on special password-protected site.
To plan ahead, receive several daily horoscopes in advance!
By subscribing to DailyAstrologyZone you will receive a week of horoscopes inside your cell phone and / or computer. This means if you have a BlackBerry or feature flip phone, you can still get my daily horoscopes as long as your device accepts email. You will also have the option of accessing your daily horoscopes from a website online, from anywhere, any time, through a password-protected site for members only, or receiving all 12 signs my email each day.
For more information: http://www.dailyastrologyzone.com
---
MY PERSONAL CUSTOM HOROSCOPE BOOKS
WRITTEN BY SUSAN MILLER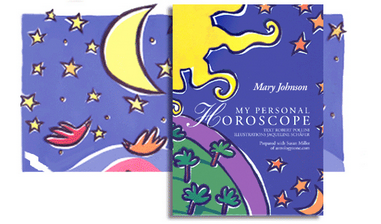 Looking for unique gifts for Easter Day? Choose from "My Personal Horoscope" for Adults or for Babies, or for a Relationship, the Two of Us either in print format delivered to your shipping address or in PDF format with the download link emailed to you.
Two weeks on average from order receipt to delivery for any US destinations. One week longer elsewhere.
The content of the PDF is same as the print edition with its full-color illustrations by Jacqueline Schafer. The turnaround time for the PDF ranges from 2-8 days depending on timing of order placement within the weekly production cycle. Price is $54.99.
My Personal Horoscope Custom Natal Chart Book $54.99 plus shipping / tax
For more information call Susan's publisher, Arthur Heydendael 914.271.3640 ext 14 or click here:
http://www.americadirectbook.com/Customized_Books
---
Susan's Interview with Paul McKenna
To view a forecast, select a sign from the menu below and click on Go.