Virgo Forecast for August 2014
By Susan Miller
Some of the most important events this month will be happening off stage and out of sight. Jupiter, the great planet of good fortune, is now in your twelfth house, suggesting that VIPs behind the scenes are aware of your good work and future potential. They will see to it that you get your chance to prove that you can handle more responsibility, power, and complex projects in the future. Keeping talks confidential will benefit you.
You will enter your best year in twelve next year, in August 2015, when Jupiter enters Virgo for the first time in over a decade. That year will span August 2015 to September 2016. To make the most of that coming period, you will need to create space in your life for all the goodies that Jupiter will bring to you. You are in a process now of changing or abandoning arrangements that are no longer meaningful to you. Projects that drain you and seem to lead you nowhere need to go. Distance yourself from people who lean on you all the time for favors but who seem to never seem to do anything for you, even on the simplest scale.
It's also time to clear out clutter, both figuratively and literally. Jupiter, now in your solar twelfth house, is the natural ruler of your fourth house of home, so by going through all your possession and deciding which ones you want to give away to charity and which ones you want to keep, you will feel lighter, more energized and yet calmer after you have completed this process. You will also discover a number of treasures you forgot you had in in that closet! I love it when that happens.
As an aside, I have found the only one effective way to clear out clutter is to paint one or two rooms every year. (I don't paint personally, but rather, I call in the painters.) I ask them to start with the closet first, and then after they leave and the paint is dry, I can begin my de-cluttering process. I decide what shall go back into the clean pristine closet, and I also find new ways to organize my things. I replace hangers, buy new storage boxes, and afterward, I feel great when I enter that closet. Then I ask the painters to come back a few days later, and they paint the entire room and ceiling.
I do this with every room in my apartment and it works magically for me. No painter has ever refused me when I ask if he will do the closet first and then let me replace all before he comes back. I have tried to do my de-cluttering without painting the closets, but I find that doesn't work, because I tend not to remove every single item. It is a must! I also hire college students during the summer to help me remove things, such as the books from my built-in bookcase in my office. If you have children who are grown and are keeping all their things in your place, ask them to go through the pieces they have left behind and to decide which things to toss out. Chances are, they don't even remember having left those items with you. I never touch my daughters' possessions - I respect their things, and that's why they are so good about helping me clear things out.
Last month I talked about the healing qualities of the twelfth house, the very area where so much of the planetary action will be focused this year, and especially this month. A major reason why this month is more important for these types of goals than most is that a stellar new moon appeared in that same twelfth house area of your chart on July 26 last month. It arrived arm in arm with Jupiter, which is extraordinary, giving you ten to twelve days of luck in August.
Here is your chance to give up any habit you know is detrimental to your health and that you've meant to quit. The new moon of July 26 in Leo, still strong in early August, will help you overcome this habit so that you can banish it in time. Everything in astrology hinges on when you begin your actions, so begin as the month begins. You can now find a coach or doctor to help you - you need not overcome this habit alone. Even if you have tried and failed in the past, you will have a new chance to be successful now. You would have to start in early August, for ideally, you will be able to work under the umbrella of that new moon before it fades in mid-August.
Managing your money has been your focus for months, and you appear to have been hit with many expenses that have often come out of left field. You have reason to be more optimistic about your finances. Although your chart does show some instability occasionally in future months, you no longer have Mars in your second house of earned income and salary, stirring the pot and making expenses rise. You had Mars from December 7, 2013 to July 25, 2014 in that house - nearly eight months! Having Mars is hard enough to host in a financial house, but Mars was also under a great deal of pressure from Uranus in direct opposition and Pluto in hard square. Said another way, you were under maximum financial pressure for months but that pressure seems to be fading.
You will have a lunar eclipse in the same area, in Libra and the second house of earned income, on October 8, so you will still need to watch your income and outgo, especially at that time. That eclipse may bring change in the way you generate your income or shift the source of your income. (The October 8 full moon eclipse won't be as terrible as the one that came by April 15 earlier this year, and also accented money. However, the topic of the full moon eclipse of October 8 will be linked to the April 15 eclipse and advance the discussion you had back then.) Mercury will be in retrograde in October too, October 4 to 26, and so you will encounter delays. Make August and September your high-productivity months!
Having fewer malefic planets to deal with on a daily bases in your earned income sector is always a positive development, so seeing Mars leave that sector last month, not to be back for a very long time, is good news. (When Mars returns, other planets will have since changed positions, so it's unlikely you will face what you did this year.)
This month you may get superb news about money on August 8, when Uranus will send beautiful beams to the Sun - good news will come out of the blue. You have another set of good news coming up about your financials over the weekend of August 16-17 or on Monday, August 18. Venus will be in fine angle to Uranus in your eighth house of other people's money, indicating you are likely to get a valuable gift, a check, or news of a raise. You won't see this coming, so it will be news out of the blue. The money may also come in the form of a loan, such as a large mortgage that was just approved by the bank (with an attractive finance rate), or it may be that you receive back child support, an insurance payout check, news of an inheritance, or a small cash prize, among other possibilities.
Your more good news about money might come on or very near August 25, when Venus will receive golden vibrations from surprise-a-minute Uranus. This month will have you smiling about cash flow - that seems very probable!
Now let's back track to mid-month, when an assignment or job may be finishing up now at the full moon in Aquarius, 18 degrees, August 9-10. This assignment seems special in some way, so you will work hard to get it done. Uranus rules Aquarius, and Uranus will be in perfect angle to the new moon, and that bodes well for an exciting, positive outcome. Uranus will bring unexpectedly good results to any project you finish up within four days of this date. Just make sure you don't run yourself down, dear Virgo. You will be putting out a lot of energy.
This full moon, August 10, will also bring a heath matter to a culmination. You may be told test results, or hear a final diagnosis from a doctor. If you have a cold or other fairly simple illness, most full moons bring the matter to a finish within four days of the appearance of the full moon, August 10. If you were going through physical therapy over past weeks, it appears you may be getting close to ending your sessions. A full moon in Aquarius also suggests that a new treatment involving high tech software or electricity might help you - of course, your doctor has the final say about that. Uranus also rules CAT scans and MRIs, and even though this technology is not brand new, either of these machines may yield the results that you are hoping to find.
You already know Mars is out of your financial house, but where is the red planet now? Mars is now in Scorpio, a sign that blends perfectly with yours, to stay in that sign from (last month) July 25 until September 13. It appears you will be traveling much more often than usual, and always to nearby locations. My favorite weekend for you to go will be over August 2-3, when Mercury, your ruler, will be receiving vibrations from happiness planet Jupiter. Also circle the days August 16-17 on your calendar, another sublime weekend to flee town. It is not clear whether your quick trips will be for love or work - it may be both.
Saturn is also in your travel house, suggesting you may have been trying to settle a contract or agreement, or finish off a divorce settlement or matter involving your child, including child support or custody. If you have had a situation like this, with Saturn in this house, talks probably proceeded slowly and you may have found it hard to bring talks to a conclusion.
Now with energetic Mars in the same area of your chart, you may make impressive progress, particularly on August 15, when Mars and Pluto will be in sync. Circle August 15 on your calendar - it will be great for any kind of negotiation, even one with your boss, your banker or client, or a negotiation regarding a book or other literary work you are about to write or edit.
As an aside, August 1-2 will be your best days, for your ruling planet, Mercury will meet with Jupiter. This is a once-a-year, annual event that rates five stars! Do something special on this day - reach for the stars. You will be favored in an outstanding way, so you might as well attempt something hard to achieve. This is one of those breakthrough days, and you can use it to travel, sign a contract, buy or sell something expensive, work on a manuscript or send one in to your editor, or defend your thesis (not sure if this happens in August, but if it does, this is your day). It's also a great day for a first date. On any level, this will be an important, five-star day!
If you have had a tense relationship with you sister, brother, or cousin, Mars' presence in your third house ruling these individuals, and may kick up dust. If you know that you almost never get along with your sibling or cousin, limit interactions with that individual from this month through September 13, for after that date things will go better and life will normalize again.
The new moon on August 25, falling in Virgo, 2 degrees, will be all about your desires and goals, and will also center on your feelings about a relationship. Neptune will oppose that moon, so you need to be careful that you pick up the right message from a significant other in love, or a partner in business. You may be unaware of a situation, but if your practical side tells you there's more than meets the eye to a story you were told, keep digging.
Mars will be conjunct Saturn on the same day, August 25, so you may find that you may be unsure of which direction to go after being told an important piece of information. Mars will say "Go, go, go!" But Saturn will seem to say, "Not so fast! Wait! Consider all options!" Saturn will win this conversation, as Saturn is the slower moving planet, and he will continue to voice this cautionary message over a long period. Don't jump to conclusions if you should hear something that does not sit well with you. Reflect on the news you might receive. (You might not hear anything, so don't become worried for no reason.) A few days later you state your feelings. The outcome to this new moon should be positive, in that the ruler of Virgo (the place the new moon will appear) is Mercury, an Mercury will be very positive that the time of the new moon.
On the same day, August 25, Mercury will be friendly toward Mars, Saturn, and Pluto - quite a lineup of heavy hitting planets! So no matter what comes up on the new moon, I feel you will be well protected and the final outcome will be positive.
Love won't be your main concern, but you will have plenty of moments to have fun. Venus will be in Cancer for eleven days, though August 11. Cancer, an emotional water sign, blends ideally with your earth sign element.
Pluto is circulating in your true love sector, also ruling children and creative projects. When Mars comes by to speak to Pluto, you've got a four-star day for love. Circle August 15 as potentially a wonderful day, when you can converse with your partner on a very deep level and draw closer.
---
Summary
If you feel you are yearning for a vacation, stop everything and take one now. All planetary messages in your chart are pointing to a critical need for privacy and rest. You are such a high-productivity worker that you usually accomplish what others take twice the time to do. For this reason, you should not feel one bit guilty about taking time for yourself. The ancient astrologers always wrote about the need to think deeply about life, especially before taking action. The best time to have that meditation about the year ahead is one month prior to one's birthday - for you, that's now.
At work, a project seems to need to be finished within days of August 10, so you may be working up to a deadline. Saturn will be in a challenging position, so it appears this assignment is quite detailed, with many puzzle pieces, and you will have to oversee all of them. It will be critical for your reputation that every word and fact be checked and checked again before handing in your finished work. This full moon might drain you, so stay strong by eating right and not burning candles at both ends. You will be tempted to do so!
When it comes to making a deal by contract, you may run into a sticky point on August 25, and you may feel frustrated by a lack of cooperation, and yet be anxious to wrap things up. This will come as a result to Saturn conjunct Mars. Resist the temptation to push through the contract signing - some clauses will take time and finesse. Alternatively, you may be restless when dealing with your sister or brother over a matter important to you both. Sometimes life is this way, so just take a breath and know this too will improve later when one of you comes up with an idea that neither of you thought of before.
Financially, this year has been as been a rollercoaster ride, with jolts of exciting news of money arriving side-by-side with unexpected thunderbolts of high expenses. This month brings upbeat financial news near August 8, when Uranus contacts the Sun in an outstanding way, and over August 17-18 when Venus will meet with Jupiter. If you don't get a check, you may get a valuable gift or find a bargain. More good news may strike on or just after August 25. When it comes to money, in August, you'll be smiling.
You magical moment of the month will come at the new moon in Virgo, August 25, the only one of the year, and it will allow you to dream big. List your goals for your new birthday year, and work to achieve the one that has the greatest potential and that will yield the most happiness. A new moon in your own sign is a gift and puts you front and center, so use it to full effect. If your birthday falls on or near August 25, you'll get a double dip of luck. Neptune will be a little gremlin, so make sure messages you pick up are accurate, and don't jump to conclusions when it comes to your romantic partner.
---
Dates to Note: VIRGO
Most important dates for love, meetings, or actions: August 3, 4, 8, 9, 11, 12, 15, 16, 20, 21, 25, 30, and 31.
You are entering a time of reflection and planning for the future, a trend that began July 26, and that will continue for twelve months. The more planning you put into the stellar year to start when Jupiter enters Virgo in August 2015 to September 2016, the more spectacular those twelve months will be.
The full moon on August 10 can bring a work project to deadline and finish. It appears to be a strenuous finish, as you will have many details to oversee.
You may drive yourself too hard within four days of the full moon August 10, so care for your health.
On August 15, Pluto and Mars help you connect with your romantic partner on a deeper level when you travel.
You will feel like Mighty Mouse, flying through the air with your cape, feeling very inch your strength when Mars and Pluto signal one another on August 15. It's a great day for clear communication.
The new moon in Virgo, August 25, is your annual new moon to set in motion many wonderful new plans. Take a step toward gaining one important goal.
P.S. for August 2014
SUSAN MILLER'S APPEARANCES for August 2014
Susan Miller Event in Southampton, Long Island
Meet Susan Miller for a fun meet and greet
Bring questions!
Saturday, August 9, 2014 - this weekend
11 AM - 7 PM
No ticket fee
Sequin Southampton
20 Jobs Lane
Southampton, Long Island NY
Store: 631.353.3137
---
FREE Washington Post Worldwide Chat
Wednesday, August 13 at NOON EDT New York with Susan Miller
Use this link to submit your questions: http://wapo.st/1y71o22
When posing your question, please list your first name and sign, and your rising sign too if you know it. Ask your question in a way that would appeal to the widest possible audience of readers of your sign with questions similar to yours. This will increase your chances of having your question chosen.
---
Astrology Zone Coming to TV! More news in weeks to come!
Newsflash: I am very pleased to announce that I am developing the Astrology Zone TV show with Paul Duddridge and TV4, and we plan to be on air from November 2014.
I am being secretive here, but I will say I will be back in Hollywood in September to start work on the show. Viewers in America and in international countries will be able to view it in English. You will get more news as it comes!
---
Android, Samsung Users! IPhone users!
Your new free app will be ready to launch in approximately 10 days. Stay tuned! We have been working on this all year! If you have my old Astrology Zone Premier, it will no longer work soon. You will have to download the brand new app and design - we think you will be dazzled by the look of my new app, as it is completely different. Like the iPhone, you can choose between the free and the subscriber version. On Android and Samsung, you can subscribe for $4.99 for one month if you like, to check out all the new features.
IPhone users will get a completely new interface and beautiful design, too, not only for your iPhone but for all iPad sizes and shapes, including the iPad Mini. If you already downloaded my free version or have a subscription on iPhone, you need do nothing. Just update your app - no extra charge! I made my list of all design corrections today with my dear account person at Phunware who came to New York City to see me in person. The coders are now working their magic! The launch will be approximately one week after the Android and Samsung users get theirs. It will fit most modern Apple formats, including your new iPhone 6 due out in early September. Stay tuned for my announcements on Twitter and FaceBook.
I don't want to divulge the new and improved features of my new app yet, but I will say all versions for all these operating systems will look similar, with no more black background, and a sleek design. In the future, your app will be specially sized to fit the display of the device you are viewing on - this is new, and we know you wanted us to do that for you.
---
"OUTLOOK for the Second Half 2014 by Susan Miller" is now available:
In Print $4.99 plus shipping via USPS with tracking. Total under $10.00. One and two copies same shipping charge. https://www.americadirectbook.com/outlook2014
Digital PDF: $5.00 https://www.americadirectbook.com/outlook2014pdf
Amazon's Kindle: http://amzn.to/1lE7a8t
Barnes & Noble Nook: http://bit.ly/Uec9D3
---
The Year Ahead 2014 Astrological Calendar
By Susan Miller
My Year Ahead 2014 collectible calendar is now $9.99 (at a 45% discount, from original price $17.99) plus shipping, any applicable tax
Calendars are used to mark time, but have you ever had a calendar that helped you use your time productively? My new Year Ahead 2014 Calendar can do just that. I write every word myself in this stunning calendar with original fine art by socialite, author, and fine artist Gloria Vanderbilt, mother of newsman Anderson Cooper, and great grandchild of railroad entrepreneur Cornelius Vanderbilt. (Grand Central Station was originally her great grandfather's business headquarters.)
Gloria Vanderbilt, now almost 90 years young, licensed the reproduction rights to her critically acclaimed artwork to Susan Miller who self-published her calendar. The inks are rich, the paper heavy, glossy, and snow white, allowing Gloria's paintings to jump off the page. Each month, from January 2014 through the extra bonus month, January 2015, is found an inspirational quote from Gloria, centering on her philosophy of living life fully and creatively. With fourteen of Gloria's paintings, this calendar will soon become a collector's edition and will not be reprinted when stocks are gone.
Aside from having happy, vibrant art to look at all year, The Year Ahead 2014 calendar has many other uses, unlike any you have had in a calendar before. On every important day of each month I list the aspect and what it means, in easy to understand laymen's language. This means the next time you are about to make an important appointment, and the VIP asks you, "Do you want to come in Monday or Thursday?" you can say you will consult your calendar and know immediately the day to choose.
In a year like 2014, where sparkling aspects will stand side by side difficult ones, this calendar will not be a luxury but a necessity.
Also included in the calendar are:
- All the start and end dates of the retrograde planets in 2014,
- Detailed discussion of the new and full moons (new!)
- The date when planets move into new signs (and how long they will be in that sign), all listed on the same day entry
- The planetary aspects of the four eclipses due in 2014, and explanation of what each eclipse will bring.
No more surprises! Be in the know about upcoming events, so that you can plan your biggest initiations. This calendar is a "must" to keep with you all year, and is available here, from Susan's publisher, but not in bookstores or other retailers. Get it now, while you can: $9.99 plus tax and shipping. We ship to all nations of the world: http://bit.ly/186zM0i
---
MY PERSONAL CUSTOM HOROSCOPE BOOKS
WRITTEN BY SUSAN MILLER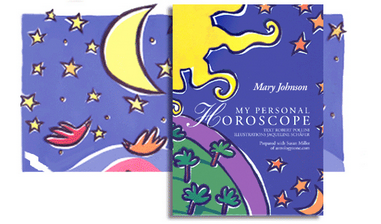 Looking for unique gifts for the summer months? - Choose from My Personal Horoscope for Adults or for Babies, or for a Relationship, the Two of Us.
Have an entire book written by Susan Miller, which runs approximately 65 pages, about your natal horoscope. Get to know your rising sign (also called the ascendant) as well as the placement of each of your planets, and what it all means. Susan's natal chart for babies centers on the talents and gifts of the little child. Order today and you will have your book within two-and-a-half weeks.
Two weeks on average from order receipt to delivery to any US destinations. One week longer elsewhere.
Also PDF option available for destinations overseas where delivery tracking of printed books is prohibitively expensive.
My Personal Horoscope Custom Natal Chart Book $49.99 plus shipping / tax
For more information call Susan's publisher, Arthur Heydendael 914.271.3640 ext 14 or click here:
http://www.americadirectbook.com/Customized_Books
---
A New Service: WiFive.us
Don't we all love a bargain?
We all want to know about the deals being offered nearby in our neighborhoods to save money. I found a way when a brilliant entrepreneur, Luis Sanchez, came to see me to show me he had developed a way of seeing all the various deal-of the-day websites that are featuring discounts on food, entertainment, boutiques, and other establishments, all in one click. Traveling? All you need to do is enter the zip code of your new neighborhood as you travel each day and you can see the deals that may be just across the street from your hotel.
The company is called Wifive.us and is ready to use today. It is a New York-based startup with a location-based search engine that gives you access to thousands of local online deals in a single site.
For now, Wifive.us is only available in the United States. It covers most of the deals and services you would see from various sources (Groupon, Amazon, Google deals, and so forth) all at once, so you don't have to go from site to site to find a deal that appeals to you, as Luis would humorously say, "until your head hurts." There is no registration necessary, and no useless emails to stuff your inbox each day.
Just type your address or ZIP code and get the deals you want when you want them. You pull in your information, which is far better than having many emails pushed to you. Try it and like the service on Facebook!
A word about the web address of WiFive.us
You may be wondering, what exactly is .US?
You might have thought the domain ending .us would only be only for government agencies and schools, but since 2002, individuals, businesses, churches, and non-profits have adopted .US web addresses to make their mark on the Internet. The .US is a new domain ending.
Just remember the name of the new service that no doubt you will be using quite a bit: pronounced as "wi-five-dot-us" otherwise seen as: http://www.wifive.us
---
Live Overseas? Or, don't have an iPhone, Android, or Samsung Galaxy?
Get all 12 of my daily horoscopes each day by email or pick yours up each day on special password-protected site.
To plan ahead, receive several daily horoscopes in advance!
By subscribing to DailyAstrologyZone you will receive a week of horoscopes inside your cell phone and / or computer. This means if you have a BlackBerry or feature flip phone, you can still get my daily horoscopes as long as your device accepts email. You will also have the option of accessing your daily horoscopes from a website online, from anywhere, any time, through a password-protected site for members only, or receiving all 12 signs my email each day.
For more information: http://www.dailyastrologyzone.com
To view a forecast, select a sign from the menu below and click on Go.